LSAT India 2018 topper Nimisha Noronha shares her preparation strategies to ace the exam
LSAT India 2018 Topper Interview - LSAT India 2018 topper Nimisha Noronha shares the secret behind her exceptional success in the law entrance test. Currently in the first year of five year BA LLB (hons.) programmes in Jindal Global Law School, Nimish wants to explore further the Criminal and Human Rights sector. According to her, she has always had reasoning and logical ability inherent in her and that is what made LSAT a pleasant experience for her.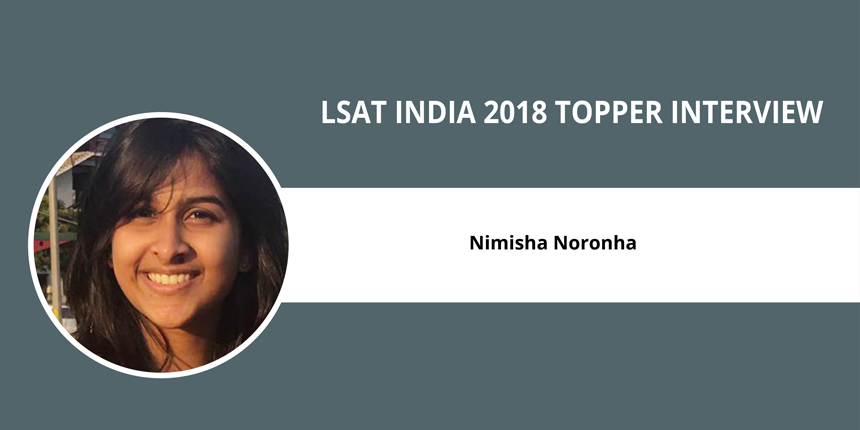 To know what the topper's daily LSAT 2018 preparation looked like and incorporate some of her strategies into yours, read further. 
Q. Congratulations on securing the top rank in LSAT India 2018! How does it feel to have achieved this grand feat? 
Thank you so much. I am extremely happy and obviously glad that I was able to do well.
Q. Tell us something about yourself like your background and family.
I come from a science background which greatly aided my reasoning skills necessary for this field. As for my family, we have always had people from diverse professions who have excelled in their fields.
Q. What were the possible reasons to move towards a law career?
I was intrigued by the subject matter and how law affects every aspect of our lives. After having fascinating conversations with several people, my decision to take it up was only solidified.
Q. When did you start preparing for LSAT India? 
I did a crash course after my board exams. But the preparation for LSAT India 2018 was done through skills you acquire over a period of time through reading from childhood and my science subjects which helped in the reasoning and deductive skills.
Q. What books will you recommend to law aspirants to prepare for the exam? 
I utilised the Pearson handbook and did the official practice tests.
Q. Since LSAT India tests candidates specifically on verbal and reasoning skills, what strategies and exercises did you follow to improve your analytical skills? 
The logical and analytical reasoning ability is something that is inherent. I did not follow any specific exercises per se to improve them. While solving the questions though, just go through the prescribed techniques and find what works for you.
Q. Did you appear for other law entrance tests? Which one do you think was the toughest and how would you rate the difficulty level of LSAT India in comparison to other entrance tests like CLAT and AILET?
I appeared for the CLAT, MHTCET and SLAT but not AILET. I would not say the LSAT India is a difficult test as it does not depend on memorization or rote knowledge. The LSAT was easier for me as it played to my strengths.
Q. How did you manage your LSAT India 2018 preparations alongside boards and other law entrances? 
My preparation was not intense and I took a more relaxed approach as I enjoyed the test. I prioritized the tests and exams based on the college I wanted to go to, so it wasn't that hard as long as I didn't stress out.
Q. How was your exam day experience? 
My exam day experience was pleasant as everything was well organized, and I did take unnecessary stress but attempted the paper calmly.
Q. Did you follow any specific time management strategies while attempting LSAT India?  
Considering the limited time allotted for each section I made sure I did not waste more than the specific amount of time on each question, the timing for each question I figured out while solving the mock tests.
Q. Which sections in the test as per you were the easiest and toughest? 
For me, the reading comprehension section was the easiest as I have always enjoyed reading since I was young. I did not find any section tough per se as I found them all interesting to solve.
Q. What are your future plans? Which specialised sector would you like to explore in law? 
Currently I am in the first year of my five-year B.A.LLB(Hons.) course and I would love to explore the criminal and human rights sector more.
Q. What special advice would you like to give to law aspirants willing to appear for LSAT India 2019? 
I would say that is truly one of the better tests as it tests applicable knowledge. Do not get anxious or nervous and you will do well. All the best for the upcoming entrance.
Questions related to LSAT India
Showing 133 out of 133 Questions