LSAT-India 2020 topper interview: "Key was to prepare regularly," says Shailja Beria
The result of Law School Admission Test (LSAT) India 2020 was declared on August 13. This time a Kolkata girl, Shailja Beria, has secured AIR-1 rank. The topper also grabbed a scholarship worth Rs. 4 Lakh. Shailja scored 480 marks in LSAT-India, which is the highest score achievable. Rajneesh Singh, her teacher and mentor, hailed the topper and called it a memorable achievement. Shailja started preparing for CLAT and other law entrance tests in 11th grade. Her interest in reading and learning about current events led her to pursue law after school education. She finds LSAT-India 2020 an extremely interesting examination which not merely test rote-learning but tests various analytical and logical abilities comprehensively. Careers360 conducted an exclusive interview with the LSAT India topper 2020 to get an insight into her journey to LSAT India which would be a guiding lamp for future law aspirants. Read the complete interview below.
Latest Updates for LSAT India
3 days ago:

LSAT-India 2021 application from extended till May 16 - Apply here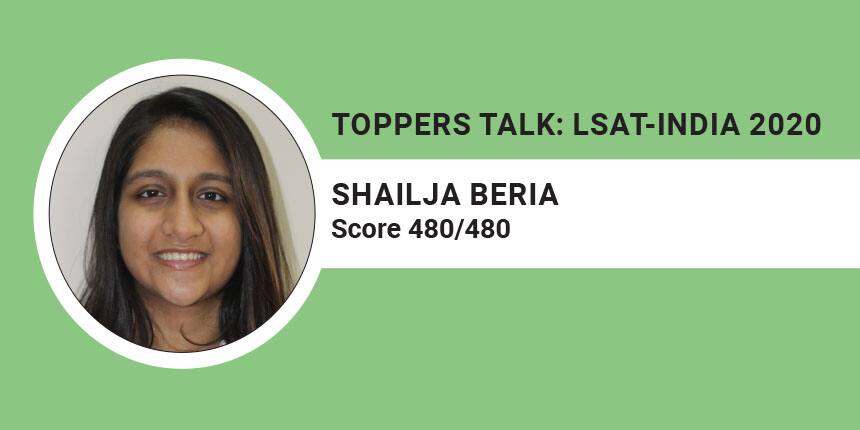 LSAT-India topper 2020 - Shailaja Beria scorecard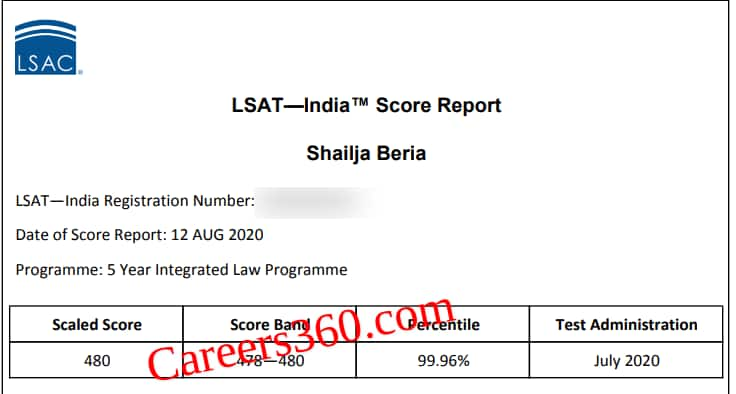 Question - Give us a brief introduction: your name, address, college, etc.
Answer - I am Shailja Beria from Kolkata, West Bengal. I completed my schooling from Sushila Birla Girls' School.
Question - Congratulations on scoring maximum percentile in LSAT India 2020 exam. How does it feel to be the topper?
Shailja Beria - It has been quite overwhelming with wishes pouring in from all quarters.
Question - Tell us about your college and course preferences after scoring such a high percentile?
Shailja Beria - I would like to pursue a BBA LLB degree. I am yet to give my CLAT examination, after which I will be deciding on my college. At present, the Jindal Global Law School is an attractive option.
Question - What legal specialization do you want to pursue in future? Tell us why you want to pursue a particular specialization?
Shailja Beria -I would like to pursue international law to expand my horizons and better understand the nuances of international relations and diplomacy. I also have a keen interest in human rights as well as constitutional law.
Question - Tell us about your LSAT India 2020 experience. Why did you choose LSAT India?
Shailja Beria - LSAT India is an exam which does not merely test rote-learning. Instead, it is a comprehensive test of various analytical and logical abilities. LSAT-India opens up several opportunities in terms of colleges besides being an extremely interesting examination. As a law aspirant, it felt like a must to take LSAT India and it was an overall enriching experience.
Question - COVID-19 was a testing time, how did you manage your preparation during this period?
Shailja Beria - In the face of lack of clarity regarding major examinations, as well as the general uncertainty due to COVID-19 it was extremely easy to lose focus and motivation. However, the constant support of my family and friends and guidance of my mentor, Rajneesh sir, helped me to keep up my preparation during this period. The key was to prepare regularly rather than rigorously to sustain me through the frequent postponements in the face of the unprecedented situation.
Question - LSAT focuses very much on assessing reading and critical thinking skills, how did you prepare yourself for reading comprehension.
Shailja Beria - I think the best way to prepare for reading comprehension is to read and try to understand even difficult and challenging material. Reading newspaper editorials regularly helped me hone my abilities.
Question - There are two sections of Logical reasoning. What was your strategy for LR sections 1 and 2 and how does one differentiate LR1 from LR2?
Shailja Beria -My strategy for LR was the same for both sections 1 and 2. While attempting each section I aimed at attempting all questions in the stipulated time and with confidence in the answers I had marked. In case of any confusion, using elimination helps to arrive at the correct answer. I did not feel the need to differentiate between the two sections as they both required application of logic using the same strategy.
Question - What kind of questions are asked in the Analytical reasoning section and how should one prepare?
Shailja Beria - Most aspirants find Analytical reasoning to be the most challenging section. The questions mostly consist of arrangement and condition-based puzzles. Extensive practice is the best way to prepare for this section.
Question - The changes to the exam pattern such as removal of variable section and shifting to online RPT was unexpected to many candidates. Did these developments affect your preparation? How did you adjust with these developments?
Shailja Beria - Although unexpected, the changes to the exam pattern did not affect my preparation to a large extent. I shifted from pen-paper mock tests to online ones. This helped me adapt my strategy to the changes and develop a familiarity with the interface that would be used on the final day.
Question - Did you solve the mock tests or sample papers? Tell us about your experience with mock tests, is it really important to solve mock tests before the exam?
Shailja Beria - Yes, I solved a couple of LSAT India mock tests and material made available by LSAC. Solving mocks before the exam makes one familiar with the pattern as well as the areas that require improvement for each individual. Analysis of the mocks helps one make corrections and aim for a perfect score.
Question - There is a dearth of LSAT related study material and even coachings. Tell us about how one should prepare for LSAT-India, what book list did you refer.
Shailja Beria - LSAT being a very standardized test, studying from the material available on the LSAT India official website (discoverlaw.in) is sufficient to familiarize oneself and do well. Most of this material is easily accessible and solving these were a key part of my preparation.
Question - You said you have also applied for CLAT. How did you manage LSAT and CLAT preparation simultaneously? Did you take coaching?
Shailja Beria - While LSAT and CLAT have many differences, certain abilities such as reasoning and logic are tested by both examinations. Thus preparation for CLAT automatically enhanced my LSAT preparation. Yes, I was a part of the Do-Zen, a batch of twelve students mentored by Rajneesh sir. I would like to thank sir for his constant guidance in my preparation.
Also, Read:
LSAT-India 2020 toppers talk: "I solved over 30 mocks," Says Pragna Yenduri
Questions related to LSAT India
Showing 150 out of 150 Questions