LSAT India Online Exam FAQs 2020 - Exam Pattern, Registration, Exam Day Guidelines and Scores
LSAT India Online Exam FAQs 2020 - On account of the lockdown due to COVID, LSAC has announced that LSAT—India 2020 will be administered through an online platform. This means that all applicants will now appear for a remotely proctored test using AI-assisted technology. LSAT-India will also include recording the entire examination via the computer's web camera for each candidate. All LSAT—India 2020 aspirants will now appear for the test from the comfort of their homes without the stress of travelling to an exam centre or exposing themselves to the dangers posed by COVID.
To know about LSAT-India exam - Click Here
To Apply for LSAT India 2020 - Click Here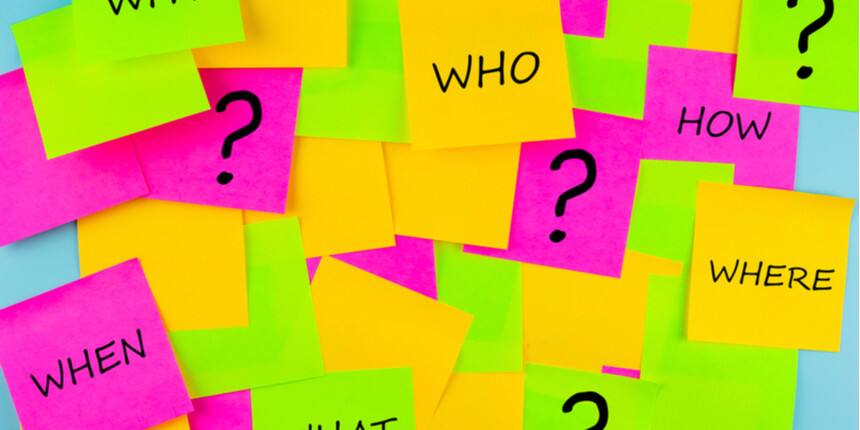 The online LSAT—India 2020 will be started from July 19. The exact LSAT-India dates and slots will be intimated to the candidates once the registrations close. Aspirants can check the frequently asked questions of LSAT—India 2020 including test details, registration and administration from the article here.
FAQs on online LSAT—India (test pattern, sections and questions)
Q. What is the online LSAT—India test pattern? What are the changes?
A. While the online LSAT—India will be very similar to the erstwhile pen & paper exam, the unscored Variable section will not be asked in the online exam. The new online LSAT—India test pattern will comprise of four scored 35-minute sections as below:
Exam Pattern of LSAT-India 2020
| | | |
| --- | --- | --- |
| Sections | No.of Questions | Duration |
| Analytical Reasoning | 23 | 35 minutes |
| Logical Reasoning (1) | 22 | 35 minutes |
| Logical Reasoning (2) | 23 | 35 minutes |
| Reading Comprehension | 24 | 35 minutes |
| Total | 92 | 2 hours and 20 minutes |
Q. I need to check the LSAT-India sample papers and mock tests? Where can I avail them?
A. All the LSAT-India sample papers and mock tests are available on the official website. Students must check the same and download them for practice and preparation.
Q. What is the difference between LSAT—India and LSAT?
A. LSAT is an admissions test for North American and Australian graduate law programmes. LSAT—India is an admission test which is customised for Indian law colleges that have chosen to associate with the same. The other difference is that LSAT is shorter in duration with scores reported on a different scale when compared to LSAT—India .
FAQs on LSAT India 2020 Eligibility Criteria
Q. Who is eligible for LSAT—India?
A. All students who complete the registration, pay the test fee, will be allowed to appear for LSAT—India. However, the LSAT-India eligibility criteria should not be confused with the admission criteria. Candidates are advised to check the same before applying.
FAQs on LSAT India 2020 Registrations


Q. What will I need to register for the LSAT—India?
A. You will need a valid email address and mobile number, a scanned image of a recent photograph. Note that LSAT-India registration will be considered complete on payment of the registration fee. The test-fee refund will be not available under any circumstances.
Q. Can I edit my application after payment?
A. It is advisable to enter the information correctly while registering. Editing of only some details are allowed after payment.
Q. How will I know if my LSAT—India registration is complete?
A. Your registration is complete after submission of details and successful payment of the registration fee. You will receive a confirmation email regarding the same.
Q. I don't have a credit or credit card in my name. I also have no means to pay online. What should I do?
A. If you cannot pay using any of the online payment modes, then mail lsatindia@pearson.com and explain your situation.
FAQs on LSAT—India Testing and Equipment Requirements
Q. How will I know my LSAT—India date and time? How are the sessions allotted?
A. Candidates will be notified of their testing date and time closer to test delivery window. The sessions will be determined as per the location of the candidates and specific remote proctoring requirements.
Q. What kind of equipment do I need in order to take the online LSAT—India?
A. LSAT—India can be accessed by candidates with a laptop or desktop computer which has the following configuration:
Windows 8 or above Operating System

2-4 GB and above RAM

Dual Core / i3 or above processor

Attached or integrated Camera,

Internet with consistent speed (as equivalent to browsing),

Updated Web Browser (Chrome or Firefox),

15 GB or more of free disk space

A functional Audio-Video-Microphone.

Advisable but not mandatory - decent, branded Antivirus
Note: Students must disable pop-up blockers on their web browser to launch the test successfully.
Q. What if the official test link fails on the exam day? What should I do?
A. To avoid such incidents, all candidates will be sent a mock test link so that they can test if their computer system meets the requirements to take the test or not. In spite of all precautions, if some unforeseen incident occurs, students are advised to call the authorities.
Q. What if I don't have the required computer system that I need to take the online LSAT—India 2020?
A. Without a proper computer system, appearing for the online LSAT—India 2020 will be tough. In case, you are unable to arrange for the same, you may mail DiscoverLawindia@lsac.org for further help.
Q. I am from an economically disadvantaged background. I do not have the means to appear for online LSAT—India. What should I do?
A. In such a case, please mail DiscoverLawindia@lsac.org to get any support and a solution.
Q. How will LSAC ensure that the online LSAT—India is secure?
A. Candidates will take the test via a secured browser and will be unable to access any of the other programs on the computer during the test. Their activities during the test will be recorded via their webcam. Any sign of possible candidate misconduct, including collaboration with others, will be detected using the AI-assisted technology and human reviewers. Action will be initiated against students indulging in malpractices.
Q. Can my personal information be accessed while taking the online LSAT—India?
A. No personal information can be accessed from your computers while you take the online LSAT—India.
LSAT India Preparation FAQs


Q. How can I prepare for the online LSAT—India?
A. Students must understand that there is no change in the test pattern. They can use the study material currently available on https://www.discoverlaw.in/prepare-for-the-test. A mock test will be shared prior to the exam to enable students to prepare better.
FAQs on LSAT—India Exam Day Instructions


Q. How do I know when my slot for LSAT—India is? Will I be given any instructions on how to appear for the exam?
A. After registrations close, a candidate's allotted session (date and time) will be communicated to them. A mock test will also be sent so that they understand the exam pattern and also check their systems' compatibility. Additional instructions will be made available to the candidates 24 hours before their allotted test slot.
Q. Can I work at any time on any section of the test?
A. Each section will be timed (35 minutes). Once the time for that section is over, you will not be able to access it. However, you will be able to review your answers in that section during the allotted section time.
Q. Which items are allowed and which ones barred during the online LSAT—India?
A. You are allowed to have a bottle of water (transparent) and an analogue wristwatch. Paper, writing implements, electronic devices, digital watches, calculators, study material, cameras or recording devices, headphones, PDA etc. are not allowed and should not be in the area where you will be taking the test.
Q. Will I need to show some identification before I take the online LSAT—India?
A. You will be required to display any government issued ID to the proctor when prompted on screen.
The ID must be original with a recognisable photograph and signature and should not be expired. The first and last names on the ID must match the names entered when registering. The following ID proofs are allowed:
UIDAI / Aadhaar Card (Coloured or black/white E-Aadhaar Print is acceptable, but Aadhaar registration slip is NOT acceptable.)

Passport

Election Card / Voter ID

PAN Card

Driver's License

SC/ ST Certificate with photograph

Military ID / Government-issued Armed Forces Dependent ID containing photograph of the test-taker

Employee ID containing photograph and signature.
If you do not have any of the above IDs, you will be required to show ANY TWO of the following, in original:
Tenth pass certificate/mark sheet that has date of birth on it.

Photo Identity (Issued by School, College or University)

Original admit card issued by University/Board for standard twelfth (XII) examination with affixed photograph.
Please note that the following are NOT acceptable as IDs:
Photocopies (attested or otherwise)

Notarised copies

Learner's driving license
Q. What are the exam day guidelines?
A. Generally, during the test you may not:
Use a mobile phone for any purpose

Have any electronic device in the vicinity of testing area

Communicate with anyone other than your proctor

Speak aloud

Allow your face to leave the webcam's view

Leave your seat

Attempt to run any software application besides the test application

Access any prohibited materials

Attempt to copy the test material text or record the screen

Connect or disconnect any external storage devices
After the test you may not:
Share details of the test in any form, oral or written, which includes sharing content on the internet or through any means or media

Attempt to copy or save any test material on your computer
Q. What electronic devices are prohibited?
A. The following devices cannot be in your vicinity or the room in which you are testing: mobile phones, timers of any kind, electronic cigarettes, fitness-tracking devices, digital watches, calculator watches, chronograph watches (digital or non digital), beepers, pagers, personal digital assistants (PDAs), calculators, cameras, recording devices, listening devices, headsets, and iPods and other media players.


Please note that tablets, laptops, and personal computers that are not being used to take the test are also prohibited. If your session is flagged for a violation during the test, your audio and video data gathered during the test may be referred to for an investigation and any misconduct detected may lead to cancellation of your test and score.
Q. How secure is the online LSAT—India?
A. Since candidates will not be able to access or use any other program on their system while taking the test, the test is a secure one with precautions against malpractices.
Q. Are there any official guidelines on where to take the test?
A. It is advisable to choose a quiet, well-lit, and private work area where you can complete the test without interruption. Ensure it is clean and clear of all prohibited items. Make sure your entire face is clearly visible throughout the test. Once you begin testing, do not move out of view of the webcam or change working environments until the test is complete.
Q. Will I need headphones, earplugs, or earbuds to take the test?
A. Headphones, earplugs, earbuds, or anything similar are not permissible. This is allowed only in case of special cases as granted by the authorities.
Q. Is there any dress code for LSAT-India?
A. Since, your testing session will be proctored live and videos of your session will be reviewed later by LSAC personnel, ensure you dress as you would if you were taking the test at a physical testing centre. Do not wear any Items that can obscure or hide your face from the camera's view, such as hats or hoods sunglasses, and headphones. Religious apparel will be allowed and students are advised to intimate the authorities on this.
Q. What happens if I lose my internet connection, or have other technical difficulties during the test?
A. The remote proctoring system has been programmed to save your progress and pause the test while the technical issue is resolved. Once it is solved, the system will restart the test and allow you to resume where you left off. You will not lose any test time.
However, if your connection is interrupted during the test and you return after a gap of 30 minutes you will not be able to continue the test as the session will be terminated by default. In such a case, you will need to inform the authorities.
Q. What happens if my test session is terminated for no fault of mine?
A. You may be allowed to take the test again after verification that the interruption was not due to any misconduct.
Q. What if someone else enters the room while I am taking the test?
A. You must inform your family members and others at your home to absent themselves from the area where you are taking the test. If someone enters the area by mistake, ask them to leave immediately. In case of such interruptions, your testing session will be flagged for review but you will not be penalised if it is concluded that no misconduct has occurred.
Q. I am a PWD (Person with Disability) candidate. How will the new test format accommodate my special needs and support requirement?
A. All candidates who have provided details of their disability during registration will be contacted to understand their requirements for taking the test. If you have any disability that has additional time or other needs, LSAC will communicate directly to ensure the same is available to you for taking the online LSAT—India.
FAQs about LSAT—India Scores


Q. When will the LSAT—India scores be announced? How can I avail them?
A. Scores are generally available a few weeks after the test date. You will be intimidated by email when your score card is available for download from the registration site.
Q. Under what circumstances can my score be cancelled?
A. Any failure to follow invigilator instructions, violation of the terms and conditions, or cheating are grounds for cancellation of scores. This may occur if, during post-test analysis, there is evidence of cheating. Scores will be cancelled without an offer of a retest.
Q. Can I apply for a recheck of my score or answer sheet? What is the procedure?
A. Yes. You can apply for the same after payment of a fee of INR 1500 regardless of the reason for the request or the outcome of the recheck.
Q. What is the validity of the LSAT—India scores?
A. LSAT—India scores are valid for 5 years from the date of the result declaration. However, you should check with the law college about the same before you apply.
FAQs about LSAT—India Associated Law Colleges
Q. Which law colleges accept LSAT—India scores?
A. LSAC Global – India LLP has associated with many colleges where LSAT—India scores are a preferred criterion for admission. Many other law colleges in India will accept LSAT—India scores; the list of colleges accepting LSAT-India scores is also mentioned on the website.
Q. Will law colleges accept the online LSAT—India as a valid alternative to the standard LSAT—India?
A. While there has been such indication from any of the associated law colleges, it is still advisable to check the admission criteria before applying.
Q. Is there a common admission process through LSAT-India?
A. No. students must visit the website of the respective law colleges, check learn the eligibility requirements and procedures and then apply. LSAT—India is in no way concerned with the admission processes of the law colleges.
Q. Will LSAT—India associated law colleges receive confirmation of my score from LSAC Global – India LLP?
A. Yes, LSAC Global – India LLP will officially send your scores to the law colleges associated with LSAT—India.
Questions related to LSAT India
Showing 134 out of 134 Questions
Law School Admission Test for India (LSAT India)