MH CET Law 2019 Topper Interview: Mock tests have played a crucial role in my success says Bharat Harne, AIR 1
MH CET Law 2019 Topper Interview: Finishing first in a race is a dream of everyone who takes part in it. This year this dream became a reality for Bharat Harne (AIR 1 in MHCET Law 2019). Bharat Harne is this year's topper for MH CET Law 2019 5-year. MH CET Law 2019 for 5-year programme was conducted on April 21, 2019. The examination was conducted by the government of Maharashtra for admission to the 5-year integrated law programme offered by the Universities of the state. The result for MH CET Law 2019 5-year programme was declared on May 13, 2019. The boy from Bhopal scored a whooping 138 marks in the examination. In an exclusive interview with Careers360, the boy who loves to read shares his success mantra and gives away his secrets. Read the complete article to know how Bharat Harne won the race to his dream college.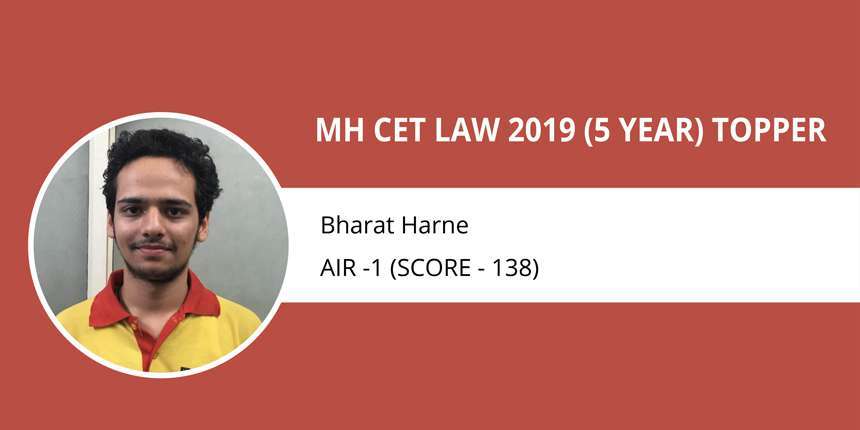 Careers360 : Congratulations on qualifying MH CET Law 2019 with such good grades. How do you feel being the all India topper?
Bharat: I feel good, but I will feel better if I could replicate the same performance in all the other law exams.
Careers360 : What made you choose a career in law?
Bharat: A career in law was the last thing on my mind. I never imagined that I would pursue a career in law. Towards the end of Class X, I started reading about law. It was then that I just felt this is the thing for me. I found the subject interesting and I could do it.
Careers360 : When did you begin your preparation for MH CET Law 2019?
Bharat: I started preparing for the law entrances in the end of Class XI academic session. I prepared throughout my Class XII. but my performance was not as per my expectations in the law examinations held that year.
Careers360 : Apart from MH CET Law 2019, which other entrance exams are you taking? How was your performance in those?
Bharat: I am taking CLAT 2019. I have also attempted AILET 2019 and SLAT 2019. In SLAT 2019, I scored 131 marks.
Careers360 : Can you share your preparation strategy?
Bharat: At the initial stages of preparation, I had no strategy. My preparation was scattered, and this cost me a lot. Then I realized that having no preparation strategy was a mistake. After CLAT 2018, I took a year off and joined a coaching institute in Bhopal. One major advantage to joining a coaching is that they prepare a strategy for you. I just followed the strategy and it worked for me.
Careers360 : How did you prepare for legal aptitude section?
Bharat: For the legal aptitude section I referred to the previous years question papers. They are the best source. I also referred to the material provided by my coaching institute. But my first preference was the previous year question papers. According to me, they are the most reliable source. Mock tests and practice sheets also help.
Careers360 : What was your preparation strategy for English?
Bharat: I have a habit of reading, so reading comprehension was not much of a problem for me. I read a lot,I read throughout my drop year. I read regularly and as much I can. For vocabulary, I referred to a book called 'word power made easy'. This book was a big help and I would suggest this book to everyone who wishes to appear for law entrance examination. For grammar, I read Wren and Martin and practiced a lot of questions. This pretty much covers the English section.
Careers360 : What was your strategy for general knowledge section?
Bharat: For General knowledge I read the newspaper. I read the HIndu regularly and religiously throughout the year. In Fact I have been reading the Hindu for almost two years now. Initially I ignored the newspaper and that was a mistake because it cost me a year. So this is something that I would recommend to everyone, stick to the newspaper. It may be any newspaper.
Careers360 : What role have mock tests played in your success?
Bharat: Mock test have probably played the biggest role. Through mock tests you can gauge your preparation and analyse what you have completed. Merely studying a subject won't fetch you marks, you have to learn how to implement it during a mock. There is a timer in the mock test, which gives you a sense of time slipping away while attempting the questions, that is something that a student has to master. Mock test gives you a real experience and is sort of a reality check for you.
Careers360 : What was your preparation strategy for reasoning?
Bharat: I was weak in logical reasoning, but I could overcome my weakness very easily. Logical reasoning section is the easiest to improve because all you have to do is practice. I practiced a lot of questions and I realized throughout my preparation that if you are weak in something, just practice regularly. So I practiced logical reasoning regularly. I might have skipped english for a week, but I practiced logical reasoning everyday.
Careers360 : What are your hobbies?
Bharat: I like to swim and listening to music. I used to play tabla, but I gave up the hobby eventually.
Careers360 : What was your schedule while preparing for the entrance?
Bharat: I used to get up early and start studying at around 7:30 am. I used to study till 1, then I had my lunch. I had classes from 1:45 pm to 6 pm. After coming back home, I read the newspaper. This was followed by a recreational activity like reading a novel.
Careers360 : What did you do to de-stress yourself?
Bharat: To de-stress, I read a book or watched tv. But this did not exceed 40-50 minutes a day, because I consider that more than that is a waste of time.
Careers360 : What advice would you like to give the future MH CET Law aspirants?
Bharat:
My first advice will be to strategize your preparation. Something that I didn't do initially.

Secondly start your preparation early. Start in Class 11 as it is a golden time. I wasted that year, if I would have just studied for two hours I would have cleared the law exam in my first attempt.

For the students of Class XII, I would like to say, remember that its manageable. Most students think that Class XII boards and law entrances cannot be done together. But that's not true.

Lastly, work on your weaknesses and retain your strength.
Questions related to MAH-LL.B (5 years) CET
Showing 1010 out of 1010 Questions