RMLNLU Placements - If Dr Ram Manohar Lohiya National Law University (RMLNLU), Lucknow is in your wish list, you should go through RMLNLU placements report. This will help you assess your career prospects after completing your graduation from RMLNLU Lucknow. RMLNLU placements report will you what type of companies come to the institute for recruitment. The median pay scale is also something important to consider; in this article, the median pay scale of RMLNLU Lucknow in comparison to other popular NLUs is given which will you a proper sense of what you are getting into when taking admission to the institute. Go through the rest of the article to learn the full details of RMLNLU placements 2020. Also Read: RMNLU Fee Structure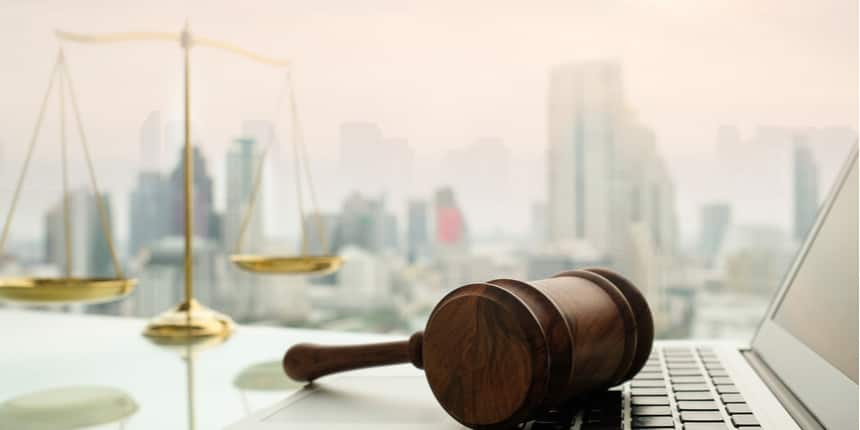 CLAT qualification mandatory for admission into the NLUs:
Admission to the 22 participating NLUs, including RMLNLU Lucknow, will be based on CLAT 2020 scores. So, the candidate needs to have qualified in the exam and also meet the CLAT 2020 cutoff for RMLNLU Lucknow.
The pen-and-paper based CLAT 2020 entrance exam is slated to be held on August 22. The application form of CLAT 2020 has been closed on July 10.
RMLNLU median salary and NIRF graduation outcome scores compared with other law colleges:
| | | | | |
| --- | --- | --- | --- | --- |
| NLU | Median salaries (lakhs) | NIRF Median Salary (GMS score) (lakhs) | NIRF Graduation Outcomes Score | Total NIRF score |
| NLSIU Bangalore | 14.5 | 24.82 | 77.78 | 75.79 |
| NLU Delhi | 15 | 23.17 | 62.52 | 74.58 |
| Nalsar Hyderabad | 18 | 25 | 89.53 | 70.95 |
| IIT Kharagpur | 8 | 18.38 | 71.46 | 67.07 |
| NLU Jodhpur | 14.5 | 23.73 | 75.53 | 63.5 |
| Jamia Islamia | 4.8 | 13.99 | 72.56 | 59.91 |
| NUJS | 10 | 21.24 | 63.12 | 59.17 |
| RMLNLU Lucknow | 9 | 19.54 | 79.04 | 54.82 |
| SLS Pune | 9.75 | 21.85 | 80.02 | 54.25 |
| Ambedkar | 1.968 | 15.16 | 56.02 | 50.93 |
Source: legally India, published on April 12, 2018
What companies/legal organisations visit RMLNLU for campus placement?
ACM Legal, New Delhi

ALMT Legal, Bangalore

Amarchand Mangaldas & Suresh

A. Shroff & Co.

Anand & Anand

Arimus Law LLP, New Delhi

Association for Advocacy & Legal Initiatives

Aviva Life Insurance

AZB & Partners

Bajaj Allianz General Insurance Company, New Delhi

Classis Law

Clat Possible, Kolkata

Desai & Diwanji

Eastern Book Company, Lucknow

HCL Infosystems

HDFC Home Loans

Hemant Sahai & Associates

HSB Partners, Chennai

ICICI Lombard Infosys Juris Legal

Karanjawala & Co. LLP Khaitan & Co.

Khaitan Sud & Partners, New Delhi

KK Sharma Law Offices, New Delhi

Krishnamurthy & Co.

Lakshmi Kumaran & Sridharan, New Delhi

Larsen & Toubro

Maruti Udyog, Gurgaon

Meharia & Co. , New Delhi

OSC Knowledge Centre, Gurgaon

Pangea3, New Delhi

Pavan Duggal Associates, New Delhi

Phoenix Legal

PricewaterhouseCoopers

Priti Suri & Associates, New Delhi

PXV Law Partners

Quislex Reliance Infocom

Remfry Sagar RS & Co. Law Offices

SDD Global Solutions Pvt. Ltd.

SJ Law Shriram General Insurance Co. Jaipur

Sterilite Energy Ltd. Jharsuguda

Suri & Suri Law Offices

Torrent Power Co.

Trilegal Wadia Ghandy & Co.
What is RMLNLU Placement placement process?
Each of the NLUs have a placement cell that helps students by providing placement related information and assistance. RMLNLU Placement may take place in two parts:
Placement in the fourth year: This is the most important placement process, as all the big companies come for recruitment. Placement in the fourth year is also called zero-day placement and takes place when the student is still in college.
Placement in the final year: There are fewer participants in the final year, as most students are already placed. But if the student wants, they can participate in final year placement even if they are placed.
Also Read:
Frequently Asked Question (FAQs) - RMLNLU Placements
Question: What law programmes are offered by RMLNLU?
Answer:
RMLNLU offers 5-year integrated LLB and one-year LLM programme.
Question: How many BA LLB seats are offered by RMLNLU
Answer:
As per the current seat matrix of RMLNLU, there are a total of 160 seats in BA LLB programme that will be offered on the basis of CLAT 2020.
Question: What are some of the top companies that visit RMLNLU for campus placement?
Answer:
Most established organisations and legal firms visit the RMLNLU for campus placement. These include -
Amarchand Mangaldas & Suresh, Anand and Anand, Larsen & Toubro, Lakshmi Kumaran & Sridharan, New Delhi and many others.
Question: Is it mandatory to cleat CLAT for admissions to RMLNLU?
Answer:
Yes, RMLNLU is a participant of CLAT Consortium and gives admissions on the basis of CLAT scores. So it is mandatory to clear CLAT for admission to RMLNLU.
Dr Ram Manohar Lohiya National Law University, Lucknow Updates and Articles
RMLNLU Lucknow Fee Structure 2020 - RMLNLU fees consist of adm...
27 Feb 2020
Questions related to Dr Ram Manohar Lohiya National Law University, Lucknow
Showing 172 out of 172 Questions