VIT University School of Law, Chennai organised a national conference on March 25. A day-long conference on the theme 'Independence of Judiciary and Judicial Accountability' addressed to strike a balance between independence and accountability of judiciary. The conference was attended by judges, advocates, academicians, scholars, civil society members and students.

Speaking at the conference, Justice D Murugesan, former Chief Justice of Delhi High Court and member of NHRC said, "Independence of judiciary has been ensured by the Constitution. The conflict arises when the government puts the unpleasant issues, like inter-state water disputes, before the courts to decide." Justice Murugesan further said that the judiciary responsible to the people should be transparent in its working. Interference with judiciary by any other two wings will impair the independence of judiciary.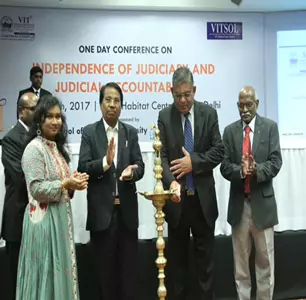 VIT University School of Law organises conference on Independence of Judiciary and Judicial Accountability
Dr G Viswanathan, Founder & Chancellor, VIT University said that the government should not influence the judiciary, though separation of power is provided by the Constitution.
The conference also addressed the contentious issues of appointment of judges to the higher courts in India. The desirability for a suitable model stem from the single factor retaining the independence from the other two wings – the government and the legislature. Independence of judiciary is connected to issues like accountability, efficiency, impartiality and respect for the Constitution.
Discussions on Judicial accountability revolved around variety of aspects including willingness of the judiciary to look into the allegations made against judges objectively in a non-partisan manner so as to instil and retain confidence in the judiciary.
Other speakers who addressed the gathering at the conference were Kadhambari S.Viswanathan, Assistant Vice President VIT University Chennai, Dr. Anand S. Samual Vice Chancellor, Prof. Gandhi.M Dean VIT School of Law.
Stay tuned to www.law.careers360.com for more news and updates