About AIBE 2019
AIBE, also known as All India Bar Examination, is an assessment test conducted at national level by the Bar Council of India.
The exam aims to test the ability of advocates to practice law as a profession in India. AIBE analyses test taker's analytic abilities and basic understanding of law. The assessment test is conducted in 44 cities across India. AIBE is an offline open book test with multiple choice based questions provided in 11 languages.
Candidates who clear AIBE will be given 'Certificate of Practice' by the BCI. This certificate makes the candidate eligible to practice in court of law.
Exam level:
National Level Exam
Frequency:
2 times a year
Languages
Assamese, Bengali +9 More
Conducting Body:
Bar Council of India

Duration
3 Hours 30 Minutes
AIBE 2019 Important Dates
| | |
| --- | --- |
| 01 Sep, 2018 - 13 Nov, 2018 | Others - Completion of online form and sorting deficiencies | Mode: Online |
| 27 Sep, 2018 - 13 Dec, 2018 | Others - Fee payment through challan | Mode: Offline |
| 26 Sep, 2018 - 15 Dec, 2018 | Application | Mode: Online |
| 23 Dec, 2018 | Exam | Mode: Offline |
| 19 Dec, 2018 - 22 Dec, 2018 | Admit Card | Mode: Online |
| 15 Mar, 2019 | Result | Mode: Online |
Candidates can refer to AIBE eligibility criteria 2019 XIII (13) mentioned below to check whether they are eligible to appear for AIBE 2019 XIII (13).
All candidates who wish to appear for AIBE XIII for 2019 should hold an L.L.B. degree from a recognized law institution.
There is no age limit to appear for AIBE XIII.
Candidates must ensure that they fulfill the aforementioned eligibility criteria before filling the application form. Even if a candidate has completed all formalities related to application but is found to be not complying with eligibility criteria for AIBE 2019 XIII (13), his/her admission will be cancelled.
Mode of Application : Online and Offline
Mode of Payment : Net Banking | Credit Card | Debit Card | Demand Draft | Bank Challan
Application Fees
| Category | Quota | Mode | Gender | Amount |
| --- | --- | --- | --- | --- |
| SC, ST | | Offline | Transgender, Male, Female | ₹ 2560 |
| General, OBC | | Offline | Transgender, Male, Female | ₹ 3560 |
Candidates can go through the important points regarding AIBE application form 2019 XIII (13) mentioned below.
Candidates will have to fill relevant details in the application form like candidate's name, father's name, age, and so on. Additionally, the candidate will have to provide his/her signature as a scanned photo and his/her photograph.
Candidates are advised to keep following documents handy for filling the application form of AIBE 2019 XIII (13) - photo id, latest photograph of the candidate, candidate's enrolment certificate, scanned picture of the candidate's signature.
Mode of application fee is both offline and online.
Candidates are advised to fill their details on the AIBE 2019 application form carefully to avoid mistakes. Entries made by the candidate on the application form cannot be rectified after submission.
AIBE E-books and Sample Papers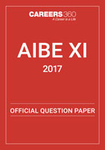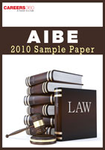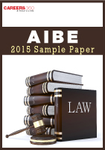 AIBE 2019 Syllabus
LLB
Constitutional law
I.p.c (indian penal code)
Cr.p.c (criminal procedure code)
C.p.c (code of civil procedure)
Evidence act
Alternative dispute redressal including arbitration act
Family law
Public interest litigation
Administrative law
Professional ethics & cases of professional misconduct under bci rules
Company law
Environmental law
Cyber law
Labour & industrial laws
Law of tort, including motor vehicle act and consumer protection law
Law related to taxation
Law of contract, specific relief, property laws, negotiable instrument act
Land Acquisition Act
Intellectual property laws
AIBE 2019 Preparation Tips
ddddd
Candidates are advised to go through the below mentioned preparation tips for AIBE 2019 XIII (13) to score better in the exam.
Firstly, candidates must go through the exam pattern of AIBE 2019 XIII (13) to be aware of the marking scheme, structure of question paper, and type of questions to be asked. In this way, the candidates will have a basic idea of the format of the exam and how they are to be marked.
Candidates are also required to carefully go through the syllabus of AIBE XIII exam. They must prepare each of those topics properly.
Candidates are advised to start their preparation well in advance and not leave the syllabus for last few days. Candidates must break down the syllabus in chunks, assign time blocks to each of the topics, and prepare according to the time-table.
Candidates must go through AIBE sample papers and practice them. Candidates can also conduct mock test sessions for themselves where they practice the sample papers within the same time duration as that of the exam. This will mentally prepare the candidate for the exam and he/she is not off-guard upon seeing the question paper.
Candidates must also ensure that they are left with sufficient time to revise the syllabus.
Candidates must go through AIBE exam pattern 2019 XIII (13) presented in the table below to get an idea of the question paper structure, marking scheme, and so on for AIBE XIII 2019 XIII (13). This will aid in their exam preparation.
AIBE 2019 Exam Pattern XIII (13)
| | |
| --- | --- |
| Exam Pattern | Details |
| Mode of exam | Offline, open book test |
| Duration | 3.5 hours |
| Question type | MCQs with 4 options |
| Total number of questions | 100 |
| Total marks | 100 |
| Marking scheme | Each correct answer will fetch 1 mark, no negative marking |
AIBE admit card 2019 XIII (13) was made available in online mode. AIBE 2019 XIII (13) candidates can find important details in the admit card like name of the candidate, parents' names, candidates' roll number, time and date of examination, time of reporting and test centre address. Candidates must take note that they will not be allowed to enter the exam hall without their admit card for AIBE 2019 XIII (13).
How to Download AIBE Admit Card 2019 XIII (13)
The candidate will need to click on the official download link for admit card.
Candidate upon entering the registration number and date of birth will be directed to a page which will display his/her admit card.
Candidates should carefully check if all the details on AIBE 2019 Admit Card XIII (13) are correct or not. They can then take a print out of the admit card.
AIBE 2019 Exam Centers
State
City
Bihar
Patna
Assam
Guwahati
Uttarakhand
Dehradun
Rudrapur
Madhya Pradesh
Indore
Bhopal
Jabalpur
Jharkhand
Ranchi
Bokaro
Chhattisgarh
Raipur
Bilaspur
Maharashtra
Nagpur
Mumbai
Aurangabad
Nanded
Pune
Sawantwadi
Uttar Pradesh
Lucknow
Allahabad
Noida
West Bengal
Kolkata
Kerala
Kochi
Rajasthan
Jaipur
Jodhpur
Telangana
Hyderabad
Tamil Nadu
Chennai
Coimbatore
Tiruchirappalli
Chandigarh
Chandigarh
Odisha
Bhubaneshwar
Karnataka
Bengaluru
Dharwad
Gujarat
Ahmedabad
Rajkot
Surat
Delhi
Delhi
Andhra Pradesh
Visakhapatnam
Haryana
Hisar
Gurgaon
Himachal Pradesh
Shimla
Jammu and Kashmir
Jammu
Manipur
Imphal
Meghalaya
Shillong
Punjab
Amritsar
Tripura
Agartala
Documents Required at Exam
Admit card
Valid photo identity card
AIBE answer key 2019 XIII (13) will be released online, Candidates will be able to assess their performance and calculate marks they are likely to score in the exam with the help of answer key.
How to Download Answer Key of AIBE 2019 XIII (13)
Candidates will have to click on the link for answer key.
After clicking on the link, candidate will be directed to a new page which will be a pdf of AIBE 2019 answer key XIII (13).
In case of any objections, candidates will be able to register complaints with the answer key within ten days of the release of the provisional answer key. A final answer key will be released after considering all objections.
AIBE result 2019 XIII (13) has been released online by the BCI on March 15, 2019. The results will mention candidate's name, roll number, registration number, score, and qualifying status. AIBE XIII results will specify the scores and qualifying status obtained by candidates in AIBE 2019 XIII (13). AIBE 2019 result XIII (13) should be downloaded and retained by the candidates till the time of admission for further references. To know how to check AIBE 2019 XIII (13) results, read below.
How to Download Result of AIBE 2019 XIII (13)
Candidates will have to click on the official link for AIBE result.
Candidates will then be required to enter their roll number and date of birth.
Upon entering the above details, results of AIBE XIII will appear on candidates' screen.
Candidates are required to download the result for future purposes.
Questions related to AIBE