CLAT 2017: Allahabad HC orders lifting of age bar for 70 CLAT aspirants
In what could be a sign of age bar reversal for CLAT, Allahabad High Court on February 9, 2017 has ordered Common Law Admission Test (CLAT) 2017 Convenor to allow as many as 70 law aspirants with more than 20 years of age to appear for the national-level law entrance examination. The decision overrules the upper age limit of 20 years set by Bar Council of India (BCI). "We have won the case regarding age cap where 70 petitioners have been allowed to fill the application form and appear for CLAT 2017. This will make them eligible for admissions in NLUs also depending on their performance in CLAT," confirmed Advocate Sushmita Mukherji, counsel for the group of 70 CLAT petitioners.

Related Post
CLAT 2019
CLAT Application Form 2019
CLAT Admit Card 2019

The petitioners had demanded a reversal to the age cap put by BCI for admissions to law programmes across the country.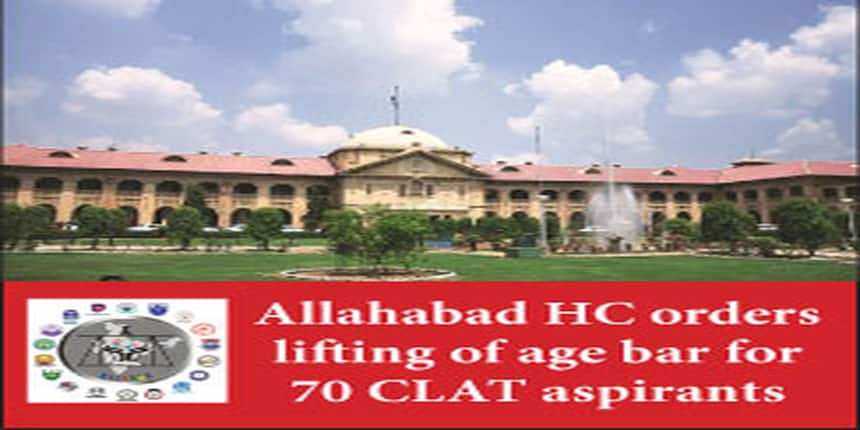 Advocate Mukherji told Careers360 that the decision to allow the 70 petitioners can also affect the current age bar for all aspirants in the CLAT 2017 application form. "The petitioners can now appear for the Chanakya National Law University (CNLU) Patna administered common law admission test as the Court has reassured me again and again that my petitioners are safe," she said.
According to Advocate Mukherji, the Allahabad HC judge, Justice Dilip Babasaheb Bhosale expressed surprise over an age bar for studying. "Enabling act is the Advocates Act, and the Advocates Act does not give any power to the BCI to impose any such restrictions," added the Advocate quoting Justice Bhosale.
While the complete text of Allahabad High Court is awaited, Careers360 talked to the CLAT Convenor on this matter. The CLAT 2017 convenor said that he is yet to get any intimation in this regard from the court. "Once the Allahabad High Court's order copy comes, we will take necessary actions," said Dr A Laxminath, CLAT 2017 Convenor, adding, "We'll have to abide by Honourable court's order."
Further, another petition regarding CLAT 2017 age cap is subjudice in the Supreme Court and the validity of Allahabad HC's order may also depend on the outcome of the decision of apex court on the petition filed by Advocate Zoheb Hossain and an IDIA scholar in this regard.
What's now in CLAT 2017?
Now, BCI is likely to appeal in SC against the Allahabad High Court order even as another similar case is already being heard in the apex court.
What will happen to CLAT age bar?
After Allahabad HC order, CLAT convenor will have to give clarity whether, besides the group of 70 petitioners, the lifting of age bar will be applicable to all CLAT applicants. This will further affect eligibility of CLAT 2017.
The background of CLAT age cap
This High Court order has come after a petition was filed in November 2016 against the Bar Council of India's (BCI's) age bar policy. The BCI in a sudden move had put an age bar of 20 years (22 years for reserved category) for admissions to five-year integrated law programmes and 30 years (35 years for reserved category) for admissions to three-year LB programmes. Moreover, the BCI had also asked all the law institutions across the nation to implement the same from the current admission year. The BCI move had faced protests by aspirants followed by an HC petition by a group of 70 students in this regard.
Stay tuned to law.careers360.com for more news and updates on CLAT
Questions related to CLAT
Showing 6928 out of 6928 Questions