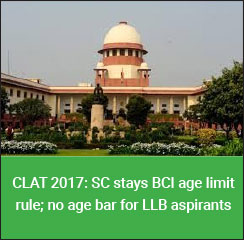 The Supreme Court has issued an interim stay order against the Bar Council of India's attempt to introduce an upper age limit for LLB admissions to state law colleges and Universities, while making it clear that no age limits can apply to aspirants seeking to study law in the country. The verdict comes after months of protracted legal battles between the BCI and numerous petitioners across India rendered ineligible for major law examinations such as CLAT due to the age cap.

Related Post
CLAT 2019
CLAT Application Form 2019
CLAT Admit Card 2019

Speaking to Careers360, Advocate Sushmita Mukherji stated that the news has made her and all other petitioners "extremely happy". In February, Advocate Mukherji had won a case on behalf of 70 petitioners challenging the upper age limit in the Allahabad High Court. However, the High Court bench had also clarified that with the matter pending in the Supreme Court, the order would only stand subject to the latter's final decision. With the apex court finally passing its verdict, the Allahabad High Court's verdict on removing the age bar also stands. "We were looking forward to this for a long time. The age limit revocation brings justice to every aspiring law student," Advocate Mukherji said.

CLAT Sample Paper
Download Free Sample Paper for CLAT
Download Now
Earlier on March 1, the Bar Council of India had held its annual general body meeting in Kolkata and passed a resolution which increased the upper age limit for law aspirants from 20 to 22 years for Five Year Integrated law programmes and from 30 years to 45 years for Three Year LLB programmes. This had been done on the basis of a recommendation made by the Supreme Court in the previous hearing held on February 28, wherein it had directed the BCI to "take a good decision...take such a decision so that no one should come to court."