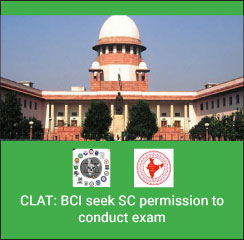 Bar Council of India (BCI) has sought Supreme Court permission to conduct CLAT which is a national-level law entrance test for National Law University (NLU) admissions. In a counter affidavit filed in response to a PIL seeking a permanent body for conducting CLAT, Bar Council of India secretary Srimonto Sen told the Supreme Court that the council has statutory authority to conduct the exam and its competence in this regard is well established as it already conducts similar national level test AIBE annually.

Related Post
CLAT 2019
CLAT Application Form 2019
CLAT Admit Card 2019


"The Bar Council of India may be permitted to constitute the body of experts through its Legal Education Committee, to hold CLAT wherein the Legal Education Committee council involve some sitting and former Hon'ble Judges, noted educationists of legal education and eminent jurists and such irregularities as complained of by the petitioner herein may be effectively redressed," reads the nine-page affidavit filed by BCI in response to a PIL pleading permanent CLAT conducting body that was filed by Shamnad Basheer in the year 2015.

Read here full story.


CLAT Sample Paper
Download Free Sample Paper for CLAT
Download Now
The BCI told the Court that "At present, the admissions to the NLUs are being made on the basis of admission test, which is being conducted by non-statutory body, while a statutory body regulating the legal education in the country is duly constituted and is capable enough to conduct such admission tests."
Admissions Open Now
PES University Law Admissions
Apply Now for Law Admissions 2019 at PES University
"The BCI has been successfully conducting All India Bar Examination (AIBE) under the orders passed by this Hon'ble Court and has appointed Committee of experts to the conduct the same since the year 2011," the BCI said, adding "It has experience of conducting AIBE successfully in most fair and transparent manner."
Further, the regulating body also claimed that it has the mechanism in place to conduct even the entrance/ admission test for law courses for all the institutions imparting legal education in the country thorough a common entrance test.


CLAT 2017 is already scheduled to be administered by Chanakya National Law University (CNLU) Patna, as per the decision by existing CLAT Committee which comprises members from 17 NLUs.


In the Court, BCI however stated that NLUs have no statutory authority to conduct CLAT. "CLAT is being conducted by the committee of participating NLUs on rotation basis on mutual understanding which has no statutory recognition, while all the NLUs have been established by legislation and the BCI is the sole interested statutory body in the field of legal education has no role or supervision in the said admission test."


Stay tuned to law.careers360.com for more news and updates on CLAT 
Questions related to CLAT