Coronavirus scare: Will CLAT 2020 be postponed in view of rising cases?
With the number of coronavirus cases spiking in India, the central and state governments are scrambling to put in place stringent measures like the closure of schools, colleges, malls, and entertainment and recreational venues. The emerging situation has also kept CLAT-aspirants on the tenterhooks, as if the situation deteriorated any further there is every chance that the exam may be postponed.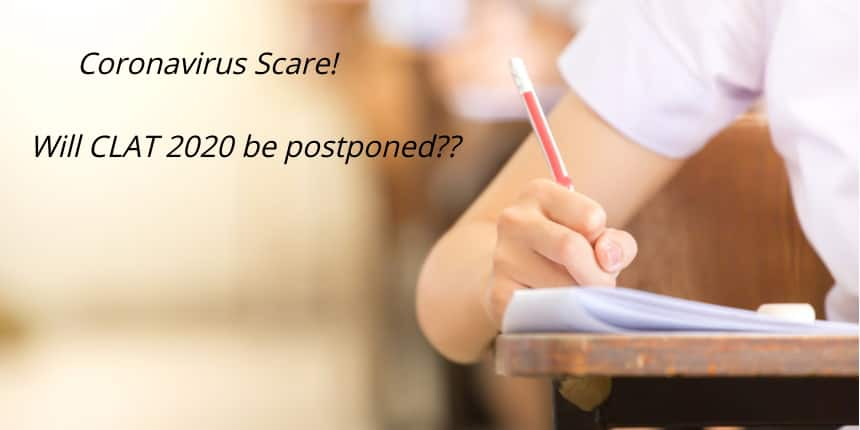 The pen-and-paper based CLAT 2020 exam is currently slated to be conducted on May 10, with the application form currently open. The last date to submit the completed CLAT 2020 application form is March 31.
Coronavirus update:
At the point of writing this news, the total number of coronavirus cases in India stands at 117. So far two people have succumbed to the virus, which causes COVID-19 disease.

Maharashtra has recorded the highest number of cases, more than 33 at last count after detection of 19 new cases. Kerala comes second at 24 cases.

To stop the contagion from spreading, most states have closed down shopping malls, schools, colleges, recreational and entertainment areas.

In states like Maharashtra, malls, schools and colleges will remain shut till March 31. The Assam government has ordered shutting of these institutions till March 29.

The central government is evacuating Indian nationals who were stuck in foreign countries, including in coronavirus epicentres like Italy and Iran.

Major events like the IPL have been suspended, as travelling becomes more and more hazardous.

International figures like the wife of Canadian PM Justin Trudeau's wife has tested positive for coronavirus. Donald Trump, the US President, who many speculated has contracted the virus, has however tested negative.
Precautions against Coronavirus:
Wash hands frequently using alcohol-based hand rub or with soap and water.

Maintain social distancing of at least 1 metre (3 feet) from people who are coughing or sneezing.

Don't touch your eyes, nose and mouth with unwashed hands.

Follow respiratory hygiene like covering your mouth or nose when coughing or sneezing.

Seek medical intervention if you have fever, cough or difficulty in breathing.

Follow any other guideline issued by the government or health authorities.
What are chances of CLAT 2020 being postponed?
The exam conducting authority hasn't come out with any notification yet as to whether the coronavirus scare may have any influence on the CLAT exam schedule. But if the situation gets out of control, we can expect a comment from CLAT authorities.
Also, given the fact that the CLAT exam will be conducted in May, the authorities have some time in their hands to assess the situation and react accordingly.
CLAT 2020
NUSRL, Ranchi will conduct CLAT 2020 exam for admission to law courses offered by the 22 participating NLUs. The CLAT-based seat intake is 2538 for 5-year integrated law program, and 742 for LLM program.
In addition to the NLUs, affiliates (private universities) will also use CLAT scores for admission.
For related-new - Click here
Questions related to CLAT
Showing 6970 out of 6970 Questions