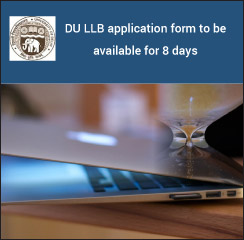 In what could be a shocking news for Delhi University law aspirants is DU LLB 2017 application form ends in just eight days. The online application window of Delhi University LLB entrance exam is scheduled to be closed on June 20, 2017. "University of Delhi reschedules admissions to various post-graduate programmes including LL.B for the academic session 2017-18. The online registration will start from June 12, 2017," reads a notification on DU LLB application postponed schedule. Candidates can check here more on DU LLB application form 2017.
Earlier, the university was to provide about a fortnight-time to fill the DU LLB application forms. However, the revised DU LLB exam calendar will provide an application window of just eight days to the candidates. Further, had the application form of DU LLB 2017 begun on May 31, it would have given around three-week time to the candidates.
The Delhi University undergraduate law aspirants are showing their discomfort regarding the short application window for DU LLB 2017. "With the revised schedule of DU LLB 2017 applications; I don't think it's justified with only eight days being provided for filling the applications," complains Hardik Juneja, a DU LLB 2017 aspirant.
Further, the DU LLB aspirants also question on heavy traffic on application server page. "With eight days in hand, how can we fill the application form? Won't the application page get burdened with traffic? Will the university have good servers to tackle such situations," asks Divya Karuna, who seeks admission in LLB programme of Delhi University.
When the DU LLB aspirants are confused, the Delhi University has re-scheduled its application dates for the second time in a row. Earlier, the application was to begin from May 31 but was postponed by seven days and was to begin at May 7, 2017. However, the varsity re-postponed the DU LLB applications to May 12, 2017, thus shortening the application window from 13 to eight days.
The Delhi University is yet to announce the DU LLB 2017 brochure and the other important dates of DU LLB entrance exam.
Stay tuned to law.careers360.com for latest updates and news on DU LLB
Get real-time alerts on exam & colleges at your fingertips with Careers360 App!
Click Here to Install or Give a missed call on 08080944727 to get app link.
Latest: [Download free Question Papers and Sample Paper of DU LLB, Click here]
DU LLB Sample Paper
Download Free Sample Paper for DU LLB
Download Now