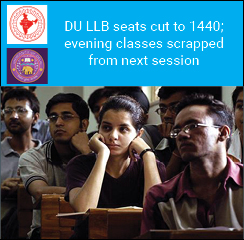 Following a decision by the Bar Council of India (BCI), the Faculty of Law, Delhi University will be able to admit only 1,440 students to its LLB programme from 2017-18 as against the current intake of 2,310. The University has also been asked to discontinue its evening classes from the next session, although, for the current academic session the classes will continue as it is.

DU LLB officials had earlier requested BCI to let the university continue with its evening classes for LLB students who are in the batches of 2014-2017 and 2015-2018 so that their courses can be completed.


BCI's decision to scrap both seats and evening classes comes in the light of the Delhi University lapsing on its infrastructure and intake requirements. Further, the University had also reiterated its stand to resolve and recruit permanent teachers against vacancies as per UGC and BCI regulations.


What are the new decisions of BCI regarding DU LLB programmes?
The three law centres will be allowed to take 767 students each, i.e., total of around 2310, as advertised by the University, but this is applicable only in 2016-2017.

From the academic year 2017-18, they can admit only 480 students per centre.

There will be no evening classes from 2017-18.

LLB students who are in the batches of 2014-2017 and 2015-2018 can continue with their evening classes

Second and third years' students of Law Centre I and II are allowed to take classes till 9:30 pm to cover the five and half hours class timings in order to complete their studies.

From the academic session 2016-17 (for new students), the classes in Law Centre (LC) I will be held from 8:00 am to 1:30 pm and that in Law Centre (LC) II from 2:00 pm to 7:30 pm in the new building.

Campus Law Centre (CLC) will remain in the same building and operate in same time schedule.

Law Centre II will be shifted to new centre with full infrastructure within one year.

CLC and LC I will be operated in new building from the year 2017-18 and these centres will shift in new building within the next one year.

Old building if CLCL and LC I (presently existing) will be demolished and new construction will begin for the faculty of law, DU.

All students who have obtained their degrees from evening classes are regularised and can be enrolled with State Bar Councils.
Stay tuned to law.careers360.com for more news and updates on DU LLB exam
DU LLB Sample Paper
Download Free Sample Paper for DU LLB
Download Now
Questions related to DU LLB