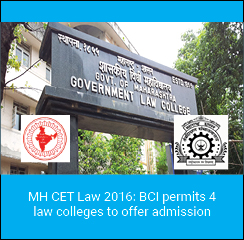 Four law colleges of Maharashtra breathed a sigh of relief after the Bar Council of India (BCI) granted them permission to admit students for the current academic session on a precondition that they achieve the prescribed norms stated by the body within the stipulated time.

The Legal Education Committee (LEC) of BCI has allowed the top four law colleges-Government Law College, GJ Advani College, Jitendra Chauhan College and KC College, to admit student after they paid a fine, which the regulatory body had imposed for non-fulfilment of its norms.  BCI has also fined 10 other law colleges functioning under the University of Mumbai for failing to seek the council's recognition.


Earlier, around 40 of the Maharashtra state law colleges including Government Law College (GLC) Mumbai had been de-recognised by BCI after they failed to meet its basic norms including inadequacy of teaching staff and classrooms.
One of the LEC officials said, "Every college which fulfils the condition before September 5, 2016, will be granted permission, subject to the council's approval. We might ask the state government give an undertaking that it will appoint teachers in three to four months."
BCI officials have been quoted as saying to a national daily that these colleges had been in the 'no-admission list' since 2013 for not meeting basic infrastructural norms including no appropriate faculty-student ratio and classrooms. However, these colleges continued to flout norms while still requesting extensions from the regulatory body.
Meanwhile, Supreme Court has issued notices to the Maharashtra state government and Bar Council of India (BCI) after taking cognizance of a Special Leave Petition filed against the Bombay High Court's decision to dismiss a writ petition challenging MH CET Law 2016.
Stay tuned to law.careers360.com for more news and updates on MH CET Law
MAHA CET Sample Paper
Download Free Sample Paper for MAHA CET
Download Now
More like MAHA CET
MH CET Law Exam Pattern 2019
MH CET Law Exam Pattern 2019 - DHE Maharashtra has announced MH CET Law 2019 Exam Pattern includi...
Questions related to MAHA CET
Related E-books and Sample Papers