Nirma University Campus Life: Virtual tour by Shubham Vijay
Established in the year 2003, Nirma University is one of the premium law schools in India. The University has been accredited with a grade 'A' by NAAC. Being one of the top law schools, Nirma University is the dream college of many law aspirants. But there are many factors that influence the decision of taking admission into the University. Apart from the academics, the environment, infrastructure, the faculty and the facilities available are some of the factors a student considers. Careers360 will give you an insight of Nirma University and campus life. Shubham Vijay, a third-year law student gives you a virtual tour of Nirma University. Read the complete article to know more about the University and what Shubham has to say about it.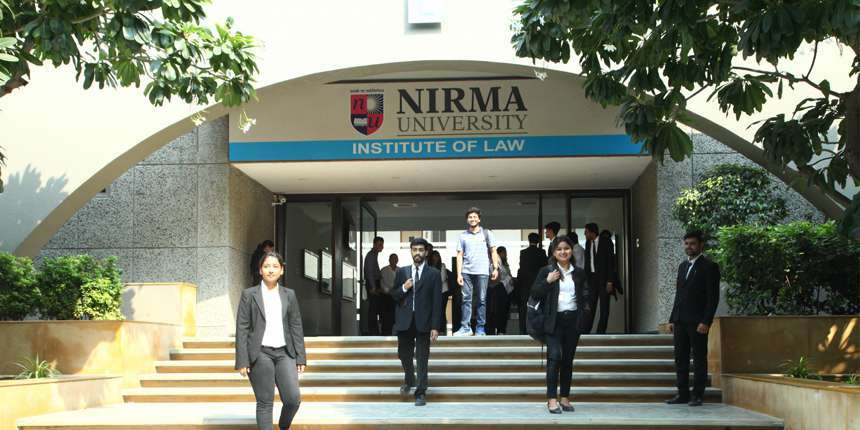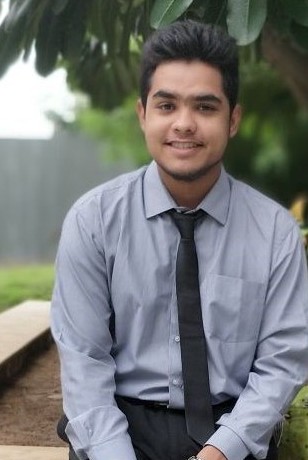 Shubham Vijay
Third-year law student, Institute of Law, Nirma University, Ahmedabad


Careers360: Tell us something about yourself. Where are you from? Which branch are you studying and in which year you are in?
Shubham Vijay: Hi, my name is Shubham Vijay. I was born and brought up in Jaipur. Currently, I am in my third year pursuing law at the Institute of Law, Nirma University, Ahmedabad.
Careers360: Were there any initial problems and hiccups that you faced during the initial months when everything at the institute was new? How was the support from the college and seniors? How has your journey been so far at the institute?
Shubham Vijay: To be honest I didn't face any problem. Our Institute has been a support and acted as a guiding light for everything. Academic and non-academic information, such as rules and regulations, policies, accommodation, routes, nearby places, commuting, etc. are provided by the Institute. The seniors here are like a family away from home. I never felt that I am new to this place. The environment provided by the Institute, its students and faculties helps you accommodate to this place very comfortably. My journey throughout has been a wonderful experience in every field be it curricular, extra-curricular. It has been a gainful experience overall.
Careers360: Tell us about the facilities related to academics. How's the library, laboratories and how supportive are teachers to students in case of queries and doubts related to academics.
Shubham Vijay: At the Institute of Law, Nirma University all our classes are well equipped with the technical facilities like projectors, speakers, microphones and are air-conditioned. The library at the Institute is one of the finest libraries one may come across. It might be better than many National Law Schools in providing the best facilities, comfort and exposure. There is plenty of reading material and databases to refine research skills and knowledge. The faculty is student-friendly, so much so, that we can discuss our doubts anytime during office hours at the Institute and even through emails.
Careers360: How do academic activities go? Are exams and other academic events conducted on time?
Shubham Vijay: We receive academic calendars at the beginning of a new academic year, specifying the academic commitments related to examination, Internship dates etc. The University complies with the academic calendar. Every student needs to maintain a mandatory 85% attendance, and so we even have regular attendance reviews.
Careers360: Does the college promote extra-curricular and interdisciplinary studies? Are seminars and conferences organised by the college?
Shubham Vijay: Yes, our Institute organizes extra-curricular and co-curricular activities which include moots, ADRC intra competitions, seminars, conferences, talent evenings, sports fest etc. Our university offers interdisciplinary courses as well.
Careers360: What are the facilities available in the campus? What do you like here the most which you feel is unique and differentiating?
Shubham Vijay: We have numerous libraries and canteens offering a variety of food. the campus has a beautiful environment and maintains cleanliness. Also, we have a bank and 2 ATMs inside the campus. A batch is divided into numerous sections which helps the students to be interactive and so every student receives equal attention from the faculty, which is very unique among the law schools. Every student gets a chance to outshine and polish his/her abilities.
Careers360: Tell us about the faculty-student ratio here and about the teacher-student relationship in your understanding.
Shubham Vijay: Teachers here are very friendly, one can go and interact with the faculty about academic or personal issues. Every student in the Institute is allotted a mentor from amongst the faculty. Every mentor has about 28 - 29 students as mentees.
Careers360: What activities are offered in the Institute? Are there any clubs for the various extracurricular activities? Which activities have you taken up?
Shubham Vijay: Our Institute offers numerous activities related to various fields like legal, academic and non-academics. We have a Nirma Institute of Law Student Activity Association at our Institute which comprises of 23 clubs and committees for co-curricular, extra-curricular and cultural activities, e.g. Student Welfare Board, Moot Court Committee, Debate Committee, Media Committee, Legal Aid Committee, Sports Committee etc. I have been part of the Moot Court Committee, Centre for International Humanitarian Law and Human Rights and Legal Aid Committee. Also, I am the secretary of the Student Welfare Board.
Careers360: Describe a typical day at your Institute – what do you do from the time you wake up till you go to sleep?
Shubham Vijay: Our classes begin at 9:00 AM and end by 3:00 PM. Alongside the classes, we prepare for competitions and events as well. The event days are quite hectic. After college, I either sit in the library to study or go back home and complete submissions.
Careers360: What about the medical facilities? Can you avail requisite medical attention if needed in an emergency?
Shubham Vijay: We have a full-time medical practitioner at the campus, Dr Rajesh Patel. He is available here in case of any medical emergency. The University has its own ambulance for such emergencies.
Careers360: How do you balance your studies, projects, exams and other activities?
Shubham Vijay: To manage all these activities, is something one should learn for a bright future. We have learnt to manage these through years as our Institute always gives us the opportunities with the tight schedule to increase our efficiency.
Careers360: Tell us about the clubs and societies at the campus and how significant are they from your point of view?
Shubham Vijay: Each and every club holds equal importance in the Institute. Based on their interests, students have the option to choose and be a part of them. In my opinion, these clubs help you grow as an individual and develop qualities which are required in an aspirant of that field.
Careers360: Does the Institute have an in-house magazine or journal for the latest events or happenings?
Shubham Vijay: Yes, we have a quarterly newsletter at the Institute of Law, which lists out the details of achievements and events held in that quarter. Institute of Law has about 7-8 journals, one of them is the Nirma University Law Journal.
Careers360: What are the popular hangouts at the institute? What, according to you, are the most-visited places nearby?
Shubham Vijay: The popular hangout places would include cafes like Shambhu and Shiva. Law garden and Manekchowk are the other most visited places.
Careers360: How do you spend your leisure time on the campus?
Shubham Vijay: I try to interaction with my seniors, faculty members and the staff during the leisure time. It helps me relieve my stress and even helps me learn about their life and academic experiences.
Careers360: The college has a Facebook page where students can express their views or ideas, or any blog where they write about their experience of life on campus?
Shubham Vijay: Yes, our Institute has a Facebook page. The students can also drop their suggestions in the suggestion box at the Institute. Our Institute always encourages new ideas and suggestions provided by the students.
Nirma University, Ahmedabad Updates and Articles
Nirma University Law Admission 2014- Candidates need to fill i...
20 Jun 2014
Questions related to Nirma University, Ahmedabad
Showing 616 out of 616 Questions