Know all about Banking Law
Know all about Banking Law - The set of laws which regulate how banks and other financial entities conduct commercial transactions are called banking laws. The health and well-being of these entities are also covered under banking laws. These laws see to it that monetary transactions - lending and borrowing - are free and fair, that these entities are offering equal opportunities to all people irrespective of their caste and creed, and that the depositors' money is safe. There are a number of colleges in the country that offer courses in banking law, where the ins and outs of becoming a banking lawyer is taught. Learn here more about the course, eligibility criteria, job profiles, etc.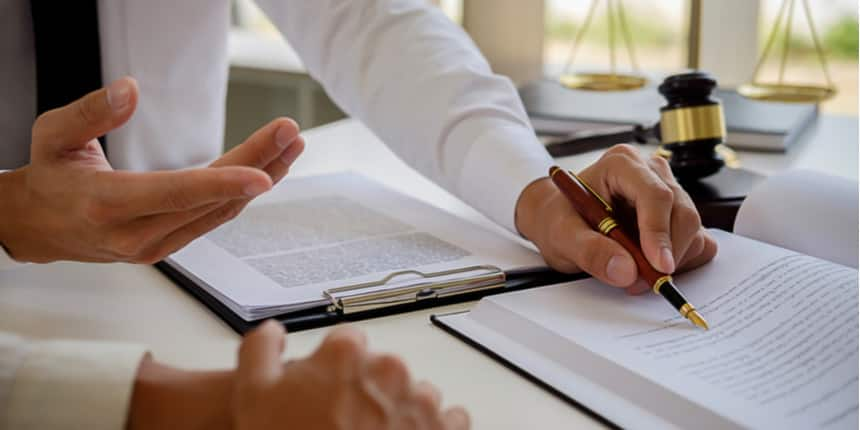 What is Banking Law?
A special branch of law, banking laws regulate the legal framework under which a bank functions, which may include contracts, lending of money and borrowing, securities, etc. Bank laws are formulated to ensure that banks function within the larger framework of the constitution. These laws are designed to minimize risk for customers, prevent crimes, prioritize bank lending to deserving customers, provide fair banking opportunities, and promote transparency.
Responsibilities of a banking lawyer:
Provide legal advice to banks and firms that dabble in financial services.

They are considered essential cogs in the running of banks, who seek their help to stay adrift of legal issues.

Clients of a banking lawyer may include lenders, burrowers, middlemen, agents, etc.
Important banking laws (acts):
Banking Act of 1933

Dodd-Frank Act of 2010

Right to Privacy Act

SIDBI Act, 1989

Bank Secrecy Act

Community Reinvestment Act of 1977

Sick Industrial Companies (Special Provisions) Act, 1985

Chit Fund Act 1982

The Industrial Disputes (Banking and Insurance Companies) Act, 1949

The Reserve Bank of India Act, 1934
Banking law courses:
BBA LLB (Hons) in Banking, Finance and Insurance

MA in Business Law with specialisation in Insurance, Banking and Financial Services
Eligibility criteria to study banking law:
Undergraduate (5-year integrated) course: The candidate should have passed 10+2 exam or any equivalent examination from a recognized institute.

Postgraduate program: To study a masters course in banking, the candidate should ideally be from a law background, having completed a 3-year LLB or 5-year integrated law program.
The college or university in question may also set minimum marks which the candidate has to fulfill. Some of the popular law entrance exams in the country include CLAT, AILET, LSAT India, and SLAT.
Job profiles of a banking law graduate:
After completing their undergraduate degrees, a student may go on and pursue masters. Meanwhile, those with masters degrees have the option to go for research or choose to become academicians.

The popular option off course is to become a banking lawyer.

Accounting firms, investment banks, and law firms are places that hire banking lawyers.