CLAT Result 2020 (Declared): Check Score, Merit List, Marks, Ranks Here
CLAT Result 2020 - The Consortium of NLUs has declared CLAT 2020 result today at conosrtiumofnlus.ac.in. CLAT result 2020 has been released in form of a scorecard that contains details like the sectional and overall marks, All India Rank (AIR) and Category Rank (CR). Aprajita has clinched the AIR 1, scoring 127.25 marks out of 150 marks. Candidates may download the scorecard by logging into the CLAT 2020 login portal. Along with the result, the authorities have also released the merit list of CLAT 2020 for all categories. The CLAT 2020 merit list contains the roll numbers of all candidates who appeared in the exam, marks scored and category. Candidates shortlisted based on CLAT scores 2020 will be called for counselling and seat allotment process; registration for counselling starts on October 6. Exam officials had already released the final answer key of CLAT, on the basis of which candidates could calculate their scores. For more details on how to download CLAT result 2020, merit list, cut off etc, read the complete article.
Latest: CLAT 2020 result declared, to check - Login here
Download all India merit list for UG - Click here
Download all India merit list for PG - Click here
To check CLAT cutoff - Click here / CLAT answer key - Click here
CLAT Counselling Registration starts on October 6 - Click here
AILET 2020 result DECLARED!
Also read; CLAT 2020 result to be declared today, check scorecard @consortiumofnlus.ac.in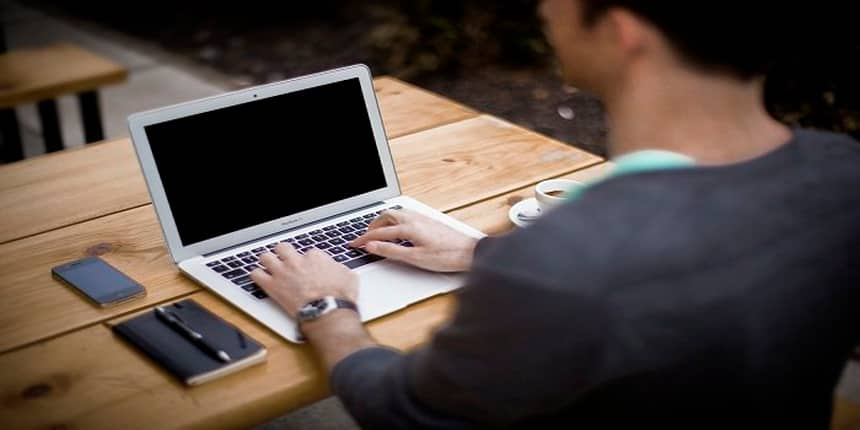 CLAT 2020 Result Dates
Events

Dates

CLAT 2020 entrance exam

September 28, 2020

Release of provisional answer key
September 28, 2020
Release of FINAL answer key
October 03, 2020

Declaration of CLAT Result 2020

October 05, 2020

Commencement of CLAT counselling 2020 (

UPCOMING EVENTS

)

Registration for ONLINE COUNSELLING opens on October 6 (9 am)
Last date to register is October 7 (6 pm)
Publication of FIRST seat allotment list - October 9
Publication of SECOND seat allotment list - October 11
Publication of THIRD seat allotment list - October 14
How to check CLAT 2020 result
Visit the CLAT official website; consosrtiumofnlus.ac.in

Click on the CLAT 2020 link

The candidate will be redirected to a log-in window

Enter registered mobile number and date of birth

On successful log-in, click on CLAT result

The result will be displayed on screen, download and take a printout of the result
Key details on the result of CLAT 2020
Name and roll number of the candidate

Parent's name

Programme applied for admission

Category of the candidate

CLAT 2020 score

All India Rank (AIR)

CLAT 2020 category rank (CR)

NRI Rank (only if applied under NRI category)

NRI sponsored rank (if applicable)
CLAT UG Toppers 2020 - Top 10
| | | | |
| --- | --- | --- | --- |
| All India Rank | Name of the Candidate | Admit Card No | Total Marks |
| 1 | Aprajita | C028010109 | 127.25 |
| 2 | | C028010463 | 120.75 |
| 3 | | C028040254 | 120.25 |
| 4 | | C188030178 | 119.25 |
| 5 | | C028020900 | 117 |
| 6 | | C198031807 | 110.5 |
| 7 | | C142010171 | 108.5 |
| 8 | | C028070383 | 107.5 |
| 9 | | C187020178 | 106.75 |
| 10 | | C152010028 | 104 |
CLAT UG Toppers 2020 - Top 10
| | | | |
| --- | --- | --- | --- |
| All India Rank | Name of the candidate | Admit Card No | Total Marks |
| 1 | | C101010022 | 72 |
| 2 | | C101010365 | 72 |
| 3 | | C049020186 | 69 |
| 4 | | C032010428 | 68 |
| 5 | | C054010005 | 67.5 |
| 6 | | C132020031 | 67.25 |
| 7 | | C099010047 | 67 |
| 8 | | C103010072 | 65.25 |
| 9 | | C181110046 | 65 |
| 10 | | C150010246 | 63.75 |
CLAT scorecard: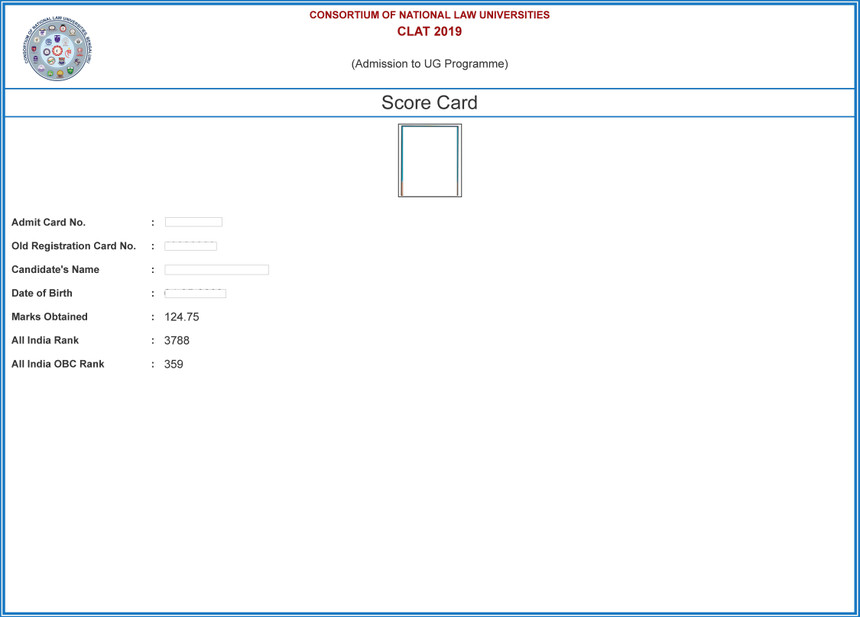 Preparation of CLAT merit list 2020 using scores obtained in the exam
The consortium will prepare the following rank or merit lists of CLAT 2020:
General Rank List
Category-wise Rank Lists
General Rank List
This list would include all candidates who have appeared in the CLAT entrance exam. The merit list will be prepared based on marks obtained by candidates in CLAT 2020.
The candidates included in CLAT general rank list 2020 would be considered for admission to open category seats only. This means they will not be eligible for admission to RESERVED category seats, for. example SC, ST, seats.
Category-wise Rank List
In addition to the General Rank List, the consortium will also prepare SEPARATE rank lists for for various categories like SC, ST and OBC.
For preparing a category-wise CLAT rank list 2020:
Candidates belonging to that particular category only will be considered
For example, to prepare a rank list for SC category, only candidates belonging to SC category who have appeared in the CLAT 2020 exam will be considered.
Candidates belonging to a certain category will not be included in category rank list of another category.
Also, when seat allotment for a particular category is made, candidates included in the rank list for that category only will be considered. For example, for admission to SC seats, only CLAT 2020 rank list for SC category will be considered.
Another important thing is a candidate who is included in a category-list may also be included in the Rank List for OPEN category.
CLAT result 2020 - Tie-breaking procedure
In the event two or more candidates scoring the same marks in CLAT 2020, exam officials will follow the following tie-breaking methodology to break the deadlock:
The candidate with higher marks in "Legal Aptitude" section of CLAT 2020 will be ranked higher

If tie is undecided, the candidate senior in age will be ranked higher

Finally, the tie will be decided by the computerized draw of lots.
The counselling of CLAT 2020 will be conducted in ONLINE mode from October 6 onwards. Candidates who have been issued counselling invitations after CLAT 2002 result declaration will be required to register for the same from October 6-7. The counselling and seat allotment process will be over by October 15.
Who can participate in CLAT counselling process:
The consortium has notified that candidates FIVE times of the number of available seats in each category will be INVITED for counselling. Which means more than 8000 candidates will be shortlisted through CLAT result.
Eligible candidates will have to login to register for counselling.
What is CLAT counselling process 2020?
After CLAT 2020 result declaration, the counselling is conducted to complete the final admission process. During CLAT counselling, the details of candidates are verified and the fee is collected by the authorities. The CLAT 2020 counselling consists of the following steps.
Registration for counselling - Those who receive an invitation for counselling need to register for counselling.
NLU selection - During registration, select the NLUs; it is recommended to select minimum of FIVE NLUs to have a better chance of admission.
Payment of fees - The candidate has to next pay the counselling fee of Rs. 50,000 in ONLINE mode.
Seat allotment - The allotment of seats will be made based on the merit rank of the candidate and NLU preference opted by the candidate.
Confirmation of seat and payment of admission fee - Post allotment, the candidate may accept the seat, opt for upgrade (not available for final round), or exit from the admission process. To confirm the seat candidate has to upload documents and pay the NLU fee.
What is NLU fee?
At the time of accepting a fee, the candidate has to pay the following amount as NLU fee:
CLAT-based seat intake at the 22 participating NLUs
5-year integrated LLB program: 2538
One-year LLM program: 742 seats
In addition to the above seats, there will be 10 seats reserved each for the 5-year LLB and the LLM program for students belonging to foreign national category. Foreign nationals will be considered for direct admission based on qualifying exam marks and are not selected through CLAT 2020 result.
CLAT result 2020 - Cutoff
Candidates will be able to check the cutoff of CLAT 2020 at the time of or after counselling. The CLAT 2020 cutoff will be released separately for all the twenty-two (22) CLAT 2020 participating institutes and will be category-specific. Applicants may refer to previous years' cutoff trends to get an idea as to what kind of rank they need to score in order to stand a chance at admission.
Previous years' CLAT Cutoff Rank
Rank vs marks scored for CLAT 2018 (For General Category)
| | |
| --- | --- |
| Mark range | Ranks |
| 1 - 30 | 34650 - 41468 |
| 30 - 50 | 22825 - 34649 |
| 50 - 70 | 11684 - 22834 |
| 70 - 90 | 4610 - 11683 |
| 90 - 110 | 1212 - 4609 |
| 110 - 130 | 149 - 1211 |
| 130 - 150 | 3 - 148 |
| 150 - 200 | 1 - 2 |
Know about the CLAT 2019 toppers
CLAT 2019 Toppers - 5-year integrated programme
| | | |
| --- | --- | --- |
| All India Rank | Name | Read Interview |
| 1 | Saumya Singh | |
| 2 | Harsh Tomar | |
| 3 | Anurag Tiwari | |
| 4 | Merchant Hrithik Rajiv | - |
| 5 | Mouli Kaushal Jain | |
| 6 | Yash Kawdia | - |
| 7 | Sidhant Arya | - |
| 8 | Shubh Mittal | - |
| 9 | Eashaan Agrawal | - |
| 10 | Dhruv Jain | - |
CLAT 2019 Toppers - LLM programme
| | |
| --- | --- |
| All India Rank | Name |
| 1 | Soham Dutta |
| 2 | Azhakath Ammu Sasidharan |
| 3 | Prakhar Bajaj |
| 4 | Shrawani Shagun |
| 5 | Shiwali Agarwal |
| 6 | Priyanka Maurya |
| 7 | Arnab Roy |
| 8 | Ankit Kumar Srivastav |
| 9 | Anshuman Singh |
| 10 | Sourabh Jain |
Frequently Asked Question (FAQs) - CLAT Result 2020 (Declared): Check Score, Merit List, Marks, Ranks Here
Question: When and in which mode will the result of CLAT 2020 declared?
Answer:
CLAT 2020 result would be declared in online mode on October 05, 2020.
Question: What details would be mentioned on my CLAT 2020 score card?
Answer:
The candidate will be able to check details like marks, All India Rank (AIR) and category rank (CR) in the CLAT 2020 result-cum-score card.
Question: Will I be invited for CLAT counselling based on CLAT 2020 result?
Answer:
The NLU consortium will prepare OPEN and category-wise merit lists based on CLAT 2020 scores. The consortium will then invite candidates equivalent to THREE times the number of available seats for the seat allotment process.
Question: How many seats will be offered through CLAT 2020 counselling?
Answer:
At the undergraduate level (5-year integrated law program) there are some 2538 seats, whereas PG courses offer around 742 seats at participating NLUs.
Question: When will registration process for CLAT 2020 counselling commence and who can register?
Answer:
Registration for CLAT counselling will be conducted on October 2-7. Such candidates who have received counselling invitation can register for counselling-cum-seat allotment process.
Question: How can I check my CLAT 2020 result?
Answer:
To check the result of CLAT 2020, go to the official website of the consortium and log-in by entering mobile number and password.
Question: What is a good score in CLAT 2020?
Answer:
As to what is a good score in CLAT 2020 will depend on the course and institute you want to get admission into. Your category also matters. For example, the CLAT 2020 cut off for NLU Bangalore is among the highest, while some of the newer NLUs have lower cutoff.
Questions related to CLAT
Showing 7291 out of 7291 Questions