Know all about Corporate Law
Know all about Corporate Law - Business corporations across national jurisdictions are bound by a set of common legal characteristics incorporating five key attributes - legal personality, limited liability, transferable shares, centralized management, and ownership of investors. The role or corporate law, also known in certain quarters as company law, is to provide a legal framework that oversees these attributes and other legal issues concerning a corporation. There are many popular courses in corporate law being taught in the country at various levels - undergraduate, postgraduate, diploma and certificate levels. Here we discuss the route an aspirant can take to become a corporate lawyer, eligibility criteria, colleges imparting the course, etc.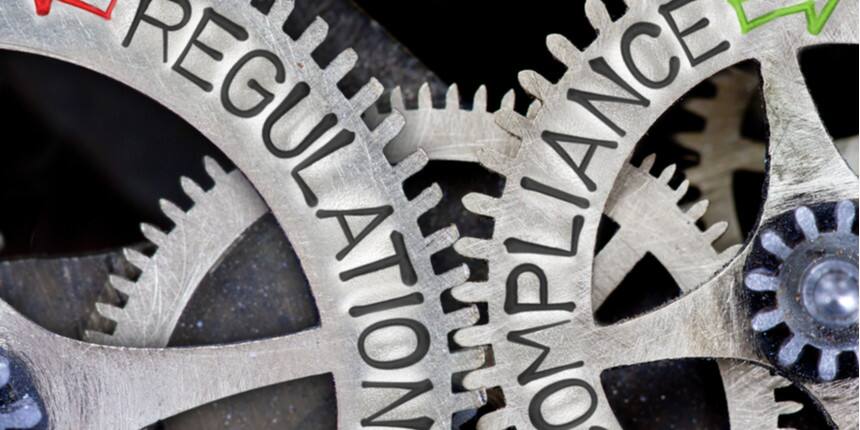 What is Corporate Law?
A corporation is a legal entity set up to conduct commercial activity. During the course of its economic activity, the corporation may sue or be sued. Further, the corporation is owned by shareholders, who have their rights and also obligations. Corporate law deals with any legal issue that may involve the corporation.
There are five core structural features of a business corporation:
Legal personality

Transferable shares

Limited liability

Centralized management, which is usually set up under a board structure

Shared ownership of contributors who invest capital (or Investor ownership)
Eligibility Criteria to study Corporate Law:
The eligibility requirements to study corporate law is determined by the program of study. For example, eligibility criteria for a 5-year undergraduate course is different from a masters course as elucidated below:
Eligibility Criteria for 5-year integrated law course in Corporate law
The candidate must have passed 10+2 or equivalent examination from a recognized board or university.
Eligibility criteria for LLM course in Corporate Law:
Qualifying exam: The applicant must be an LLB graduate or have passed an equivalent examination.

Minimum marks: This requirement may vary across institutes. When it comes to the NLUs, the minimum requirement is 50% marks or its equivalent in case of general/PwD categories; SC/ST categories only need 45% marks.
The candidate is urged to refer to eligibility criteria issued by the institute there are seeking admission, as the rules mentioned herein are indicative only.
LLM in Corporate Law and fee structure (NLUs only)
Sl.no

Name of The University

One-year PG (LLM)




Specialization

Fees Structure PG( For 1 Year)

1

Corporate and Commercial Laws

Rs.1,55,000

2




Corporate and Commercial Laws

-

3

Corporate Laws

Rs.1,14,000 (For 1st Sem)

4

Dr Ram Manohar Lohiya National Law University (RMLNLU), Lucknow

Corporate Law

Rs.1,13,000




NRI- $ 5,000

5

Corporate Law &

Commercial Law (CCL)




Rs.1,61,000




NRI- Rs.91,000+4,000$

6

National University of Study and Research in Law (NUSRL), Ranchi

Corporate Law

Rs.2,03,000

7

Corporate and Commercial Laws;

Rs.1,89,500

8

Damodaram Sanjivayya National Law University (DSNLU), Visakhpatnam

Corporate Securities Laws

Rs.1,80,000 NRI-RS.2,80,000 Per Year

9

Corporate and Securities Laws

Rs.1,74,000

10

Corporate & Commercial Law

Rs.2,26,000




Maharashtra Domicile- Rs.1,82,000




NRI-1,82,000+$10,000

11

Corporate and Commercial Laws

Rs.1,54,250




Maharashtra Domicile- Rs.1,73,000
Admission to Corporate Law courses:
The NLUs admit candidates based on CLAT scores, with seat allotment done based on the merit rank of the candidate. Apart from the NLUs, many private colleges also use CLAT scores.
Other popular exams the candidate may give for undergraduate and postgraduate admission include AILET, and LSAT India.
Skills required to become a Corporate Lawyer:
Strong communication skills

People skills

Communication (oral and written)

Attention to detail

Research and analysis

Creative problem solving

Resilience and self-confidence

Technology skills

Time management
Corporate lawyer job responsibilities:
To identify business opportunities with prospective clients and vendors

Represent the client, in this case the business corporation, in court

Draft and handle the company's legal policies and matters

Negotiate legal issues concerning the company.

Ensure the company meets compliance guidelines.
Job roles of a Corporate Lawyer:
Corporate Attorney - will be responsible for managing corporate legal matters, which may pertain to intellectual property, compliance, lawsuits, patents, etc. Other responsibilities include drafting and carrying out contracts, negotiating deals, etc.

Corporate Lawyer: Is responsible for ensuring the company acts according to rules mandated by corporate laws. A corporate lawyer has the option of working with a firm, as part of a company's legal team, or have his or her own legal chamber.