LSAT India Exam Pattern 2023 - Law School Admission Council (LSAC) will release the LSAT India 2023 exam pattern along with the admission notification. The exam pattern will include various modalities related to Law School Admission Test - India such as exam duration, mode, type of questions, marking scheme, etc. Candidates can familiarize themselves with the structure and format of the question paper by going through the LSAT-India exam pattern 2023.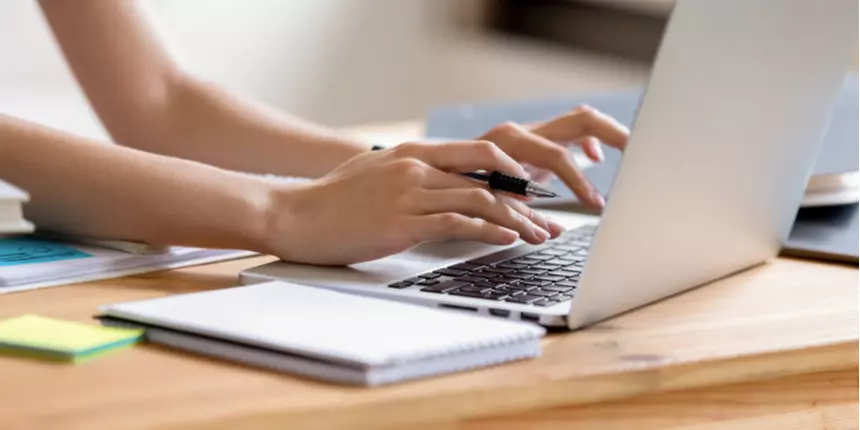 LSAT India Exam Pattern 2023: Mode, Marking Scheme, Number of Questions
According to the exam pattern, the duration of the LSAT India 2023 is 2 hours and 20 minutes (35 minutes for each section). It will be conducted in remote proctored mode. Read the entire article carefully to understand the LSAT-India exam pattern 2023, test sections, marking scheme and more.
LSAT India 2023 Exam Pattern
Particulars

Description

Mode of LSAT-India exam

Remote proctored mode

Medium of examination

English

Duration of LSAT-India 2023 exam

2 hours and 20 minutes (35 minutes for each section)

Total number of questions

92 questions

Sections

There would be a total of four sections namely:

Analytical Reasoning

Logical Reasoning (1)

Logical Reasoning (2)

Reading Comprehension

Sectional time

35 minutes for each section

Question format

Multiple-choice questions

Negative Marking

There will be no negative marking

Scoring pattern

Candidates would be marked on a score between 420 and 480, a score band, as well as a percentile rank.
LSAT India Exam Pattern 2023 - Remote Proctored Mode
Candidates should have a computer or laptop with an active internet connection. The online LSAT—India can be accessed by candidates with a laptop or desktop computer. However, test cannot be accessed through mobile phones. Candidates trying to take the system readiness check prior to test or LSAT—India test during their scheduled appointment on mobile phones will face issues and technical teams will not be able to provide any assistance.
Operating systems required in order to take the online LSAT-India exam
Windows Operating system supported - Windows 8 and above (64-bit) (all editions except 'RT')
The Windows OS requirements:
Windows Operating Systems must pass Genuine Windows Validation.

Dual Core / i3 or above processor
Mac operating system - MacOS 10.12 and above (excluding beta versions)
Note that Windows Vista, Windows XP, and Windows 7, Internet Explorer, Edge are strictly prohibited for exam delivery.
LSAT India test duration
The overall test duration of LSAT India 2023 will be 2 hours and 20 minutes. The total test duration will be divided into four parts, for each section, 35 minutes will be allotted.
LSAT India Scoring Pattern 2023
The LSAC provided the LSAT India score in the form of a scaled score, score band and percentile. The LSAT India scaled score is calculated based on the number of questions attempted correctly by the candidate. It is an estimate of the candidate's proficiency in the skills tested. The scaled score ranged from 420 to 480, with 420 as the lowest score and 480 being the highest score.
LSAT India Exam Pattern 2023 - Syllabus and distribution of questions
| | | |
| --- | --- | --- |
| Sections | Number of questions | Time allotted |
| Analytical Reasoning | 23 | 35 minutes |
| Logical Reasoning (1) | 22 | 35 minutes |
| Logical Reasoning (2) | 23 | 35 minutes |
| Reading Comprehension | 24 | 35 minutes |
| Total | 92 approx. | 2 hours and 20 minutes |
Analytical Reasoning
These questions test deductive reasoning skills by requiring you to deduce what could or must be the case about a certain scenario, based on some rules and conditions. Questions measure the ability to understand the structure of a relationship, and to draw logical conclusions about that structure. The test taker is asked to reason deductively from a set of statements, rules, or principles that describe relationships among persons, things and events. Analytical reasoning questions reflect the kinds of complex analyses that a law student performs in the course of legal problem-solving.
Logical Reasoning
These questions evaluate your ability to understand, analyze, criticize, and complete a variety of arguments contained in short passages. Each logical reasoning question requires the test taker to read and comprehend a small passage and then answer a question about it. The questions are designed to assess a wide range of skills involved in thinking critically, with an emphasis on skills that are central to legal reasoning. These skills include drawing well-supported conclusions, reasoning by analogy, applying principles or rules and identifying argument flaws.
Reading Comprehensions
This section measures the ability to read by understanding & insight examples of lengthy and complex materials similar to those encountered in law school. The reading comprehension section contains four sets of questions, each consisting of a section of reading material followed by four to eight questions that test reading and reasoning ability.
LSAT India 2023 Preparation Tips:
Understand the fundamentals of all the sections. It is basically a reading-based exam so you need to be a voracious reader.

LSAT-India 2023 exam is designed in a manner to test your reading skills, critical reasoning skills, vocabulary skills, and basic grammar skills.

Focus on solving LSAT-India previous year questions, sample papers and mock tests in order to increase your speed and accuracy.

Try to complete the section-wise test in the time allotted for each section.