CLAT 2021 Preparation Tips - How to Crack CLAT Exam
CLAT 2021 Preparation Tips - If you want to get admission to any of the NLUs, barring NLU Delhi, you need to crack CLAT, as it is the only route. But as many before you have found out, getting a good score in CLAT is not a walk in the park. If you plan to appear in CLAT 2021, you need to tick all the right boxes to get a good score. In fact, if you intend to get admission in NLSIU Bangalore or NALSAR, you can't expect to put a foot wrong. But the good thing is while the process is difficult, it is not impossible to get the desired result in the exam, provided you know CLAT 2021 preparation tips. One mistake many students make when preparing for an exam like CLAT is that they go all out, burn midnight oil, but if the tools, say study material is substandard, the desired result would continue to be elusive. In this article we bring CLAT preparation tips 2021 that the candidate may refer to and get a headstart in their preparation.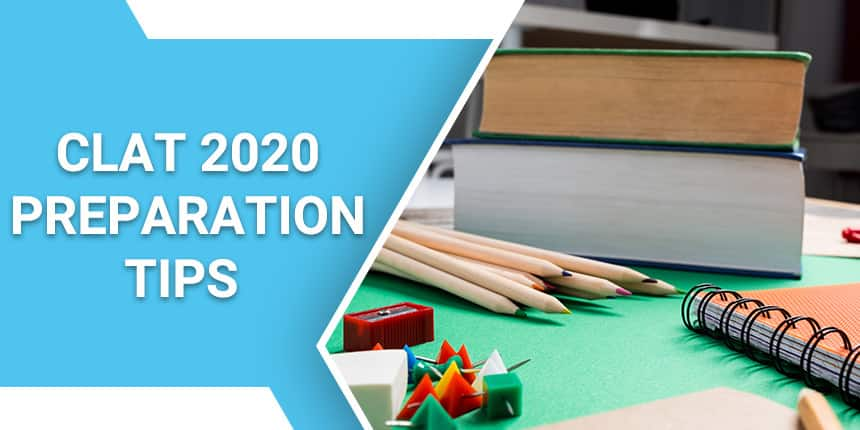 But before we discuss about CLAT 2021 exam preparation tips, lets understand what the exam is all about:
The CLAT exam is conducted by the consortium of NLUs

CLAT 2021 scores will be used by the 22 participating institutes for admission to their 5-year integrate and LLM programmes.

CLAT 2021 will likely continue to be conducted in online mode given the prevailing COVID-19 situation.

The CLAT 2021 application form will open in the first week of January.

The CLAT question paper will include comprehension-based questions.
CLAT Preparation Tips 2021
Get familiar with the CLAT 2021 syllabus
Questions in the national-level exam will be asked from the CLAT syllabus 2021 which is released by the consortium. Consequently, the candidate must prepare all the topics included in the syllabus if they wish to get a good score in the exam. The syllabus of CLAT 2021 will be different for the UG and PG admissions.
CLAT 2021 pg will have the following sections:
English language

Current affairs including general knowledge

Legal Reasoning

Logical Reasoning

Quantitative Techniques
Check out the CLAT exam pattern 2021
Which it may seem as a minor thing, if one is not conversant with the CLAT 2021 exam pattern, one may not be able to do justice to one's exam preparation.
CLAT exam pattern
Duration of the exam

2 hours

Mode

Online

Type of Questions

Multiple Type Questions (MCQs) from given passages

Number of Questions

Undergraduate Exam - 150 multiple choice type questions

Postgraduate Exam (LLM) - 120 questions

Marking scheme

Each objective question will carry 1 mark. An incorrect question will invite a penalty of 0.25 marks.

Language

English
Start CLAT 2021 preparation early
Rather than waiting for the last few months to start CLAT 2021 exam preparation, start your preparation early. With enough time in hand, it will be easier for you to tackle each chapter in detail without missing out on anything. Also, sufficient time will enable you to take stock of the situation and make changes if and when necessary. Another thing is you will get time for solving CLAT 2021 samples and question papers, which are an integral part of the exam preparation process.
Prepare and follow a study plan
But the trick here is to doggedly follow the study plan and not abandon it half way through your preparation. The CLAT exam preparation plan will have intricate details of what you will study, the chronicle order, the timing and nature of sample papers to be solved. Other elements to be taken care of include punctuating the exam preparation with timely revisions, how to take notes and how to use them.
If you manage to get the book combination right, you can avoid piling up the study with assorted books by different writers. With fewer books, it is easier to manage things as you know what is where. If you have books by different writers, you have to adjust with the style of each writer which could be cumbersome and time consuming.
CLAT 2021 best books will have some of the following qualities:
Will contain very few errors

Will be written in a free flowing style, which is easy to follow

Written as per the requirements and standard of CLAT exam 2021

Has proper citations

Contains illustrations which are meant to aid understanding

Contain problem sets
Solve CLAT 2021 sample papers
The candidate in addition to pursuing regular study and solving problems given in the textbooks, must also solve questions given in CLAT sample papers. Sample papers tend to have the same kind of questions to those asked in the actual exam. Consequently, solving CLAT sample papers will enable the candidate to understand the various concepts and enhance one's problem-solving skills.
Do timely revision
Reading and practicing problems and concepts just once is not enough, as the human brain needs constant revision to remember the full details. So, take the time out to do proper revision of all that you have read. Make a chart of what needs to be revised and to what extent. At times a topic may look easy, but unless you do frequent revision it will keep escaping your memory.
Take CLAT 2021 mock test
Mock tests are a way to get into exam mode. The fact that mock tests are a simulation of the actual exam will help the candidate understand the nuances of the national-level exam. For example, by taking the CLAT mock test, the candidate will be able to experience an exam like ambience, understand how the mock test is designed, like how to answer questions, move from one section to another.
Keep in mind exam-day etiquettes
Note that latecomers may not be allowed to enter the exam hall, so one must reach the CLAT 2021 exam centre early. Also one must bring with them the CLAT 2021 admit card and valid ID proof, as without them entry is not allowed.
The CLAT 2021 admit card will contain information like the name and roll number of the candidate, date and time of the exam, and CLAT exam centre details. It will contain exam-day guidelines, like proper code of conduct, and what items are allowed and barred inside the exam hall.
Frequently Asked Question (FAQs) - CLAT 2021 Preparation Tips - How to Crack CLAT Exam
Question: When will the CLAT 2021 be conducted?
Answer:
The exam date of CLAT 2021 hasn't been announced yet, but it is likely to be conducted sometime in May.
Question: Why is it to know CLAT preparation tips?
Answer:
This will help the candidate plan effectively, make use of all available resources, and thus get a good score.
Question: What type of questions will be asked in CLAT 2021?
Answer:
The CLAT 2021 will include comprehension based questions based on given passages for the UG and PG exams. Comprehension passages will be of around 450 words, each followed by a series of objective type questions.
Question: Will there be descriptive type questions in CLAT LLM?
Answer:
The descriptive section has been dropped from the LLM paper; so now only objective questions will be asked.
Question: When will the application form of CLAT 2021 open?
Answer:
The CLAT 2021 application form will be available sometime in January.
Questions related to CLAT
Showing 7328 out of 7328 Questions