CLAT 2020 Preparation Tips - How to crack CLAT
CLAT 2020 Preparation Tips - CLAT has 22 participating NLUs, out of which 10 are ranked inside the top 20 list published by the NIRF for the current academic session. And even the ones that missed out on NIRF rankings are not to be trifled with as they more or less tower over most other law colleges. But what these glaring stats also unwittingly ensure is they de facto make CLAT the most competitive law exam in the land, as every law student worth his/her salt wants to get into an NLU. And if you bother to add the fact that only recently the NLU consortium made key changes to the CLAT 2020 exam pattern, acing CLAT is no walk in the park. It is precisely why we bring CLAT aspirants CLAT preparation tips 2020.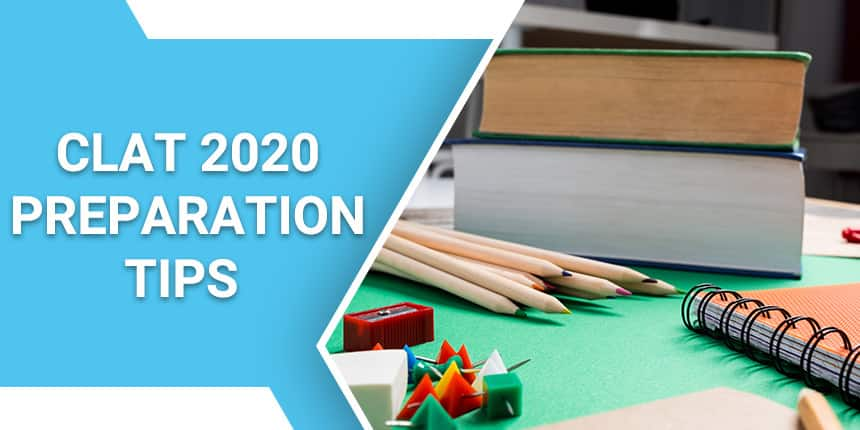 But before we jump into the nuances of CLAT exam preparation, let us get a brief introduction to CLAT 2020:
CLAT 2020 at a glance:
The CLAT 2020 exam will be an computer-based, online, centre-based test that will be conducted on August 22. Previously, the exam was conducted in offline mode. But given the pandemic situation, which has raised safety concerns, the exam has move to online mode.

The exam is conducted for admission to both 5-year integrated law courses and LLM program.

Application form of CLAT 2020 is is now closed.

The CLAT 2020 question paper will include comprehension-based questions

CLAT UG 2020 will now have 150 MCQs (down from 200 questions earlier)

Cutoff marks have been introduced for CLAT PG 2020.
Now that we more or less know what the exam is all about, let's move to find out what constitutes our top 10 tips to qualify CLAT 2020.
CLAT Preparation Tips 2020
Find out what is new in CLAT 2020
The first rule of thumb that candidates should follow is stay updated about any changes to CLAT exam, be it exam pattern or syllabus. It is because unless one knows about these changes, one cannot perform to one's fullest potential or as per the requirements of the exam.
The consortium of NLUs has made following changes to CLAT 2020 exam pattern:
CLAT 2020 will be a comprehension-based test

The number of questions for CLAT UG has been reduced to 150 from 200. Question type however will remain MCQ.

CLAT UG will have comprehension-based questions from Quantitative Techniques, English, Current Affairs, Deductive Reasoning and Logical Reasoning sections.

CLAT PG will also include comprehension-based questions. There will not be any separate descriptive section.
Most important update on exam-pattern
The exam as mentioned above will now be conducted in online mode, where the candidate has to take the test in computer-based mode. Exam officials have increased the number of exam locations to 203, from existing 67 locations, so that there are fewer number of candidates per centre. This will also ensure the candidate doesn't have to travel far to take the exam. The logic behind the increase in CLAT exam centres is to ensure safety of candidates.
Exam officials have also released a notification detailing the safety measures to be followed by the student and also exam officials.
2. Get accustomed to CLAT syllabus
It may sound cliché, but there is no getting around the CLAT 2020 syllabus. It is because the CLAT syllabus has details on which topics will be covered in the exam, and not knowing about them would be akin to shooting oneself in the foot.
CLAT 2020 will include questions from the following sections:
English language

Current affairs including general knowledge

Legal Reasoning

Logical Reasoning

Quantitative Techniques
Along with the syllabus, the candidate is also urged to carefully go through the CLAT 2020 exam pattern
3. Get the timing right
Sometimes candidates take it too easy and leave it until too late to start their CLAT preparation, only to find out that there is not enough time to complete the syllabus. It can be frustrating if that happens. On the other hand, students who start their preparation early are likely to be better equipped for the exam. Typically, one year is a good enough time to prepare for the exam. But that being said, each candidate has to decide for himself or herself as to how much time they need for preparation. And that the decision would largely depend on the candidate's grip of the topics at that point in time.
4. Put in place a study plan
There are multiple benefits of following a CLAT 2020 study plan. For example, it will bring discipline, clarity, and direction to the CLAT 2020 preparation process. It would also help the candidate stay anchored to the task at hand instead of living in a make-believe world. The buzzword of a study-plan is action. And action means to execute what is planned.
When preparing the study plan, the candidate should pay special attention to weaker sections. Also, there must be provisions for periodic assessment of progress. If things don't go as per plan, the candidate must make appropriate modifications wherever necessary.

5. Get the book combination right
Instead of piling up the study with assorted books by different writers just for the hack of it, trim it down. The fewer books you have, the easier it is to manage, and to go back for revision (as you will easily remember where you read it the last time). Also note that every writer has his one signature way of interpreting a concept or problem, and so reading the same concept from different sources can create confusion, especially at the early stages when you are new to it.
A question that can also arise in the mind of candidates is how to decide which books are good for CLAT 2020 preparation.
A good book will have the following traits:
Contains few errors

Is easy to follow

Meets CLAT exam standards

Cites proper sources

Contains illustrations to aid understanding

There are problem sets to edify understanding
6. Solve sample papers
Along with doing regular study and solving problems given in the textbooks, one needs to back it up by solving CLAT sample papers. These papers will have similar types of questions to those asked in the entrance exam, and so are useful for understanding various concepts and enhancing one's problem-solving skills. Previous years' question papers also serve the same purpose.
Revise your way to success
Revision is like sharpening a knife on a whetstone. The more you revise, the sharper your problem skills will get; your understanding of concepts will also likewise get better. When planning a revision, just make sure that you revise difficult topics more frequently. Once you get accustomed to these topics and get better at tackling them, you can cut the frequency.
Also, to make revision easier, you may make it a habit of jotting down important points on a notebook or mark them in the textbook itself. This way you don't have to read entire blocks of the test if you have to brush up a point or concept.
Integrate mock tests with preparation
Read up any CLAT topper interview, and you will see a common thread. These toppers all took dozens of mock tests to get into exam mode and give final touches to their exam preparation. While mock tests are usually taken closer to the exam, it is increasingly becoming a trend among students to start the mock test from the beginning itself. Like one can take a mock test after completing a chapter and solve all questions related to it.
The thing with mock tests is they are are a simulation of the real thing and so help candidates get the exam day vibes and solve the question is an exam-life environment, with timer included. Consequently, candidates can learn time management skills and improve accuracy.
Keep a tab on the health
While one must give one's best to succeed in CLAT 2020, it shouldn't be at the cost of one's health. Remember, you will be able to perform to the best of abilities only if you are properly rested and healthy. Many a times students in their zeal to do well in the exam forget to take care of their health and as a result, fall sick. A less than optimized health will also affect the mental aspect impinging on its ability to perform properly.
The solution then is to take a timely break between studies, eat healthy food, drink lots of water, and indulge in games that can act as stress-buster.
Learn these exam-day etiquettes
Make it a point to reach the exam centre early. Latecomers may not be allowed entry, and even if they are, it is not an ideal way to start an important exam. When reporting for the exam, don't forget to bring the CLAT 2020 admit card and valid ID proof.
The admit card will contain details like name and roll number, date and time of the exam, and the exam venue. Importantly, it will contain information about exam-day guidelines regarding proper code of conduct, allowed and barred items, etc. One needs to follow these guidelines diligently.
As far as the order of attempt is concerned, tackle the scoring section or questions first, before moving on more difficult questions. And finally, keep a cool head, no matter what the exam situation is; it will pay rich dividends!
Also Read:
How to prepare for CLAT legal aptitude
How to prepare for CLAT current affairs
Frequently Asked Question (FAQs) - CLAT 2020 Preparation Tips - How to crack CLAT
Question: When will the CLAT 2020 be conducted?
Answer:
CLAT 2020 will be conducted on August 22 in online mode.
Question: What type of questions will be asked in CLAT 2020?
Answer:
The CLAT 2020 will be a comprehension based test. As per the CLAT exam pattern, there will be comprehension passages of 450 words which will be followed by a series of objective type questions
Question: Will there be descriptive type questions in CLAT LLM?
Answer:
No, the consortium has removed the essay section from CLAT LLM in view of the difficulty being faced by the candidates due to lockdown.
Question: Why is it important to solve the CLAT sample papers?
Answer:
The sample papers are the best part of the preparation. By solving CLAT sample papers, candidates will get accustomed to the new exam pattern, while also developing an understanding of the type of questions, difficulty level and more. Candidates can also get a qualitative review check of their preparation by solving the sample papers.
Question: What newspapers should I refer to prepare for current affairs and legal aptitude?
Answer:
You can refer to any good newspaper such as The Hindu, The Indian Express or The Hindustan Times to prepare for CLAT current affairs and legal aptitude.
Questions related to CLAT
Showing 6941 out of 6941 Questions