LLB Subjects - In recent times, law as a discipline has grown in the public consciousness, so much that parents don't hesitate to urge their children to take up law as an academic discipline. Contrast this with the scenario a few decades back, when law was a back-up option for many. Today colleges like NALSAR, NLSIU Bengaluru, and NLU Delhi are revered in the same vein like an IIT or an IIM, and why not. The salary package drawn by a law graduate from a top college is also quite a revelation. So, given the enviable position the discipline finds itself in, it is no surprise that more people want to know about topics like what make up LLB subjects. Many simply have a curiosity to know more about the course, but others want to get their knowledge bank full before they themselves pursue a course in LLB. But whatever be the motive, we have covered it in this article.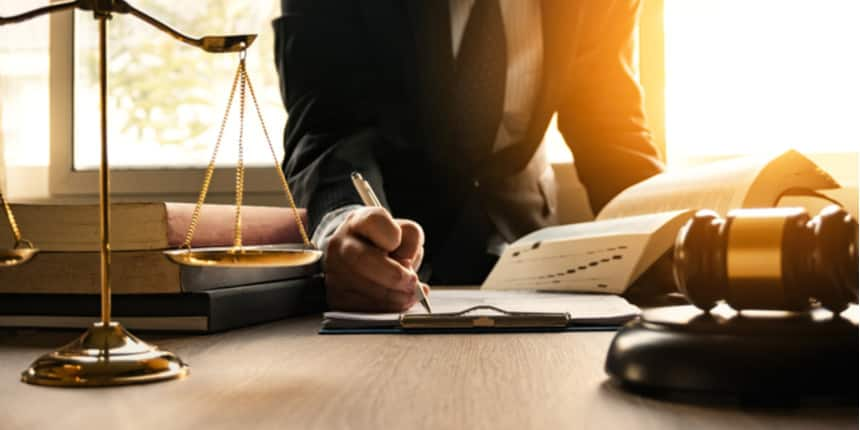 What are LLB subjects?
The list of subjects for the LLB course can vary from one institute to the another, even though some core subjects remain the same. In the table below we provide a sample LLB subjects, so that candidates get an idea as to what they will get to study during the duration of the 3-year course.
LLB subjects
| | | |
| --- | --- | --- |
| Semester - 1 | Semester - 3 | Semester - 5 |
| Jurisprudence - 1 (Legal Method, Indian Legal System, Basic Theory of Law) | Constitutional Law - 1 | Company Law |
| Law of Contract | Code of Civil Procedure and Limitation Act | Drafting Pleading and Conveyance |
| Law of Torts including Motor Vehicles Act and Consumer Protection Act | Special Contract | Industrial Law |
| Law of Crimes - 1 : Indian Penal Code | Moot Court, Mock Trial and Internship | Elective Subjects - 1 |
| Family Law | Elective Subjects - 1 | Elective Subjects - 2 |
| Semester - 2 | Semester - 4 | Semester - 6 |
| Law of Evidence | Constitutional Law - 2 | Professional ethics and Accounting system |
| Family Law - 2 | Administrative Law | Environmental Law |
| Law of Crimes - 2: Code of Criminal Procedure | Alternative Dispute Resolution | Principles of Taxation Law |
| Property Law | Labour Law | Elective Subjects - 1 |
| Public International Law | Elective Subjects - 1 | Elective Subjects - 2 |
Source - DU LLB syllabus
Eligibility criteria for admission to LLB course:
The aspirant has to meet the eligibility criteria of the entrance exam and also the college they are applying for admission. The bare minimum eligibility for LLB course is explained below:
Qualifying exam: The applicant must have passed a graduate exam in any discipline from a recognized university

Minimum marks: This requirement may vary depending on the college the candidate has opted for admission. That being said, most of the top colleges demand minimum 50% marks in aggregate.

Age limit: There is no upper age limit.

Others: Candidates who are in their final year can also apply, but subject to fulfilment of all eligibility conditions at the time of admission.
Where to study LLB?
There are a number of prominent colleges like Delhi University and ILS Law School Pune that offer 3-year LLB courses. The admission route though may vary from institute to institute.
Colleges offering 3-year LLB courses
Admission to LLB courses?
As shown in the table above, there are different entrance exams the candidate may take based on the college they plan to take admission in. Many of the lesser colleges, not listed here, also provide direct admission based on merit of qualifying exam marks; this means there is no entrance exam involved. The college in this case would call shortlisted candidates for a face-to-face interview for final selection.
Employment options after completion of 3-year LLB program
Lawyer

Legal Advisor

Public Prosecutor

Advocate

District Judge

Sessions Judge

Open one's own law clinic