CLAT Exam Centres 2021 - State wise Test Centres List
CLAT Exam Centres 2021 - Consortium of National Law Universities (CNLU) conducts the Common Law Admission Test in around 67 cities across the country. The exam centres of CLAT 2021 will be distributed across the 67 cities notified by the Consortium. Candidates will have the opportunity to select any three CLAT exam centres (cities) while filling the application form. It may also be noted here that last year, CLAT exam was conducted in around 203 cities across the country. The surge in CLAT test centres was in the aftermath of COVID-19 pandemic. If the COVID-19 situation extends till May or June, candidates may be given more choices of CLAT exam centres similar to last year. That being said, CLAT 2021 will be conducted in offline mode around the first week of May and the allotted test centre will be mentioned on the admit card. Read this article to know more about CLAT exam centres 2021, available cities and related information.
Latest Updates for CLAT
23 Feb 2021:

CLAT syllabus revised; essay section dropped from PG-CLAT 2021; Read details - Click here

23 Feb 2021:

CLAT application form released, apply now!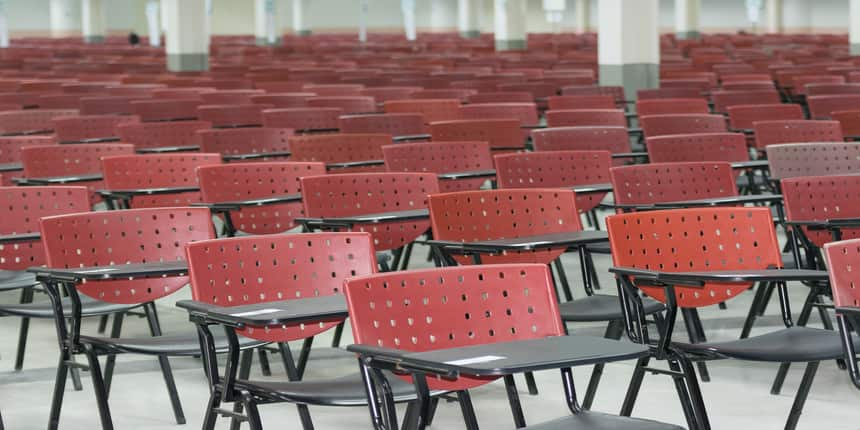 CLAT Exam Centres 2021
In general, the Common Law Admission Test is conducted in the exam centres of the following cities.
CLAT 2021 exam centres
Agra

Gandhinagar

Kolkata

Ahmedabad

Gangtok

Kota

Allahabad

Ghaziabad

Kurukshetra

Amritsar

Gorakhpur

Lucknow

Aurangabad

Greater Noida

Madurai

Barasat

Gurugram

Mohali

Barrackpore

Guwahati

Mumbai

Bangalore

Haldwani

Muzaffarpur

Bhopal

Hisar

Mysore

Bhubaneswar

Hyderabad

Nagpur

Bilaspur

Imphal

Navi Mumbai

Calicut

Indore

New Delhi

Chandigarh

Jabalpur

Noida

Chennai

Jaipur

Patiala

Coimbatore

Jalandhar

Patna

Dehradun

Jammu

Pune

Durg

Jamshedpur

Raipur

Ernakulum

Jodhpur

Ranchi

Faridabad

Kanpur

Shillong

Shimla

Srinagar

Trichy

Siliguri

Thane

Varanashi

Sonepat

Thiruvananthapuram

Vijayawada

Visakhapatnam
Last year, on account of COVID-19 pandemic, the CLAT consortium increased the exam centres from 67 to 203. The exam centres of CLAT were provided in almost every state due to the restrictions on travel. If the COVID-19 situation extended further, the candidates will likely have more options while selecting the exam centres. Last year, CLAT was conducted in the exam centres of the following cities.
CLAT examE centers
State

City

State

City

Andhra Pradesh

Anantapur

MAHARASHTRA

AHMEDNAGAR

Chirala

AKOLA

Eluru

AMRAVATI

Guntur

AURANGABAD (MAHARASHTRA)

Kadapa

CHANDRAPUR

Kakinada

DHULE

Kurnool

JALGAON

Nellore

KOLHAPUR

Ongole

LATUR

Rajahmundary

MUMBAI/NAVI MUMBAI

Srikakulam

NAGPUR

Tekkali

NANDED

Tirupathi

NASHIK

Vijayawada

PUNE

Visakhapatnam

RAIGAD

Vizianagaram

RATNAGIRI

ARUNACHAL PRADESH

ITANAGAR/NAHARLAGUN

SANGLI

ASSAM

DIBRUGARH

SATARA

GUWAHATI

SOLAPUR

JORHAT

THANE

SILCHAR (ASSAM)

WARDHA

TEZPUR

MANIPUR

IMPHAL

BIHAR

ARRAH

MEGHALAYA

SHILLONG

BHAGALPUR

MIZORAM

AIZAWL

DARBHANGA

NAGALAND

KOHIMA

GAYA

ODISHA

BALASORE

MUZAFFARPUR

BERHAMPUR-GANJAM

PATNA

BHUBANESWAR

PURNEA

CUTTACK

Chandigarh

Chandigarh

DHENKANAL

Bilaspur

ROURKELA

Bhilai Nagar

SAMBALPUR

Durg

Punjab

Amritsar

Raipur

Bhatinda

GUJARAT

AHMEDABAD

Jalandhar

ANAND

Ludhiana

BHAVNAGAR

Mohali

GANDHINAGAR

Patiala

HIMATNAGAR

Sangrur

Jamnagar

Rajasthan

Ajmer

MEHSANA

Alwar

Rajkot

Bikaner

Surat

Jaipur

VADODARA

Jodhpur

Haryana

Faridabad

Kota

Gurugram

Sikar

Ambala

Sriganganagar

Hisar

Udaipur

Karnal

SIKKIM

GANGTOK

Kurukshetra

Tamil Nadu

Chennai

Panipat

Coimbatore

Rohtak

Madurai

Sonipat

Salem

Yamuna Nagar

Erode

Himachal Pradesh

Bilaspur

Thanjavur

Hamirpur

Nagercoil

Kangra

Tirunelveli

Kullu

Tiruchirappalli

Mandi

Vellore

Shimla

Namakkal

Una

Telangana

Hyderabad

Jammu and Kashmir

Jammu

Khammam

Samba

Karimnagar

Srinagar

Warangal

JHARKHAND

BOKARO STEEL CITY

Nizamabad

DHANBAD

Mahabubnagar

HAZARIBAGH

TRIPURA

AGARTALA

JAMSHEDPUR

Uttar Pradesh

Ghaziabad

RANCHI

Greater Noida

Karnataka

Ballari(Bellary)

Meerut

Belagavi(Belgaum)

Noida

Bengaluru

Agra

Bidar

Aligarh

Davanagere

Bareilly

Dharwad / Hubli

Gorakhpur

Kalaburagi (Gulbarga

Jhansi

Hassan

Kanpur

Mangaluru(Mangalore)

Lucknow

Mysuru(Mysore)

Mathura

Shivamogga(Shimoga)

Moradabad

Tumakuru(Tumkur)

Muzaffarnagar

Udupi

Prayagraj

Vijayapura(Bijapur)

Varanasi

Kerala

Alapuzzha

Allahabad

Ernakulam

Uttarakhand

Dehradun

Idukki

Haldwani

Kannur

Haridwar

Kasaragod

Roorkee

Kollam

WEST BENGAL

ASANSOL

Kottayam

BURDWAN(BARDHAMAN)

Kozhikode

HOOGHLY

Malappuram

HOWRAH

Palakkad

KALYANI

Thiruvananthapuram

SILIGURI

Thrissur

Barasat

Madhya Pradesh

Bhopal

Barrackpore

Indore

KOLKATA

Gwalior

Pondicherry

Pondicherry

Jabalpur

Lakshadweep

Kavaratti

Sagar

Delhi

New Delhi

Satna

GOA

PANAJI/MADGAON

Ujjain
How to Choose CLAT Exam Eentre?
The Consortium provides an option of selecting the test centres of CLAT along with application form. Candidates may choose three exam centres of their choice while filling the CLAT application form. It should be noted here that the test centres of CLAT should be filled in the order of preference. The allocation of exam centres will depend on the preference given by the candidate and the intake of the test centre.
Can I change my CLAT exam centre?
Generally, candidates are allowed to edit the application form to change the exam centres only till the last date of submission of application form. However, once the last date of application form submission is over, the candidate will not have the option of changing the CLAT test centre. In some unusual circumstances (similar to last year) the candidates may be given an option to correct their application form and to change the exam centres.
In any case, the candidates are advised to fill the exam centre choice judiciously considering that they may not have the option to change the choices later.
Important rules regarding CLAT Exam Centres
The consortium informs about the allotted exam centre through the CLAT admit card which carries the address of the centre along with reporting time.

Candidates are advised to visit the test centre of CLAT in advance. On the exam day, one should try to report at the exam centre at least one hour before the commencement of the test.

Candidates will not b e allowed to carry anything other than a pen, admit card, valid ID card inside the examination hall.
Frequently Asked Question (FAQs) - CLAT Exam Centres 2021 - State wise Test Centres List
Question: How can I select the CLAT exam centre?
Answer:
You will be given an option to choose any three exam centres while filling the application form.
Question: Can I change my CLAT exam centre preference?
Answer:
Generally not, you will not be allowed to change the exam centre once the application form has been submitted and the last date to registration is over.
Question: How will I get to know about the allotted CLAT exam centre?
Answer:
You can find the details of the allotted exam centre only after downloading the admit card. The CLAT admit card mentions the complete address of the exam centre along with the reporting time.
Questions related to CLAT
Showing 7332 out of 7332 Questions