School of Law UPES: Interview with Dr. Vijay Kumar Singh, Dean on Admissions, Cutoff, Placement
Established in 2003, University of Petroleum and Energy Studies is a state private university, under the UPES Act through an act of the Uttarakhand state legislature. The multi-disciplinary university has seven different schools, in the areas of Advanced Engineering, Computer Science, Design, Health Sciences, Business, Modern Media and Law. In this interview with Careers360, Dr. Vijay Kumar Singh, Dean, School of Law, UPES discusses the institute's mission, admission policies, selection criteria, collaborations, placements and more. Read the interview with Dr. Vijay Kumar Singh, Dean, School of Law UPES below.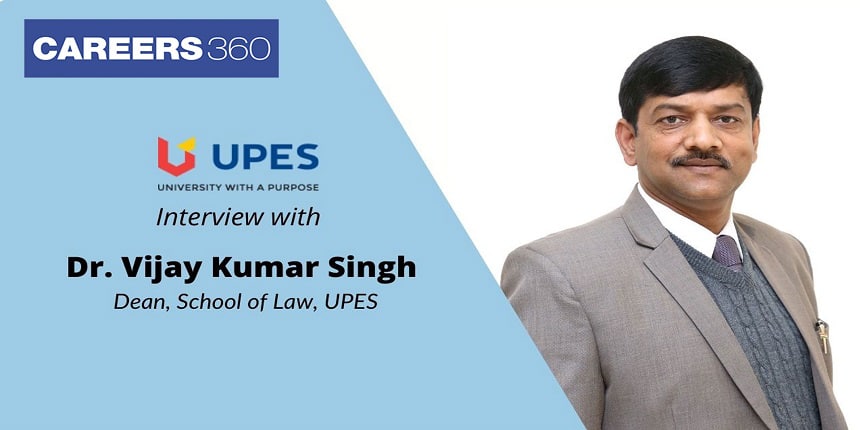 To watch the interview with Dr. Vijay Kumar Singh, Dean, School of Law UPES, click here
Q: Elaborate on the institute's mission.
A. UPES is a multi-disciplinary university aligning with the latest national education policy 2020 by the Ministry of Education, Government of India with an emphasis on preparation of professionals having an education in ethics and importance of public purpose. Any education in a discipline and for practice, must centrally involve critical and interdisciplinary thinking, discussion, debate, research and innovation. For this to be achieved, professional education should not be in isolation of one's speciality. And that is what is the beauty behind UPES and one of the factors playing a role here is our collaborations with University of Law, UK (ULaw).

Q: Please give details of the collaboration with University of Law, UK.
A. The university is one of the most prestigious institutions in London and basically prepares solicitors and barristers. So, this collaboration offers a lot of opportunities for our faculty, students under the student exchange programs. We also have co-blended and co-teaching mode for eg. Last semester we had contract law taught by ULaw faculty members. An advanced and professional skills course was taught by two of the tutors from ULaw to our advanced learners who essentially are the top performers of the class. This is a value-add programme for our students.


Q. What are the programs and specialisations offered by School of Law, UPES?
A. So, law programs in School of Law, UPES initially began with our signature BA LLB (H) in Energy Laws, catering to the requirements of integrated and industry oriented specialised law programs. At present we offer 5-year integrated LLB programs with BA, BBA, BCom and a unique 6-year integration with BTech LLB. These programs (BA LLB, BBA LLB and B.Com LLB) are offered with 16 honours specialisations ranging from Energy Law, Constitutional Law, Labour Law, Criminal Law, IPR, Cyber Law, Legal and Secretarial Practice Media and Entertainment Laws, Corporate laws, Banking law, Insurance and Finance, International Trade and Investment Law and Taxation Law. From 2021, we have introduced four new specialisations keeping in view the contemporary developments which are happening and these are Food Safety and Environmental Law, Forensic Science and Law, Digital Innovation and Law and Medicine Health and Law.
Coming to PG programs – we have four specialisations including the one-year LLM program with specialisation in Artificial Intelligence and Machine Learning. The advantage is that our other schools like the UPES School of Engineering which has computer science helps with AI, UPES School of Health Sciences take care of medicine subjects and UPES School of Business helps with BBA. Thus, as a student, you have access to different schools, their faculty, their resources.

Q: Can you elaborate on UPES ABLE (Academic Blueprint for Learning Excellence)?
A: We keep innovating our curriculum and follow an outcome-based education (OBE), which is unique as it is followed globally. For implementation of OBE, we have a systematic mechanism of curriculum design and revision, primarily based on the feedback from various stakeholders. We have a focused faculty cluster deliberation as well as the committed curriculum deliberation before the board of studies and this needs to be approved by the academic council.
About the Academic Blueprint for Learning Excellence - it is basically holistic and focuses on individual needs of the students to discover experience, explore and challenge. Learning is segmented into core subjects, core specialisations, minors, exploratory subjects as well as signature and life-skill learning. So, when a student joins, he/she needs some hand holding, to understand how things work and this is where life courses come to the fore. We offer different exploratory courses and allow a student to choose these courses from and curate a course for themselves to earn a minor.
UPES courses are designed to equip students with lifelong learning skills while focussing on wide range of contemporary issues. The mandatory social and professional internship experience for our first semester students is unique in this able framework. We have tie-ups with more than 250 NGOs. So, students will go into internships with these in the first year and in the second year, internships will be with either an industry or the government while they start their specialisation internship (bar council internship) in the third year.

Q: Please explain the UPES admission process.
A: One should go to our website and register there. Our admission counsellor will guide you through all the processes. We have ULSAT, that is the UPES Law Entrance Test for which the notification has been announced. Students may have to check the dates as there is uncertainty on account of COVID. In addition, we also accept scores of CLAT and LSAT. Last year, we conducted admissions on the basis of class 12th percentage as ULSAT was cancelled on account of COVID-19. This year we are going ahead with this examination process for now unless the situation changes. Last year the minimum cutoff was 60% in class 12.

Q: What are the scholarships offered by the School of Law, UPES?
A: We offer various scholarships. There is the Shakti Initiative, which is for girl students; we offer 20% scholarship on tuition fees for the entire program they have enrolled for. UPES is very much into the corporate social responsibility area and we have a number of projects associated with this. Naman was launched last year for children of martyr's where we sponsor their entire education. Then we also have the 100% scholarship which is a merit-based scholarship, the details of which can be found on the website or from our counsellors.

Q; How is the diversity in terms of Region, gender and stream at the School of Law, UPES?
A: UPES is a place filled with vibrant energy. As for diversity, we have about a 50:50 ratio of girls and boys and it is important for this to be maintained. We have a specific focus towards maintaining this particular diversity in the classroom, because we believe learning happens when different people from different places come together and they exchange the ideas. Our faculty is 60% female which is also a great thing.
We have twin campuses- one in Bidholi called as "Energy Acres" and the other one in Kandoli called as "Knowledge acres." The campus is at the foothills of Himalayas, so the weather is good and pollution free. Our infrastructure is modern with all needed facilities. It is also mandatory for all students to join at least one club so they are involved in extracurricular activities. For example, we have got boot code association, we have got ADR, society of law and literature etc to name a few. The present generation has a lot of energy and channeling that energy is one of the major tasks of the academic leaders. I believe UPES is doing great in that.

Q: Please give details on the placements at School of Law, UPES.
A: I believe placement is an outcome which comes after experiencing a good education. This is what I counsel students on. At UPES, we have a specific placement cell that takes care of this. They also support students with internships which is unique as I believe this is not the case in the national law school framework.
In terms of the School of Law, UPES placements, I must tell you that students have now started diversifying which means, they are not just looking at placements some are looking at entrepreneurship, some at becoming judges while other wish to pursue higher education. We provide 5-year placement support unlike any other institute. This is a unique initiative from our end. Our own alumni network is very active and we encourage this too. Once a student passes, they register with the alumni network and get the requisite support.

Q: Can you throw some light on the international collaborations?
A: International collaborations is a big focus area for us. Apart from the University of Law, UK, we have collaborations with UC Berkley and other institutes in Australia, Middle East also. Any UPES student can avail a scholarship at these institutions if they wish to pursue their higher studies here. We also have faculty exchange programmes under these. Third is student exchange and collaborations. Fourth is that expert faculty members come from these institutions to spend time with our students so, these are the different opportunities which are available to our students through these collaborations and day by day these collaborations are increasing and I am sure students are going to get more things to choose from

Q: What would your message be to students?
A: Higher education is important and choosing the right professional programme is more important. Do your research before you choose an institution. Once you choose an institution, focus on certain things like your aims and ambitions, passion and where you want to go etc.
The first step is to question where you want to go and then plan accordingly. If you don't know, you should start asking questions towards this and seek answers. This will help you shape up your career. My best wishes to all of you.
School of Law, UPES Dehradun Updates and Articles
UPES Dehradun organised its second round table conference titl...
01 Aug 2017
Questions related to School of Law, UPES Dehradun
Showing 14 out of 14 Questions
School of Law, University of Petroleum and Energy Studies, Dehradun (School of Law, UPES Dehradun)