Campus Life at Gujarat Maritime University: Nimish Arjaria Speaks About his Experience
Campus Life at Gujarat Maritime University - For candidates planning to do higher education in a field of their choice, picking the right college is very vital because it can make a big difference as to how one's career shapes up. But how does one pick a great institute, or for that matter a decent institute? If you are also confused, apply these parameters: check the quality and qualification of the faculty members, find out whether its course is up to date, check the research ecosystem, check out the type of internship opportunities that are available for students. You may also talk to alumni or a current student to get insights about an institute, something we have done here.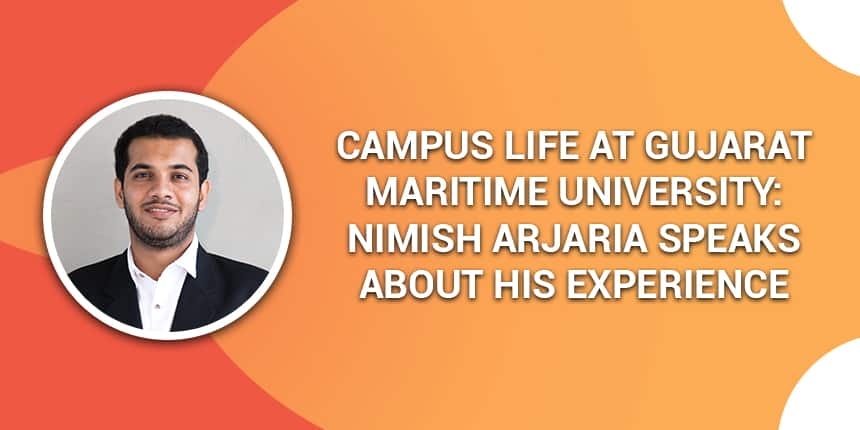 We bring you an account of Nimish Arjaria, who shares his experience with the Gujarat Maritime University (GMU). Keep reading.
Campus Life at Gujarat Maritime University: Nimish Arjaria Speaks About his Experience
Gujarat Maritime University has provided a great opportunity to explore my subjects of interest by giving me an opportunity to pursue Masters of Law (LL.M.) in International Trade Law, and its future aspects in the commercial and business field along with rules and regulations of the several treaties and agreements. I got to know about the vast scope of subjects taught at GMU with their impacts on global principles of business and trade development of a particular country. My interest was in commercial laws and trade at international level so I selected the international trade law, as GMU has a great team of faculties and teaching staff with great idea of teaching and providing proper explanation to students about each and every chapter of the particular subject and course module structure well planned and covers all the details of the subject.
Gujarat Maritime University was established under the aegis of the then CM of Gujarat and now Prime Minister Of India Shri. Narendra Modi, who wanted to create a university for world class knowledge with respect to the concept of the maritime and business trade commercial field. Gujarat Maritime Board i.e. GMB and Government of Gujarat is the main sponsor of the university. The university has provided students with a vast range of knowledge and the remote access to a library with online learning resources from various maritime study books and sources with world class clarity of concept, has strengthened the growth of knowledge among students to a great extent. The idea of teaching pedagogy is too great and marvelous. The university is doing development work for student training and academics too in terms of practical knowledge also as they conduct port visits, where students have gained and learned ground and practical knowledge by watching and observing all the work and port operations, meeting the port officers incharge etc.
The university has also signed an MoU- Memorandum of Understanding with the Erasmus University, Rotterdam, Netherlands, which is a popular university with respect to shipping and trade areas for the student exchange program, where students from Gujarat Maritime University will learn and observe the knowledge at international maritime level of learning.
I came to know about GMU through one of my friends who was a student of Gujarat National Law University, Gandhinagar. The university conducts guest lectures by highly experienced and industry leaders in the field of maritime and trade around the world. Till now experts from India, Poland, United Kingdom and Israel have visited GMU to deliver lectures, which is a very effective way of teaching for the upliftment of students in their interested fields. I did an internship at the office of Federation of Madhya Pradesh Chambers of Commerce and Industry, Bhopal. The period of the internship was from December 4, 2019 to January 9, 2020. The internship was good and I had a nice experience working with the nodal agency for the emerging industries in the state of Madhya Pradesh. As a student of International Trade Law I learnt about the process for applying for certificate from FMPCCI due to which a businessman can get import their market products to overseas after the completion of their manufacturing, from the goods product of biscuits to the highly powerful electronic transformers there was a wide range of goods and products which require certification from FMPCCI based on their criteria of business and product. FMPCCI checks all the paper application processes then they approve the certificate for the State Of MP Product.
Gujarat Maritime University, Gandhinagar Updates and Articles
Campus Life at Gujarat Maritime University: Adv. Haizel Varghe...
04 Jun 2020
Gauri Joshi, a student at Gujrat Maritime University shares he...
04 Jun 2020