LSAT India - 5 reasons why law aspirant must appear

LSAT—India is comparatively a new law entrance exam in our country, though the original LSAT (USA) has been the oldest and the largest law school admission test in the world since 1947, being used by over 200 law schools of the USA, Canada and Australia and written by approximately one lakh test-takers in a year from around the world. World's leading law schools like Harvard, Yale, Columbia, Michigan, UC Berkeley, etc. admit students purely on the basis of LSAT (USA) exam.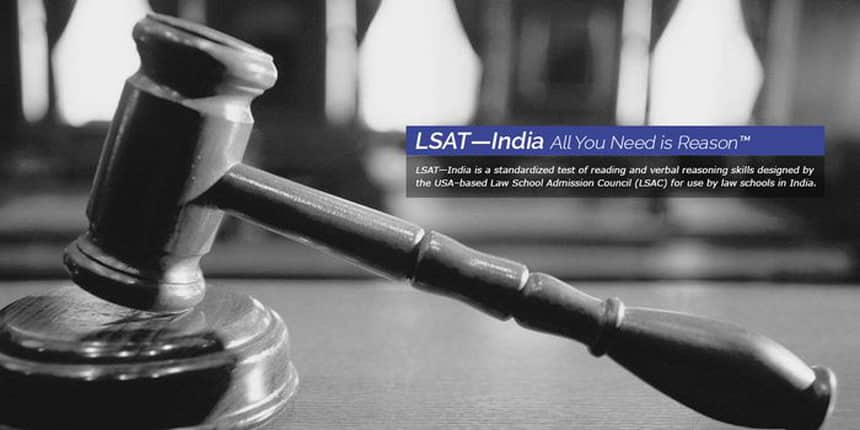 LSAT—India Exam started in the year 2009 when Jindal Global Law School (JGLS) was established as India's first global law school as a part of the multi-disciplinary O.P. Jindal Global University (JGU), and the Law School Admission Council (LSAC) headquartered in Pennsylvania, USA launched this special version of LSAT exam for Indian Law Schools through their Indian affiliate Pearson VUE.
From a very humble beginning i.e. one law school and a few hundred applicants in the year 2009, LSAT—India has come a long way in a short span of 9 years by having over 80 Law Colleges across the country accepting its score for admissions in 2018 and approximately eight thousand students are expected to write this exam this year on 20th May.
In this article, I wish to emphasize five important reasons why every law aspirant in India must write the LSAT—India:
I.  You want to assess yourself for becoming a successful future lawyer –  You must assess your reasoning skills with LSAT—India 2018!
So you have decided to study law but not sure whether law is the right choice for your career and higher education? LSAT—India is one test which can really help you understand whether law is the right career path for you. Unlike any other Indian Law Entrance exam, LSAT--India doesn't test your knowledge of law or any other subject. It is not a test to see whether you have memorized the right facts or equations correctly or not. It is also not a test of your general knowledge or legal knowledge which can be memorized. It doesn't test you in objective English or objective type mathematics questions. So, there is NO GK, NO Current Affairs, NO Legal Aptitude, NO Maths and NO English in the LSAT—India 2018 unlike all other law entrance tests in the country!
LSAT—India rather assesses your aptitude for the skills required to study law. It is a test of your logical and analytical reasoning and English reading and comprehension skills. It is a test of your ability to comprehend and interpret information. It is a test of your reasoning skills – both inductive and deductive. And, it is a test of your ability to analyse information and draw conclusions. So, it's a test of your critical thinking, language and analytical skills which are the most important skills for a lawyer.
Therefore, any student who has taken that critical decision to study law and become a lawyer has a great tool in his hand in form of the LSAT—India exam to assess himself that how suitable his abilities are for studying law. So, whether you decide to choose a college affiliated to LSAT—India Exam or not, if you have chosen to study law, it is advisable for you to write this exam and get your unique percentile score to find out your skills as a lawyer. If you get a high percentile score in LSAT, say a score above 75 or 80 percentile, you are indeed making a right choice by choosing law! 
Every law aspirant must visit the LSAT—India website
You can download over two-hundred pages of test prep material absolutely free which includes four full-length past papers, sample questions with answers, videos on logical & analytical reasoning and reading comprehension and access to some valuable links about how to better your critical thinking skills required for studying law and making a successful legal career.
II. You want to be considered for admission to the 5-year BA/BBA LLB (H) Programme at Jindal Global Law School (JGLS) of O.P. Jindal Global University!
In the past nine years, JGLS has arguably emerged as India's most promising law school. It has been consistently ranked FIRST among all private law schools for last four years (Careers360 Rankings 2015, 2016, 2017, 2018). O.P. Jindal Global University is the youngest and the first private university of Haryana to receive the highest grade 'A' by NAAC. Recently, the University was also ranked one of the top 300 Universities in the BRICS countries by QS out of over 9000 universities of BRICS region. 
Unlike many law universities in the country which are mostly single-faculty universities and which suffer from the disadvantage of lacking a truly multi-disciplinary and inter-disciplinary perspective required for a proper and holistic study of law, JGLS positions uniquely as a part of the truly multi-disciplinary O.P. Jindal Global University with premier schools in business, international affairs, public policy, liberal arts and journalism and communication. The focus on inter-disciplinarity with an option of cross-registration of courses in other schools and with an opportunity to receive high quality teaching in the social sciences, humanities, business, international relations, public policy, foreign languages etc. in addition to law, makes JGLS an enviable law school to study at in the Indian context.
What started in 2009 with 10-faculty members and 100-students, JGLS has come a long way with over 150 full-time faculty members and 2300 law students. It has indeed become one of the largest law schools in India and South Asia. JGLS faculty members are drawn from multiple legal jurisdictions in the world, which include not only India, UK and USA but also countries like Hong Kong, Singapore, China, Russia, New Zealand, France, Germany and Iceland. With wide-ranging academic collaborations with over 200 top international universities and institutions, JGLS has almost achieved its distinction to be India's first and only global law school on par with the leading law schools in the Asian region.
Admission to all the seats in the 5-year Integrated BA/BBA LLB (H) programmes at JGLS are given ONLY on the basis of LSAT—India score. So, you lose your chance to be considered at JGLS for admission if you do not write LSAT—India exam.
III. Scholarships to study at Jindal Global Law School
LSAT—India exam is not just an admission test, in many ways, it's an important scholarship test for the law aspirants choosing JGLS. LSAT score remains the major criteria to award scholarships, studentships and fee concessions to the first year students which could be up to 75% or even 100% of the tuition fees depending upon one's LSAT score, domicile and other eligibility requirements. Over 200 students joining BA/BBA LLB (H) and LLB degree programmes at JGLS receive scholarships mainly based on LSAT score which has the potential to substantially reduce their cost of studies at JGLS! Such scholarships usually continue for all 5 or 3 years of LLB subject to University rules. For many students, high quality legal education at JGLS becomes affordable due to law school's generous scholarship awards.
So, if you write LSAT—India exam and secure a high LSAT percentile score, your dream to study at JGLS can become true by getting a scholarship award! 
IV. You aim for the finest 3-year LLB Programme in India after your undergraduate degree!
So either you missed the bus after class 12th to join a good 5-year integrated LLB programme or you took a decision to study law only after completing your undergraduate degree! Now if you wish to study a truly professional, full-time, residential and rigorous 3-year LLB programme which is as good as the J.D. programmes of US/Canadian law schools or which is as good or even better than the 5-year Integrated LLB programme of a leading Indian law school, your options are very limited. None of our National Law Universities (NLUs) offer a 3-year LLB programme. Only options for you would be the traditional academic departments or faculties of Central or State Universities or their affiliated law colleges. The quality and standards of education could be good at few places like University of Delhi or BHU, but if you aspire for the same rigor, exposure and full-time residential experience which students receive in the 5-year programme of leading law schools, you may be disappointed at most of the places.
LSAT—India opens the opportunity to study the 3-year LL.B. programme at Jindal Global Law School which is arguably a world-class, fully residential, extremely rigorous, full-time LL.B. programme on par or comparable to the J.D. programme of a good US law school. Every year, the LLB 3-year degree programme of JGLS is attracting graduates of India's best degree colleges like St. Stephen's, Hindu, Hans Raj, Miranda House or Lady Sri Ram in Delhi; St. Xavier's, Presidency and Jadavpur in Kolkata; Loyola, Stela Maris and Vivekananda in Chennai and St. Xavier's, Narsi Monjee, Jai Hind and HR College of Commerce in Mumbai, among others! 
More remarkable is the fact that graduates from world's leading universities like University of Pennsylvania, UCLA, UC Berkeley, UC San Diego, UM Amherst, University of Arlington in Texas, etc. in the USA; University of Toronto in Canada, University of London, St. Andrews, Queen Mary, Warwick, Leeds, Lancaster, Regents and Cardiff in the UK; NUS and James Cook University in Singapore; University of Auckland in New Zealand and De La Salle University, Manila, Philippines, have chosen to come back to India to study LLB 3-year degree programme at JGLS! 
The LLB class at JGLS has graduates not just from Humanities or Commerce streams but also from streams like Medicine, Dentistry, Engineering, Sciences, Liberal Arts and Management! I have no doubt in saying that with the diversity and talent it brings from around the world, the LLB 3-year LLB class at Jindal could arguably be among the best LLB class in the country. 
LSAT—India exam gives LLB 3-year programme aspirants an opportunity to be considered for admission at JGLS and also to receive scholarships to support their studies as per rules. 
V. You wish to better your chances – you want to receive multiple admission offers from many leading law schools!
Though the vast majority of law aspirants continue to write LSAT—India exam for admission to the Jindal Global Law School, which has arguably emerged as one of the largest and most premiere law school in India and South Asia, there are indeed other good law colleges and universities who open their doors to LSAT—India test takers! It is always good that you receive admission offers from more than one law school and you are in a position to weigh your options and choose the best possible option for yourself. As the law school admission decision is a critical and important one for your entire career and life (you have to spend five/three years on the same campus), it is advisable to write as many law entrance exam as you can to secure as many admission offers as possible. You have always an option to do your own research, discuss with your parents and people in legal or judicial fraternity, visit the actual campuses of the law schools, network with alumni and existing students, checking your financial affordability and related issues, and finally, taking the decision to join the best possible law school. With over 80 law schools affiliated with LSAT—India exam, your writing this exam will make sure that you get multiple admission offers and you are in a position to choose the best one!
Note: LSAT—India 2018 registration closes on 9th May 2018 and the exam would be held on 20th May 2018 in 20 Indian cities. Register Online and Visit official website for more info.
(*Anand Prakash Mishra works as an Assistant Professor of Law & Assistant Dean. He is the Head of Admissions at Jindal Global Law School. You can write to him at apmishra@jgu.edu.in)
Questions related to LSAT India
Showing 134 out of 134 Questions
Law School Admission Test for India (LSAT India)