Study Law abroad - With the world turning into a global village, student mobility is becoming a term of common parlance. That being said, however the mobility is more towards the western destinations, be it the UK, Germany, Canada and the USA. Speaking of law, "Study law abroad" is also catching the imagination of Indian students, who until now typically left Indian shores to study disciplines like management, STEM courses, medicine and engineering. Foreign universities like Harvard and Cambridge, supported by cutting-edge technology, top-rate teachers and international exposure have changed the equation and are attracting bright Indian minds to study law abroad. In this article we take a close look at the scope of law study abroad programs, application process, and other related things so that the candidate can make an informed career choice.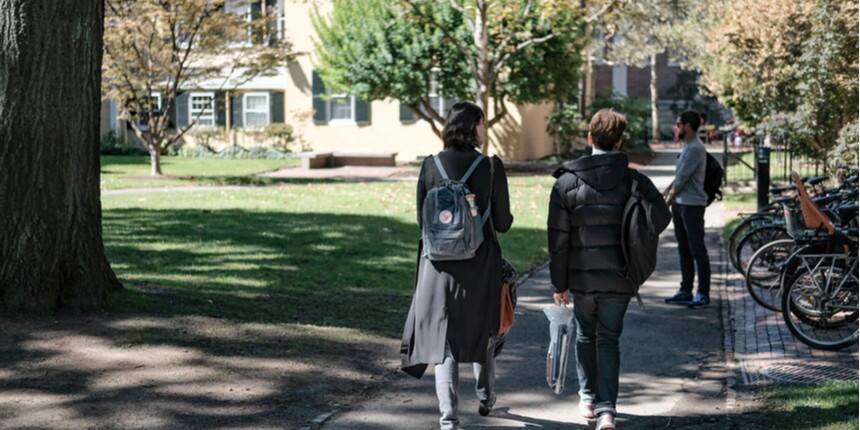 Popular law programs that students can study abroad:
Juris Doctorate (J.D.) - It is a three-year program offered by countries like the USA. Candidates must note that unlike India, the USA doesn't offer a 3-year LLB program.

LLB (Bachelor of law) - Countries like the UK offer the LLB program. That being said it may be noted that the LLB program in Cambridge, UK, primarily deals with English law. So, when picking a LLB program, the candidate needs to be sure what they are getting into. For example, Cambridge is not the right place if the candidate wants to study Indian law. EU law and International law, however, are taught in the law school.

LLM - This degree is more frequently pursued by international applicants.
What are the objectives of studying law abroad?
To develop skills demanded by employers

Study in a cosmopolitan environment

Diverse options to choose from

Benefit from better Industry-academic linkages

International exposure

Access to world-class research opportunities
Here are some more examples why students may go abroad to study law:
Compulsory modules: In the UK, for example, students are taught seven compulsory modules covering areas like Contract Law and Criminal Law, which act as foundations for more advanced legal studies.

Specialist modules: The student in many cases has the option to add specialisations to their course, which may be referred to as specialist or individual modules. Areas of specialisations include human rights, family law, terrorism, and environment.

Debate and argument: Gain keener perspectives on any degree.
Admission Requirements for studying law abroad:
Academic qualification: The candidate needs to have passed qualifying exam scoring minimum marks; for example

English Language Proficiency: The candidate must have taken English language proficiency tests like IELTS (Academic) or TOEFL. Please note that the minimum scores in these tests may vary depending on the institute the candidate is applying to. In the tables below candidates can find the requirements for admission at Cambridge University.
Language Proficiency Requirement ( University of Cambridge, UK) for LLM program
IELTS (Academic)
| | |
| --- | --- |
| Element | Score |
| Listening | 7 |
| Writing | 7 |
| Reading | 7 |
| Speaking | 7 |
| Total | 7.5 |
TOEFL Internet Score
| | |
| --- | --- |
| Element | Score |
| Listening | 25 |
| Writing | 25 |
| Reading | 25 |
| Speaking | 25 |
| Total | 110 |
Two to four Letters of Recommendation (References)
A majority of the popular law colleges ask for these recommendations, which must be issued by prominent persons explaining the admission committee about the applicant's academic qualifications and career interests.
How to apply for law study abroad program:
The application process is country-specific and so the candidate may refer to the country and institute and country they are applying for admission into.
Applying to law universities in the UK:
Applications can be submitted through the individual Applicant Portals of the specific university. The application must be filled in English language only.

The candidate should be able to request for references in the portal and also see whether these have been received.

Submit all supporting documents.

In case the candidate is looking for funding, the same can also be applied through the Applicant Portal.

The application fee is around (GBP sterling) £65 per application.

If the candidate seeks to apply to more than one program, separate application forms along with supporting documents may have to be submitted for each course.
Applying to law universities in the USA:
Most universities have their own online applications, including the likes of Harvard Law School, Harvard.

UCLA (law) accepts applications through the Law School Admission Council (LSAC) LL.M. Credential Assembly Service (CAS) Document Assembly Service for its LLM program.

At the time of application, the candidate will have to submit all relevant supporting documents along with the application.
Scholarships and funding for study law abroad program:
Studying law abroad is not going to be cheap, so scholarship and financial assistance are always welcome.
Popular scholarships to study law abroad:
Commonwealth scholarship:

GREAT Scholarships 2020

The Chevening Scholarship