AIBE XVIII (18) Syllabus 2023: Bar Council of India (BCI) has released the official syllabus of AIBE XVIII (18) 2023 on its official website - allindiabarexamination.com. Candidates can download the AIBE 18 syllabus pdf from the official website. Candidates appearing for the law certification examination should be aware of the AIBE XVIII (18) 2023 syllabus in order to prepare better. AIBE XVIII (18) 2023 syllabus includes important topics such as administrative law, company law, code of civil procedure from which the questions will be asked in the certification exam. BCI conducts All India Bar Examination to assess candidates' knowledge on basic law subjects and analytical ability. Hence, candidates should refer to the syllabus of AIBE XVIII (18) 2023 to qualify in the exam and receive a certificate of practice (CoP). Read the complete article to know about AIBE XVIII (18) syllabus 2023, exam pattern, AIBE 2023 syllabus PDF and other relevant information.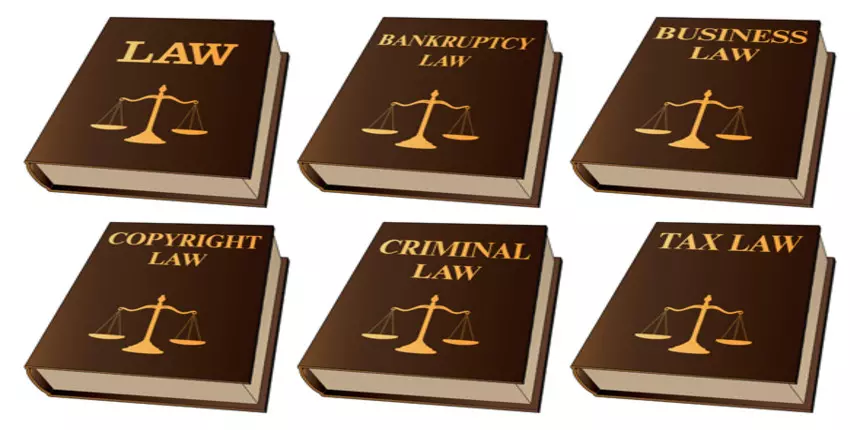 AIBE XVIII (18) Syllabus 2023 - Subject Wise Syllabus, No. Of Questions
The AIBE XVIII (18) 2023 application form has been released on August 16, 2023. Candidates can register online and fill the application form. Clearing AIBE XVIII (18) 2023 exam is mandatory for LLB graduates who wish to practice law in India.
AIBE XVIII (18) 2023 Syllabus (New)
There are 19 topics in the AIBE syllabus 18. All topics are drawn from common subjects of the LLB programme. Candidates can check the details in the AIBE exam 2023 syllabus PDF given below.
All India Bar Examination syllabus 2023
| | | |
| --- | --- | --- |
| Sl No | Topic/Subject | No of Questions |
| 1 | Constitutional Law | 10 |
| 2 | I.P.C (Indian Penal Code) | 8 |
| 3 | Cr.P.C (Criminal Procedure Code) | 10 |
| 4 | C.P.C (Code of Civil Procedure) | 10 |
| 5 | Evidence Act | 8 |
| 6 | Alternative Dispute Redressal including Arbitration Act | 4 |
| 7 | Family Law | 8 |
| 8 | Public Interest Litigation | 4 |
| 9 | Administrative Law | 3 |
| 10 | Professional Ethics & Cases of Professional Misconduct under BCI rules | 4 |
| 11 | Company Law | 2 |
| 12 | Environmental Law | 2 |
| 13 | Cyber Law | 2 |
| 14 | Labour and Industrial Laws | 4 |
| 15 | Law of Tort, including Motor Vehicle Act and Consumer Protection Law | 5 |
| 16 | Law related to Taxation | 4 |
| 17 | Law of Contract, Specific Relief, Property Laws, Negotiable Instrument Act | 8 |
| 18 | Land Acquisition Act | 2 |
| 19 | Intellectual Property Laws | 2 |
| | Total | 100 |
Popular Online Law Courses and Certifications:
AIBE XVIII (18) 2023 Syllabus: Important Topics
Below given are some of the important topics of AIBE exam syllabus. Candidates can make short notes from AIBE 18 syllabus for their last minute revision.
Constitutional law
Constitutional law is the set of laws that defines the structure and power of the government. It also defines the fundamental rights of the citizens in the country.
I.P.C (Indian Penal Code)
It is the principal criminal code of India which covers detailed aspects of criminal law. It defines different types of crimes and provides punishments against criminality and wrong actions.
Cr. P.C (Criminal Procedure Code)
The Code of Criminal Procedure or Cr. P.C is the procedural law and it defines the procedures for the police machinery to take action against any kind of violation or criminal activities.
C.P.C (Code of Civil Procedure)
It is another procedural law in India that administers different types of civil proceedings.
Evidence act
Also known as the Indian Evidence Act, of 1872 and includes 11 chapters and 167 sections.
Alternative dispute redressal including the arbitration Act
The judicial and quasi-judicial bodies function on the basis of a given framework to solve disputes between two parties as an arbitrator. Such frameworks are defined under alternative dispute redressal including arbitration act.
Family law
It deals with the disputes that arise among the family members and relatives.
Public interest litigation
It is the power of the public given by the courts in India on the basis of judicial activism. The law safeguards public interests.
This law governs any kind of administrative actions and determines the powers and duties of different administrative authorities. It is also a branch of public law.
This law defines the rights, relations and duties of different businesses and their associates.
This law covers various acts to control pollution and safeguarding of natural flora and fauna. It also includes the laws related to the uses of natural resources, different agreements and others.
The law defines the crimes related to the cyberspace, internet and digital world.
Labour and industrial laws
This law defines the code of conduct between employer and employees in an industrial setting. Labour and industrial law covers different labour codes, labour reforms and also laws related to the International Labour Organization.
Law related to taxation
It comes under the Income Tax Act, 1961.
Land acquisition act
It is the power of the union or government to acquire private land for different kinds of developments. Land acquisition act also defines the compensation against the acquisition of land.
The law safeguards the intellectual creation of inventions, designs, brands and artworks. It protects and establishes these things through patent, trademark and copyrights.

Student Also Liked:
AIBE XVIII (18) Exam Pattern 2023
Candidates preparing for the certification examination should know the AIBE XVIII (18) 2023 exam pattern which informs about the test modalities like examination mode, number of questions asked, marking scheme and other relevant details. Candidates can check exam pattern details mentioned below.
AIBE XVIII (18) 2023 Exam Pattern
| | |
| --- | --- |
| Particulars | Details |
| Mode of Examination | Online and Offline (both) |
| Type of Examination | Certification based |
| Duration of Examination | 3 hours 30 minutes |
| Type of Questions | Objective-type questions |
| Total Number of Questions | 100 |
| Total Marks | 100 |
| Negative Marking | No |
Other Popular Law Entrance Exam