Expert tips on cracking LSAT—India test by Jason Dickenson, Director, India Testing-LSAC
LSAT—India test administered by the Law School Admission Council (LSAC) will start from July 19, 2020 using the AI-enabled remote proctored online test delivery system. The law school admission test for multiple colleges will allow candidates to test from their homes during the COVID-19 emergency. The LSAT—India will be delivered in 3 time slots over 4 days starting 19 July. Candidates will be assigned individual time slots. Test takers who face technical problems will have the opportunity to retest 2-3 days after the closing of the main testing window.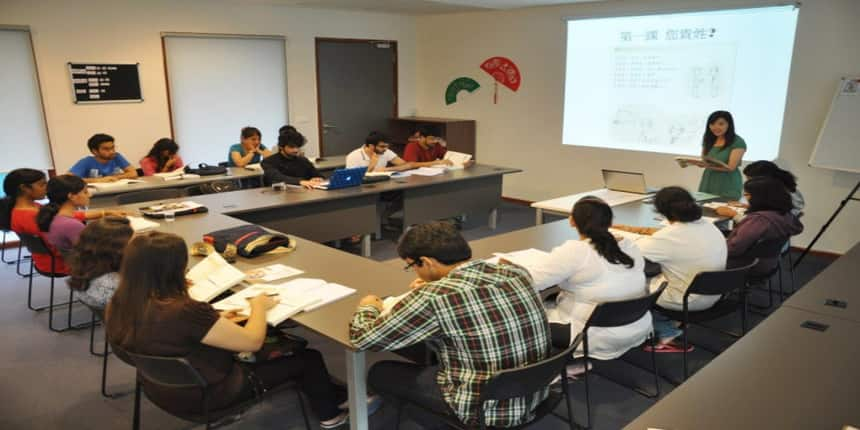 The standardised LSAT—India™ test measures skills that are considered essential for success in a law school. It is specially created for admission to law schools in India by the Law School Admission Council, USA (LSAC), which helps law schools in various countries evaluate the critical thinking skills of their applicants.
Besides Common Law Admission Test, or CLAT, this law admission test has been gaining popularity in India over the years. Some of the top institutions like Jindal Global University take only LSAT students. How is the LSAT—India different from other law entrance examinations?
Dr. Jason Dickenson, Director, India Testing - Law School Admission Council (LSAC), explains in all its details the way the proctored online test is delivered.
Check the session below
LSAT —India is going to be a proctored examination. What is a proctored examination and will the candidates be comfortable in giving it?
The biggest concern people have about an online home test is regarding the sort of malpractice or misconduct that can happen. People think that it is going to be so much easier to cheat. But I think that the concern is in some sense a little overblown. In a classroom you will be sitting along with 20 or 30 other people with one or two invigilators in the room. In a proctored setup you will be sitting at your computer where a machine is watching you and only you. It will notice any kind of suspicious behavior for review by one of our experts. I think that in some sense this is actually going to be quite difficult and in some sense more difficult to get away with any kind of misconduct.
What about poor connectivity or the internet going down during the online exam?
If you do experience a brief interruption in your internet or brief interruption in your power or your system you won't lose any time. It'll pick up right where you left off. However, if you experience a longer delay with your internet going out completely you will be offered a retest opportunity a few days after your initial attempt.
The other thing I want to mention is that if you don't have internet or you know that your internet is extremely unreliable or your power is going to go out or maybe you don't have a laptop or you don't have a laptop with a webcam then you definitely need to write in to us at DiscoverLawIndia@LSAC.org and explain your situation. We will figure out how we can you because we really don't want to see anyone lose that opportunity.
How should the students ready themselves to make it a smooth test?
When you go to the FAQ page on our website it lists the actual technical specifications that you have to satisfy like the operating system and having a webcam etc. A few days before the test we will send you instructions and an opportunity to log in and do a mock test on the actual system.
This will accomplish two important things. One, it will verify that your system actually works, that your webcam works and you have the required operating system. Secondly, it will give you a good experience of what it's going to be like on the day of the test regarding other requirements like you should be in an isolated a room, you're not allowed to have anything on your desk or any papers or anything like that around you. Your workspace has to be clear except for the computer and you will need an ID. The ID requirements are listed on the website and you have to check in by showing your ID.
In a pen and paper test the white space on the question paper can be used to do rough calculations. How will it be possible in the online test?
Unfortunately the scratch paper is not going to be allowed. But we will have a text box that you can use to take notes and so it will be your virtual scratch paper. So what I would also suggest is that as people are practicing the analytical reasoning section open up a Word document and use it to take their notes instead of writing it by hand. That's the kind of practice that will help you a lot on the test day.
There can be two ways to practice. One way is the LSAT-India mock test. You can download and either print them or just view them on your screen. As you're doing the test in that mode you can open up a word processor, a Word or Notepad. When you 'redoing the analytical reasoning section use that use that space as your scratch paper. In the actual mock test before the exam it'll look just the way it's going to look on test day. It will have the sort of text box mode there which you can use as your scratch paper.
What else should the test takers keep in mind on the day of the test?
You don't need to bring anything and your phone should be locked away somewhere away from where you are. If there's any evidence of you looking down at a phone or looking down at papers or trying to write things that we detect from the webcam then your test will be flagged and reviewed and you may well be disqualified. So, make sure that your workspace is completely clear and when you're taking the test you're just looking at the computer screen.
How is LSAT—India different from CLAT in terms of its pattern, scoring and assessment?
The most obvious difference is that unlike the CLAT, the LSAT—India does not have a general knowledge or current affairs section. It also does not have quantitative techniques which are mathematical in nature. So, unlike the CLAT the LSAT —India is not a test where you can gain a tremendous advantage by cramming a lot of facts and learning a lot of things by rote. It's much more focused on critical thinking skills; the skills you need to read critically, to think critically, identify good arguments and bad arguments. So, broadly speaking, that's the biggest difference.
What about the LSAT —India test pattern?
LSAT —India is based on the test pattern for the LSAT international test which goes back to 1948. It's had this same test pattern for about 30 years now. One of the reasons that it has been successful for students who want to go to law school in North America is that it tests the skills that law professors actually want their students to have. In fact, we survey hundreds of law professors and ask them the skills that are important for students to have when they come in the first year in law school. And time and again we got the same set of answers around the idea of critical thinking skills and critical reading skills. So, that's the reason that the LSAT has the test pattern that it does and that's also the reason that the LSAT —India has the test pattern that it does.
Does it mean that an arts or commerce or a history student will have a chance as good as a mathematics student in cracking LSAT —India?
Absolutely. Critical thinking is something that you need in every stream, in every discipline. So, if you have really practiced the sort of skills that that they should have been teaching you in your educational years, then absolutely you can crack the LSAT —India.
It is a test of critical thinking, how good a reader you are, and how good are you in understanding arguments and identifying conclusions and premises of arguments. When you see a bad argument do you know that it's a flawed argument and why? These are the skills that are important across streams and I think everyone has a chance to crack the LSAT —India.
What are the various sections in LSAT —India?
In the LSAT —India we have one section of reading comprehension which has about 25 questions. Then there are two sections totaling about 40 questions of logical reasoning. This is a test of basic critical thinking skills, whether you can identify arguments, conclusions, flaws and arguments and the assumptions that are required for an argument to be successful and so on. All these questions are based on short passages which are in everyday English language. The fourth section is analytical reasoning. This is a test of deductive reasoning skills. So, you have to deduce what could be the case or what must be the case depending on certain facts and certain assumptions that are put forward. In total there are about 90 to 92 questions.
Is there a time limitation of 35 to 40 minutes per section or is it two and a half hours for all the sections?
Each section is timed and limited to that particular section. So, each section is 35 minutes long and once you complete that 35 minutes the section ends. You will not be able to go back to the previous section.
What about the variable section?
There will be no variable section in the LSAT —India online test that's going to happen this year. We dropped that as it was creating complications. So, there will only be four sections of the test. There will be one section of reading comprehension, two sections of logical reasoning and one section of analytical reasoning. The test will be for two hours and 20 minutes. Each section has about 23-24 questions, the analytical reasoning section has 23.
How long should a student on prepare for the LSAT —India? In case one is preparing for CLAT or if he is preparing only for LSAT?
If you are already practicing for the CLAT I think you will be sort of well-positioned to add the LSAT preparation to that because there are some types of questions that overlap between the two tests. However, questions are unique even if they're both called logical reasoning. They're not necessarily testing exactly the same things. So you should spend ideally a few weeks to test the LSAT practice with the materials that are available and ultimately build up to a full simulation.
An LSAT India full simulation means sitting down and taking the four sections from start to finish with no break. The Khan Academy has a test prep section for LSAT and it's intended for the LSAT global test. So, a lot of the questions there will be more difficult than LSAT —India but they do have a lot of good articles and videos that I think will be helpful to people who are looking for that kind of thing.
What is the optimum way of preparation for LSAT —India in a month?
The first thing to do is to get a basic familiarization of the different types of question. Do not get too bogged down on any one in particular section. Maybe you can spend some time on the Khan Academy site as they have good articles and videos explaining the different types of questions. Once you've got basic familiarization take one of the practice tests and just focus on a section, a section at a time and take it in timed conditions.
When you are done look at the performance and just look at finding patterns in the answers that you got wrong. It's really important to go back and look at the ones you got wrong and try to figure out if there a pattern.
Identify a particular type of question that you know you're not good at and form your strategy so that when you see one of those types of questions on the test day you skip it and maybe come back to it if you have time. Understanding your own strengths and weaknesses is something that only you can do. A coach and coaching is great but you're the only one who knows yourself as well as you do.
For reading comprehension section, should the test takers read the questions before reading the passage? Or, should they read the passage first?
Some people tell the candidates that reading the questions before reading the passage will give them some kind of advantage that they will save time. That's actually not going to work out very well because what's going to happen is that if you read the questions and then read the passage and then go back to the questions, you still wouldn't know the answer. Time management is absolutely critical. So, reading the questions first may work for some people and it may work for some kinds of tests but our passages are not conducive to that practice. They have so many ideas in them and are complex. So, you need to focus on the passage first and then go and tackle the questions.
How does one simplify reading comprehension preparation for LSAT —India?
The secret to doing well is practicing. It really does come down to knowing what to expect on the test day. So, if you have a year or two before going to apply to law schools then obviously for reading comprehension one of the best things you can do is spend a lot of time reading difficult texts that you wouldn't normally spend your time reading. But push yourself with those academic articles and editorials and the journals and newspapers and things like that really push your mind and challenge you as a reader.
How does one prepare for reading comprehension with one month left for LSAT —India?
If you have just a month I think it boils down to every one of LSAT texts. Every one of our passages makes some kind of argument. At some point the author of that passage is trying to convince the reader of something or the other. It has a thesis and a way of bringing various arguments to bear. So, if you don't understand what that point is then your chances of being able to answer many of the questions correctly is very low. So, what I always tell people is, the first thought should always be what the author is trying to say. What point is he trying to make? So, if you can identify that main point you'll be in a really good position to be able to answer many of the other questions as well.
Here's an inside tip. We almost always ask a question about what is the main point of that passage and it's almost always the first question. It may seem like a simple thing but practicing on trying to identify the main point and not getting lost in the details is really important.
How does one prepare for reading comprehension with just a week left for the test?
If you have only a few weeks to prepare, we have many test prep sources. Taking LSAT —India mock tests can get you in that mode of being able to identify that main point and answer those questions. They're free to download and you can get them and practice. I strongly recommend that. You should never show up on test day not having actually seen how it works.
What are the difficulty levels in terms of logical reasoning?
Our logical reasoning section is based on short passages that are 50 to 100 words long. They're meant to be sort of the kind of thing that you would read in the newspapers or hear on the radio or maybe even in conversation with family and friends. It's an argument that people make, or, are supposed to be making in real life. They are a little bit more artificial than that but roughly they're supposed to be kind of realistic and they all make an argument.
Every logical reasoning passage makes an argument or is part of an argument. So if you're reading an argument you should know what the conclusion of that argument is. Once you figure that out the conclusion, things become a lot clearer. It isn't always easy but at least you have a fighting chance of figuring out the right answer in that case.
It's written in English but just knowing the meaning of the words and being able to read the sentences doesn't mean you've understood the argument. So, you should always ask yourself about the conclusion of the argument and that will help a lot and help you answer that question.
We also ask questions like what is the role of a particular statement in the argument, what is it doing? Is it a premise, is it supporting the premise, is it a sub conclusion?
We also ask questions about flawed arguments. You should be able to recognize when an argument is flawed and for what reason. There are also other types of questions like what assumption is required in order for this argument to be successful or assumption that would make it successful. So, those are the kinds of logical reasoning tasks that are focused on in those questions.
What is the biggest advice you would give in terms for logical reasoning section?
Pay attention to the words that are on the page and don't bring in outside information that you may have. That actually doesn't affect the actual arguments, is not relevant to the words that are on the page. I think a lot of people go wrong because they assume various things that they shouldn't be assuming whenever they're trying to answer those questions. Answer the question based on what is on the page and on the page only.
What are the differences between analytical reasoning and logical reasoning?
In logical reasoning we have a short passage and a question based on that passage. Analytical reasoning gives you what we call a setup and a scenario and there are several questions based on that. For example, a setup might be something like a college assigning offices to professors and there are five professors who need offices. There are some rules like Professor X cannot sit next to Professor Y and Professor Y has to sit two doors down from Professor X and things like that. Then there are questions like if Professor X is seated in the third office which one of the following could be true? Then you have to identify what could be true or must be true. It's really a test of deductive reasoning unlike the logical reasoning questions.
At the core, it's very similar to the law because the law is just a set of rules. If you become a tax lawyer and someone comes into your office for some advice you have to take their situation and apply the rules of the law to determine what could be the case or must be the case based on those rules.
We don't ask about the law because you haven't been to law school yet. But you do need to be able to use your deductive reasoning skills to deduce what can be the case.
What is the best way to approach these analytical reasoning questions?
I think practice is actually more significant here than any of the other types of questions because if you show up on test day without having seen these types of questions before, you will struggle and spend a long time trying to figure out these questions and end up wasting a lot of your time. So, spend some time ahead on some examples from our test prep books Paying attention to the words that are on the page and being attuned to their precise meaning is going to help you avoid mistakes.
How can a student plan to score a decent percentile within the 92 questions?
Even our highest scoring test takers over the years get a lot of questions wrong. If you take those practice tests and then get 30 or 40 wrong out of 90 to 92, you might want to give up and say there's no way I can do this. But that's not necessarily the case. Again you can still get a good score with quite a number of questions answered incorrectly. So, persevere, keep at it and don't lose hope.
Is there any negative marking in LSAT —India?
No, there is no negative marking. So, once you reach the end of the section and if you haven't answered every question or attempted every question, just go back and put something in there. You have a roughly 20 percent chance of getting it right just by guessing. So, please save a few seconds, say, 30 seconds to a minute at the end to go back and just make sure that you have an answer entered for every single question.
Does a question have more than one correct answer in LSAT —India?
For our questions there's only one is one and only one correct answer. There's no question where you can get the question right by choosing two or more answers.
Is there a limitation in terms of the number of times you can take this test?
There is no limitation currently. Our policy doesn't limit the number of times you can take it.
What's the difference between LSAT global and LSAT —India? Why can't they be merged?
The LSAT global is a test for admissions to law schools in North America and law programs in North America are postgraduate courses. They are degrees that you get after you've already achieved your bachelor's. In India there's postgraduate legal study and also an undergraduate degree in law.
The LSAT test takers in North America have gone to college and they're 22-23 years old while the typical LSAT —India test takers are just coming out of high school, they're 17-18 years old. There's a big gap in education. So, we model LSAT —India on the LSAT but it is specifically made to be sort of easier and more appropriate for the person who's taking it and the Indian context.
Can the LSAT —India takers also apply for international universities?
We administer the global LSAT in India for people who want to apply to law schools in North America or elsewhere. I think students in India should take the LSAT —India to get into a good law school. If they want to study internationally get the undergraduate degree in law in India and then study, say in the US or Canada and get the LLM degree which is a master's degree in law. It gives you a little bit of both. It gives you the grounding in Indian law and then it gives you that international exposure through the LLM degree.
Any tips for students if the examination is happening in a day or two?
Assuming this person has practiced well the best thing to do is to take it easy. Give your brain a break, do some fun thing if you can relax, get good rest and try not to be stressed. But you shouldn't show up on test day and be surprised by anything that happens. Even if you haven't done much preparation for LSAT you should take one or two practice tests even if you don't take them in simulated conditions. If you're surprised it interferes with your ability to think clearly which is obviously harmful. So don't be surprised but also be well rested and relaxed.
The advice to LSAT —India aspirants was given by Jason Dickenson, Director, India Testing- LSAC, in a webinar hosted by Careers360 recently.
If you have any doubt regarding any course or career, write to us at: ask@careers360.com
Questions related to LSAT India
Showing 135 out of 135 Questions
Law School Admission Test for India (LSAT India)