LSAT India 2020 - Result (Declared), Cutoff, Score Card (Out), Marks, Admission
LSAT India 2020 - Law School Admission Council (LSAC) has released the score card of LSAT-India 2020. on August 13. Candidates can download the result by logging into the LSAT registration system, the result link is provided below, LSAT India 2020 exam was conducted from July 19-22, and 26. The LSAT India exam was proctored remotely using AI-technology and webcam. The student had to take the online LSAT India 2020 exam from the safe confines of these homes or a location of their choice. The exam was previously conducted in pen-and-paper mode but has gone online in response to COVID-19 imposed lockdown. Candidates who get registered successfully were issued LSAT India 2020 admit card, which contained information pertaining to exam date and slot. To appear in LSAT India 2020, candidates needed to complete a virtual check-in process. Only after successful identity validation, one can take the test using a secured browser. Before applying for LSAT India, candidates should ensure that they meet the eligibility criteria of LSAT India 2020. Those who appear in the test will be issued scorecards a few weeks after the exam.
LATEST - LSAT India 2020 scorecard released; to log in - Click here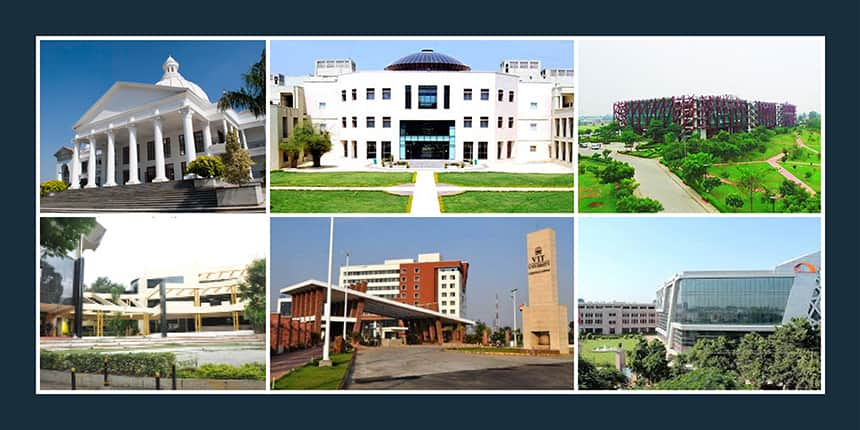 LSAT India 2020 - A quick glance
Name of exam

Law School Admission Test for India

Common Name

LSAT India

Conducting body

Pearson VUE on behalf of the Law School Admission Council (LSAC)

Participating (or associated) colleges

52+

Courses offered

BA LLB, BBA LLB, BCom LLB, BSc LLB, three-year LLB and LLM

Test cities

The exam is slated to be conducted in online remote proctored mode; so exam centres will not be allotted

Mode of exam (Changed)

Online remote-proctored test, wherein candidates takes the exam from their homes or a place of their choice using web-camera enabled computer,

Pen-and-paper based

Medium of test

English
The details pertaining to the release and last date of submission of the application form, issue of admit card, date of exam, and other subsequent exam events can be obtained by consulting the important dates of LSAT India 2020 important dates.
LSAT India 2020 - Important Dates
Events

Dates

Commencement of Application form

December 6, 2019

End of Application form

July 5, 202

Registration re-opened

(Open)

July 7 (12 noon)- July 10 (11.59 pm), 2020
LSAT India 2020 Mock Test (

Latest

)
July 4-15, 2020
LSAT India Slot booking (Available)
July 6 - July 17

Release of Admit card

July 17, 2020

April 20-30, 2020

LSAT India 2020

July 19-22, 2020

and

July 26, 2020

May 17, 2020

Declaration of result (scorecard)

August 13, 2020 (LATEST)

May 29, 2020

Counselling

To be notified


Pearson VUE has declared the result of LSAT India 2020 in online mode on August 13. LSAT India result 2020 is released for all candidates who have appeared in the online exam and will carry details like scores obtained by the candidate in the entrance exam and also the qualifying status.
How to check LSAT India Result 2020?
Click on the relevant link ( will be updated on this page once it is released)

Next enter password and registered email id

The result of LSAT India 2020 will be displayed on screen

Download and take a printout of the result
It may be noted that based on scores obtained by candidates in the entrance exam will be shared by Pearson VUE will be shared with the associated colleges. The colleges, in turn, will use the scores for ranking applicants; in fact, they will prepare a merit list of the applicants using LSAT India scores, which will be the basis of seat allotment.
LSAT India Counselling 2020
As have been mentioned earlier, the responsibility of Pearson VUE is limited to the conduct of LSAT 2020 entrance exam only. It is not responsible for either preparation of the merit list or conduct of counselling and seat allotment process. Instead, it will share the scores of LSAT India 2020 with the associate colleges.
The associate colleges will prepare a merit list for applicants using the LSAT scores shared with them. Further, they will use the merit for seat allotment purpose, with those ranked higher in the list to be given preference during the allotment process.
The associate or participating institutes will release institute-specific admission cutoffs for various courses offered by them. The cutoff published by an institute for a program will be the last rank for which admission is offered; thus candidates ranked or scoring below cutoff will not be considered for admission. Also, considering the cutoff depends on factors like the sanctioned seat intake, applications received, and performance of candidates in the LSAT 2020 entrance exam, the cutoff would vary from course to course and also institute to institute.
There are more than 52 associate or participating colleges of LSAT India 2020 that will use LSAT India 2020 scores for admitting candidates to their various law programs. Aspiring candidates may go through LSAT India 2020 participating colleges and decide which college to apply.
Popular participating institutes of LSAT India 2020
| | | |
| --- | --- | --- |
| S.No | Institutes | City |
| 1 | | Bangalore |
| 2 | | Gurgaon |
| 3 | | Surat |
| 4 | | Sonipat |
| 5 | | Visakhapatnam |
| 6 | | Mysore |
| 7 | College of Legal Studies | Dehradun |
| 8 | | Bangalore |
| 9 | | Noida |
| 10 | | Dehradun |
| 11 | Faculty of Law, ICFAI University | Sikkim |
| 12 | Faculty of Law, ICFAI University | Jaipur |
| 13 | ICFAI Law School, IFHE | Hyderabad |
| 14 | | Raipur |
| 15 | | Greater Noida |
| 16 | | Chennai |
| 17 | | Ranchi |
About LSAT India 2020
There are over 52 associate or participating institutes of LSAT India 2020 that will use LSAT India 2020 scores for admission; courses on offer include BA LLB, BBA LLB, BCom LLB, BSc LLB, three-year LLB and LLM. Interestingly, the role of Pearson VUE is limited to conduct of LSAT 2020 entrance exam and sharing of exam scores with associate colleges. These colleges then use LSAT India scores to prepare merit list for counselling and admission purpose; each institute will consider only such candidates who have applied to that institute.
While Pearson VUE is responsible for the conduct of LSAT India 2020 entrance exam, it doesn't specify any specific LSAT India 2020 eligibility criteria. Instead, candidates must consult the eligibility criteria prescribe by the associate law college they intend to apply for admission based on LSAT India scores. The general eligibility criteria required for various law programs are listed briefly here:
LSAT India 2020 - Eligibility criteria
3-year LLB program: The candidate should have completed graduation degree in any discipline from a recognized university.

5-year integrated law program: Candidates must have completed class 12 from a recognized board or institution.

LLM program: The candidates should have completed graduation degree in law.
Also, note that restrictions in minimum marks may apply to candidates belonging to various reserved categories.
The online application form of LSAT India 2020 can be filled till July 10, 2020. The LSAT 2020 application form are available in online mode and can be filled by candidates who meet the eligibility criteria prescribed by the associated college they are applying to. While filling the application form of LSAT India 2020, one must only use correct information, as otherwise one's candidature may be cancelled.
Steps to fill LSAT India 2020 Application Form
Online Registrations

Filling of relevant fields in the application form

Uploading of documents

Payment of application fee.

Submission of completed application form
LSAT India 2020 application fee
Category

Application fee

Mode of fee payment

General, OBC, SC, ST, PwD, Female

Rs. 3800

Fee has to be paid online using:

Credit Card/Debit Card/Net Banking
The exam pattern of LSAT India has undergone some changes mainly due to the lockdown situation in the country. The test will now be conducted in online proctored mode to allow the candidates to appear in the exam from their safe locations. Further, the unscored variable section has been removed from the test for this year. The removal of the variable section has led to some more subsequent changes in the exam pattern. For example, the total number of question has been reduced from 115 to around 92, while the test duration has also been decreased from 2 hours 55 minutes to 2 hours 20 minutes. Every candidate's test will be proctored remotely using AI-assisted technology and the candidate's entire examination will be recorded via the computer's web camera. If misconduct of any kind is detected, then the exam will be invalidated. The details of the updated exam pattern are given below.
LSAT India Exam Pattern 2020
Particular

Description

Mode of exam

Online, proctored test mode

Pencil-and-paper based (offline)

Duration of the exam

2 hours 20 minutes

Number of questions

92

Sections

There will be four (4) sections. These include:

One section on Analytical Reasoning

One section on Reading Comprehension

Two (2) sections on Logical Reasoning

Candidates will get 35 minutes to complete each section.

Type of Questions

Multiple-choice type.

Each question will have four or five answer options, out of which one will be the right option.

Marking scheme

There is no negative marking

Scoring pattern

Test scores will be scaled between a score band of 420-480. Results will also be available in percentile form
LSAT India 2020 Exam Pattern – Weightage
S.No.
Topics
Questions
Duration
1.
Analytical reasoning
23
35 mins.
2.
Logical reasoning - 1
22
35 mins.
3.
Logical reasoning - 2
23
35 mins.
4.
Reading Comprehension
24
35 mins.
5
Variable
23
35


Total
92
115

2hours and 20 minutes

2 hours and 55 minutes
Pearson VUE will first issue slot and timings of LSAT India exam to the registered candidates. Candidates will be offered to admit card of LSAT India 2020 soon after the slot booking. The LSAT 2020 admit card will carry important details like name and roll number of the candidate, and date and time of the exam.
How to download LSAT India 2020 admit card?
Click on the admit card link (will be updated here once it is available)

The candidate will be redirected to a log-in window

Enter email ID and password

Upon successful log-in, the admit card will be displayed on the screen

Download and take a printout.
Exam authorities will conduct the test in online mode and candidates will be allowed to take the test from any location of their choice, hence, the exam centres will not be provided to the candidates.
Earlier, the LSAT India 2020 was scheduled to be conducted across 24 cities in the country. The candidate was to select his or her choice of LSAT India 2020 exam centre at the time of filling the application form. The details of the LSAT India exam centre allotted to the candidate were also to be communicated through the admit card, along with its address.
Frequently Asked Question (FAQs) - LSAT India 2020 - Result (Declared), Cutoff, Score Card (Out), Marks, Admission
Question: What is the eligibility criteria for appearing in LSAT India 2020?
Answer:
The eligibility criteria f LSAT India 2020 may vary depending on the course and institute the candidate is seeking admission to. So, one may refer to the eligibility criteria of the college one intends to take admission to.
Question: What is the difference between LSAT India and CLAT?
Answer:
CLAT scores are used for admission to the NLUs, the premier law schools in the country. LSAT India scores however are used by private colleges, like JGLS, for admission to their law courses. Another difference is general knowledge and current affairs questions are not asked in LSAT India, but are asked in CLAT. Difficulty-wise CLAT is considered the toughest exam in the land. CLAT is taken by around 60,000 applicants every year for some 2,500 seats. In comparison, LSAT India is an up and coming examination with number of test takers increasing each year.
Question: How difficult is LSAT India?
Answer:
One major feature of LSAT India is doesn't test the candidate on their rote learning abilities; for example the test paper doesn't have GK and current affairs section. What it instead have is legal aptitude, analytical and logical reasoning based questions that test how capable the candidate is to pursue legal studies. So in some sense, if your fundamentals are strong, the LSAT India can seem easy. But if you are lacking in basic understanding of these topics, you will struggle to do well in LSAT India.
Question: In what mode will LSAT India 2020 exam be conducted?
Answer:
The LSAT India 2020 exam for the current academic session will be conducted in online remote-proctored mode. The applicant will need a web-enabled computer system to take the exam from the safe confines of their homes. The exam was previously conducted in pencil-and-paper mode. The move to remote online mode has been done to counter the CODVID-19 enforced country-wide lockdown.
Question: How is the counselling process of LSAT India 2020 be conducted?
Answer:
The associated or participating institutes will conduct institute-specific counselling and seat allotment, based on LSAT scores of applicants shared with them by Pearson VUE authorities.
Question: When will the LSAT-India 2020 exam be conducted ?
Question: Who accepts LSAT India 2020 scores?
Answer:
There are 12 associated colleges, including JGLS, which will use LSAT India scores for admitting students to their law programs.
Question: Does Pearson VUE also conduct counselling?
Answer:
As many as 52 participating colleges use LSAT India scores for admission purpose.
Questions related to LSAT India
Showing 136 out of 136 Questions
Law School Admission Test for India (LSAT India)