Campus Life at Gujarat Maritime University: Adv. Haizel Varghese Speaks About her Experience
The study of law is a dynamic process that evolves with time taking in the changes occurring in the society and world at that moment. Once just has to take a look at how the field has changed since the advent of the internet. And considering the dynamic nature of the course, academic institutions imparting the course cannot afford to be stuck in a past age but must be well-equipped to the demands of the course.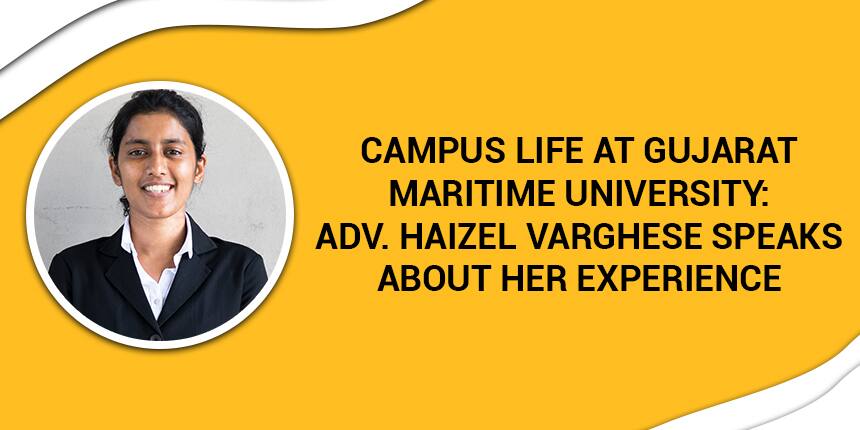 Maritime law is a niche specialization, and India has a few institutes where the course is available. One of these institutes is the Gujarat Maritime University (GMU). If you have it as one of your shortlisted institutes, you may like to know if GMU is well-equipped to teach the course; does it offer adequate internship opportunities, etc.
We bring you an account of Adv. Haizel Varghese, who shares her experience at Gujarat Maritime University. She shares the learning environment at the institute, internship opportunities, and why she would like to recommend the university.
Campus Life at Gujarat Maritime University: Adv. Haizel Varghese Speaks About her Experience
Gujarat Maritime University, a potential platform for aspiring maritime lawyers, the future of maritime experts in the shipping sector did become a reality in the year 2019. India is a country which is on the list of the major contributors in the field of maritime sector globally. Hence major parts of expertise are involved in the shipping industry in India. Maritime sector ranges from shipping lines, freight forwarders, ship brokers, agencies, Import export operations, custom house clearances, container lines, and so on. Being a law graduate, as well as my upbringing being in a family rendering service in the shipping Industry and major port in the coastal state Gujarat, I decided to pursue my specialisation in the niche area of maritime law with the seed of inclination towards the same being sowed from a very young age.
When it was time to realise the dream of pursuing a master's course (LLM) in Maritime law, it came to my knowledge that India though being in the forefront of maritime trade nevertheless was not yet a better contributor in the field of providing maritime education. The great platform which enabled me to realise the same is Gujarat Maritime University, which is one of the initiatives of Gujarat Maritime Board. It has been a usual practice that generally maritime law aspirants opt for traveling abroad for specialising in maritime law. This lacuna has been filled by the establishment of the Gujarat Maritime University which has its campus in Gujarat National Law University. The quality of learning through Gujarat Maritime University has been at par excellence, structured training has been provided to its students in learning the niche area of Maritime and International Trade Law.
As my course included detailed study on shipping contracts, marine insurance, law of the sea, maritime arbitration, it was an added advantage that apart from classroom experience, clinical training was a must for students, for example port visits every month are conducted. The university offers master's in Maritime law as well as International Trade Law. A one-year extensive course.
First port visit for the batch of 2019-20, a group of 30 students, was a visit to Mundra port which is a major private port owned by Mr, Gautam Adani. The visit was enriching indeed, all the operational department in the port was very well introduced and explained in order to get a better understanding of the same. The second visit was to Dahej Port, a multi cargo port which shares its location with Gujarat, Maharashtra as well as Madhya Pradesh.
With each visit the practical exposure and experience of the students has been escalating. Students also have to undergo one month of internship programme in any branch of Maritime trade and Practice. One such opportunity was my internship in the month of December 2019-20, with Chambers of George A Rebello, under Ashwin Shanker Advocate and Arbitrator. Internship programmes have also been an enriching experience.
The university can scale greater heights in the future. I would like to wish best wishes to all future endeavours of Gujarat Maritime University.
Gujarat Maritime University, Gandhinagar Updates and Articles
Gauri Joshi, a student at Gujrat Maritime University shares he...
04 Jun 2020
Campus Life at Gujarat Maritime University: Nimish Arjaria Spe...
02 Jun 2020