ULSAT Application Form 2023: University of Petroleum and Energy Studies (UPES), Dehradun had released the ULSAT 2023 application form in December 2022. The application form of ULSAT 2023 was available on the official website - upes.ac.in and also at the admission office of the university. The direct link to fill the ULSAT 2023 application form was also mentioned below. Candidates could apply for ULSAT 2023 by filling the application form by April 25, 2023. ULSAT application form 2023 includes registration, filling out the application form and submitting the fees. UPES conducts ULSAT 2023 for admission to BA LLB, BBA LLB, B.Com LLB, 3-year LLB and LLM programmes. Read this article to know more about the ULSAT application form 2023 and other relevant details.
Click here to fill ULSAT 2023 application form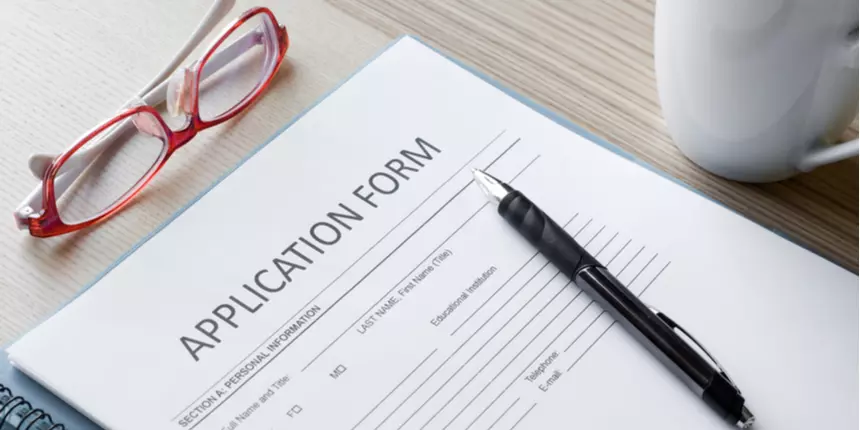 ULSAT Application Form 2023 (Released) - Steps to Apply Online, Fees, Eligibility
ULSAT application 2023 form dates
| | |
| --- | --- |
| Event | Date (Tentative) |
| Release of application form | Released |
| Last date to apply | April 25, 2023 |
| Release of admit card | To be notified |
| ULSAT exam date 2023 | April 28 to 30, 2023 |
Eligibility criteria

Details

ULSAT

Minimum 50% marks at Higher & Senior Secondary level (10th & 12th).

For LLM - Minimum 50% marks at Higher and Senior Secondary level (X and XII) and Minimum 50%marks in Graduation with LLB Degree or equivalent.




CLAT/LSAT-India

For UG

50% Marks in Higher & Senior Secondary (10th & 12th)

CLAT AIR ranking up to 15000 / L-SAT India Percentile of 60 percentile or above.

For PG




Board Exams

80% marks in 10th and 12th main five subjects (English as one of the compulsory Subjects).
Document required while filling ULSAT application form 2023
Before filling the application form of ULSAT 2023 candidates should keep the following documents handy.
Aadhar card number (Necessary during the registration process)

Permanent account number of candidates and parents

Class 10 and Class 12 mark sheets.

Photograph and signature with the prescribed format.

Graduation mark sheet (if applying for PG programmes)
ULSAT 2023 Application Process
The candidates can visit the official website of UPES to fill out the application form for ULSAT 2023. Candidates can follow the following steps -
Step 1: Visit the page on the official website that contains the application. For registration purposes, provide personal information such as name, UG or PG course specialization, email address, mobile phone number, country, and state, as well as academic information such as passing year and both 10 and 12-grade passing percentage.
Step 2: The candidate can then select their "Application Pathway," which depends on whether they wish to take the ULSAT 2023 or apply based on their CLAT score, or choose based on their LSAT-India score, 80% score in both 10 and 12 with five main subjects (English as a compulsory subject)
Step 3: Candidates must pay the registration cost of Rs 1350 for Indian students either in cash using a bank e-challan or online using net banking, a debit card, or a credit card.
Step 4: Verify the "Academic Qualification" option once the payment has been made to validate the application. Then, download and print a copy of the application form's final confirmation page for your records.
UPES released the ULSAT 2023 admit card online a few days prior to the law entrance test. But in order to acquire the ULSAT 2023 hall ticket, the applicants had to reserve the exam date and give information about their desired test locations from April 19 to 20, 2023. The ULSAT 2023 admit card contains comprehensive details on the candidate's name, roll number, exam date, test centre address, instructions for the exam day, and other pertinent information. Candidates should carefully review the information above and, if there are any errors, seek rectification as soon as possible.
ULSAT 2023 Exam Centres
UPES will conduct ULSAT 2023 in around 100 cities accross the country. Candidates can select their preferred exam centre and exam date while booking the test slot. The list of exam centres is given below.
ULSAT exam centres 2023
| | |
| --- | --- |
| Name of Test City | City Code |
| Agra | 1 |
| Ahmedabad | 2 |
| Ajmer | 3 |
| Aligarh | 4 |
| Allahabad | 5 |
| Almora | 6 |
| Alwar | 7 |
| Ambala | 8 |
| Amritsar | 9 |
| Azamgarh | 10 |
| Bangalore | 11 |
| Bareilly | 12 |
| Bathinda | 13 |
| Bhagalpur | 14 |
| Bharatpur | 15 |
| Bhilai | 16 |
| Bhopal | 17 |
| Bhubaneswar | 18 |
| Bikaner | 19 |
| Bilaspur | 20 |
| Bokaro Steel City | 21 |
| Bulandshahr | 22 |
| Chandigarh | 23 |
| Chennai | 24 |
| Dehradun | 25 |
| Dhanbad | 26 |
| Faridabad | 27 |
| Gaya | 28 |
| Ghaziabad | 29 |
| Gorakhpur | 30 |
| Greater Noida | 31 |
| Gurgaon | 32 |
| Guwahati | 33 |
| Gwalior | 34 |
| Haldwani | 35 |
| Haridwar | 36 |
| Hisar | 37 |
| Hoshiarpur | 38 |
| Hyderabad | 39 |
| Indore | 40 |
| Jabalpur | 41 |
| Jaipur | 42 |
| Jalandhar | 43 |
| Jammu | 44 |
| Jamshedpur | 45 |
| Jaunpur | 46 |
| Jhansi | 47 |
| Jind | 48 |
| Jodhpur | 49 |
| Jorhat | 50 |
| Kangra | 51 |
| Kanpur | 52 |
| Karnal | 53 |
| Kashipur | 54 |
| Kolkata | 55 |
| Korba | 56 |
| Kota | 57 |
| Kotdwara | 58 |
| Kurukshetra | 59 |
| Lucknow | 60 |
| Ludhiana | 61 |
| Mathura | 62 |
| Meerut | 63 |
| Mohali | 64 |
| Moradabad | 65 |
| Mumbai | 66 |
| Muzaffarnagar | 67 |
| Muzaffarpur | 68 |
| Nagpur | 69 |
| Navi Mumbai | 70 |
| New Delhi | 71 |
| Noida | 72 |
| Orai | 73 |
| Panchkula | 74 |
| Panipat | 75 |
| Patiala | 76 |
| Patna | 77 |
| Pune | 78 |
| Rae Bareli | 79 |
| Raipur | 80 |
| Ranchi | 81 |
| Rishikesh | 82 |
| Rohtak | 83 |
| Roorkee | 84 |
| Rudrapur | 85 |
| Saharanpur | 86 |
| Satna | 87 |
| Shahjahanpur | 88 |
| Shimla | 89 |
| Singrauli | 90 |
| Solan | 91 |
| Sri Ganganagar | 92 |
| Surat | 93 |
| Thiruvananthapuram | 94 |
| Udaipur | 95 |
| Vadodara | 96 |
| Varanasi | 97 |
| Vijayawada | 98 |
| Visakhapatnam | 99 |
| Yamunanagar | 100 |