Campus Life at Gujarat National Law University: Yash Tripathi Speaks About his Experience
Gujarat National Law University has been consistently ranked as one of the best law schools in the country. In the recently released NIRF rankings 2020, the institute has been ranked the 7th best law college in the country; it was ranked 9th the year before. So, if you are a law aspirant you would most likely won't have any reservations joining the institute for a law graduation. But if you do, we would like to address those by bringing you important facets of the university as described by Yash Tripathi, who is a law graduate at Gujarat National Law University, Gandhinagar (GNLU). In this article he sheds fresh light into what goes inside the campus, how students in the institute go about their studies and daily life, and how they stay motivated.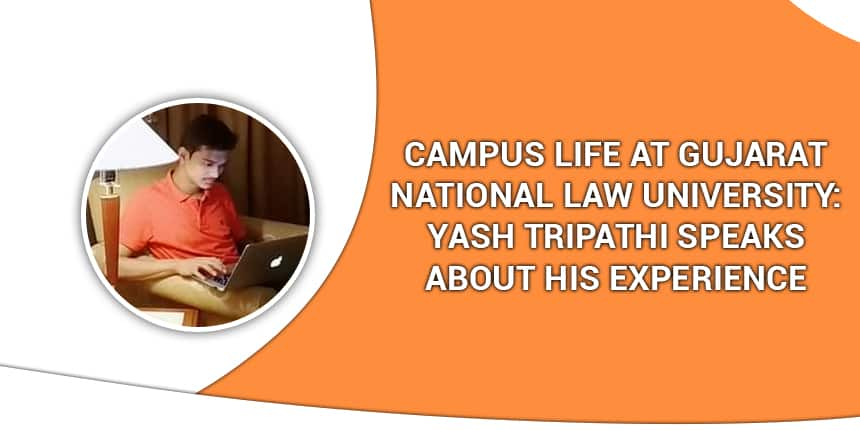 Yash also shares insights on the learning environment at GNLU, internship opportunities, and much more that would be of great benefit to the prospective student.
Campus Life at GNLU: Yash Tripathi Speaks About his Experience
Give us a brief introduction of yourself - your name, college you are studying in, course and semester?
I am Yash Tripathi. I am studying at Gujarat National Law University, Gandhinagar (GNLU), BSc LLB (Hons) and I have just completed my fourth semester.
How did you first acclimatize to the institute after you joined? What difficulties did you face and how did you overcome them?
Yash: There is no such difficulty, but you may take some time to acclimatize. The main thing is students come from different parts of the society, so they have different kinds of experience of education, different mother tongues. So they can face many problems. For example someone has difficulty in English speaking, maybe because it is not his primary language. If somebody has such a problem, they shouldn't be depressed as nobody has perfect English. What I would recommend is when they are 1st year, the student should get involved in various activities, and there are many activities going on in college. Try to figure out what interests you. Everything else is good in the university, as we are like minded people.
Describe a typical day at your institute – what do you do from the time you wake up till you go to sleep?
Yash: As per my previous semester, I had class from 9 am to 3 pm. At what time one gets up is different from person to person. I wake up between 7.30 to 8 am, and after getting fresh I go to the mess to have my breakfast. From here I directly go to the class. There are five classes in a day, having 10 minutes break in between them. Now there are some changes that the director has made. But the basic thing is which I am telling you. After attending classes, we again move to the mess for lunch, which is served till 3 pm. After having lunch you can say that we are free and have many alternatives. Like one can go to his room and sleep, or go to the library, or attend any lecture or conference which is going on at that moment.
After having lunch, most of the time I go to the library, which is fully air-conditioned. There you can revise what you have read in the class. After being in the library, I come to the mess again for snacks; after snacks I move to my room and change into my sports gear as I am also a member of the university volleyball team. We play from 6 pm to 8 pm. After that I again move to my room, take a bath and relax. After that I go for dinner, which is open from 8 pm to 10 pm. After that I sometimes take a round of the college and move to the library again; it stays open till 2 am in the night.
Sometimes I also have to attend conferences, debates and moot rooms. We have many committees in our college, and I am a member of three of them, including a coordinator of one. So sometimes I also have to do work for these committees. The work pressure of these committees increases during festivals. For example, I am a member of a sports committee and my work increases during sports festivals
Tell us about extracurricular activities and other facilities available for students?
Yash: For extracurricular activities we have Music nights, Literary fests, Moot debates and Theatres. In sports, we have everything including cricket, basketball, table tennis, long tennis, football.
Do you have moot courts in your institute and how often do you participate in this activity? Can you give a little insight?
Yash: In our institute we have both intra-college and inter-college moot courts. Till now I have participated in three intra-college moot courts. In intra moot courts the judges are from our own institute, they are alumni or our college. We can also apply for inter-college moots, and get reimbursed for our travel expenses and get some other facilities. Also there is a particular moot committee.
Tell us about the internship opportunities? Where do you do internships - lower courts, law firms, corporate houses, or high courts?
Yash: There is a particular internship and placement cell in our college, which facilitates students in getting the desired internship. We can apply independently also, but that particular cell helps the students with the application process. Till now I have interned in district courts, an NGO, and an UK-based company. There are particular stages of internships that a student has to do. The internship the students undertake will depend on what career one wants to pursue in the future. For example, if you are aiming for a corporate job you have one kind of internship, and if you are aiming for the judiciary you have different kinds of internships.
See if you want to have a job in the corporate industry then you have a particular series of innerships that you have to follow. The placement and recruiters who come to college check whether you have followed a particular criteria or not.
Recruitment and placement?
Yash: As I have mentioned earlier, we have a placement and recruitment cell, which helps in the placement and recruitment process. The most important eligibility criteria to participate in the placement process is your marks. But it is not necessary that the student with good marks will work for a corporate, or that the corporate will hire anybody. In fact, most corporations want to recruit graduates who intern for them, as they are well tested in the corporate work environment. If you have shown that you can work for 14 -16 hours, then you are going to be selected.
There are two types of placements:
One is the zero day placement, which takes place in the 4th year of college. It is also known as the pre-placement offer (PPO), because you have not completed college, but yet you are offered a placement.

Placement in 5th year: Students who didn't get placed during pre-placement can participate in the 5th year.