BA LLB syllabus - One of the popular law programs in the country, BA LLB is a 5-year integrated law course offered by almost all the top law colleges in the country. These include the NLUs, Symbiosis Law School, Pune, Jamia Milia Islamia, New Delhi, to name a few. Admission to the NLUs is done through CLAT, while NLU Delhi conducts AILET exam for admission purpose; other common admission routes include LSAT India and SLAT. Candidates who will be taking up the course will definitely want to know what is in the BA LLB syllabus. Other concerns also include how are the topics distributed across the ten semesters. So, here we bring the BA LLB syllabus, so that candidates know what to expect when they enroll in the course.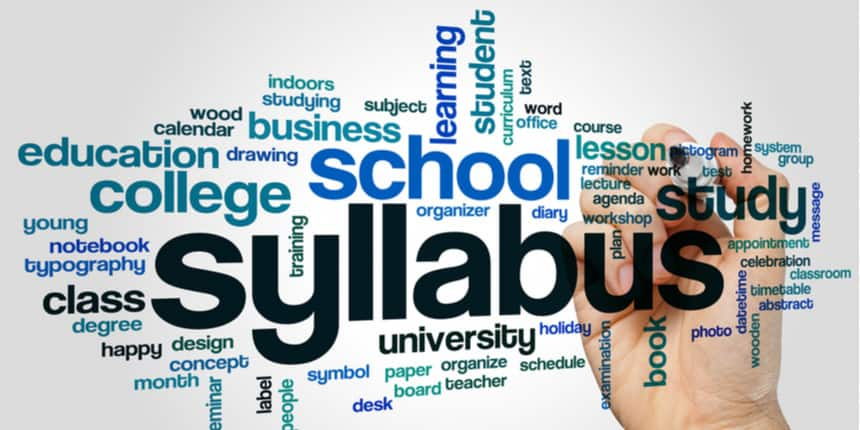 Eligibility Criteria for BA LLB course
Admission to BA LLB course in any college will be offered only if the applicant meets the prescribed eligibility criteria, which may relate to qualifying exam passed, minimum marks and age limit. Also note that the criteria may vary from college to college, though the basic tenets may remain the same, with the important ones being mentioned here.
BA LLB eligibility criteria
Qualifying exam: The candidate needs to have passed a 10+2 or equivalent exam from a recognized board

Minimum marks: Typically, an exam (or college) set their own minimum marks. For example, the NLUs require a minimum of 45% marks if the candidate belongs to the general or OBC category. There is relaxation of 5% in minimum marks for SC/ST candidates. However, for appearing in AILET candidates need minimum 50% marks.

Most colleges don't have an upper age limit for admission to a BA LLB program.
Semester-wise BA LLB Syllabus
Semester
Law syllabus for BA LLB program
First Semester
English Paper I: Law and Language
Political Science-I (Political Theory)
Introduction to Sociology
Economics-I(Principles of Economics)
Law of Tort
Law of Contract
Second Semester
English Paper II: LP C Skills
Political Science-II (History of Indian Political System)
Psychology of Life
Economics-II(Business Economics)
Law of Crimes Paper I (Penal Code)
Special Contracts
Third semester
Political Science-III (Public Policy and Administration in India)
Law and Society
Constitutional Law-I
Law of Crimes Paper-II (Cr.P.C.)
Public International Law
Inter-Disciplinary Project
Fourth Semester
Political Science-IV (International Relations)
Economics-III (Public Economics)
Constitutional Law-II
Environmental Law
Property Law
Inter-Disciplinary Project
Fifth Semester
Political Science-V (International Organizations)
Family Law-I
Jurisprudence
Law of Evidence
Company Law I
Inter-Disciplinary Project
Sixth Semester
Political Science-VI (Feminism and Indian Politics)
Company Law II
Family Law-II
Civil Procedure Code and Limitation Act
Intellectual Property Rights
Inter-Disciplinary Project
Seventh semester
Foreign Language - French
Administrative Law
Labour and Industrial Laws-I
Alternate Dispute Resolution
Honours 1 of 1
Honours 2 of 1
Eighth Semester
Labour and Industrial Laws-II
Cyber Law
Interpretation of Statutes
Honours 3 of 1
Honours 4 of 1
Inter-Disciplinary Project
Ninth Semester
Moot Court Exercise & Internship
Drafting: Pleading & Conveyancing
Conflict of Laws
Consumer and Competition Law
Honours 1 of 2
Honours 2 of 2
Tenth Semester
Principles of Taxation Laws
Professional Ethics & Professional Accounting System
Seminar Course
Honours 3 of 2
Honours 4 of 2
BA LLB admission process
There are many entrance exams that are conducted across the length and breadth of the country for admission to BA LLB course, both at the national and state levels. Popular national-level exams include CLAT, AILET, LSAT India, and SLAT.
State-level exams can be taken if the candidate belongs to the state conducting the exam or meet domicile requirements that may be prescribed.
Popular entrance exams for admission to BA LLB program
Exam

Type of exam

Admission to

CLAT

National-level

Participating NLUs

Affiliate colleges

AILET

National-level

NLU Delhi

AILET scores accepting colleges

LSAT India

National-level

LSAT India participating colleges

SLAT

National-level

SLS Pune

SLS Noida

SLS Hyderabad

SLS Nagpur

MH CET law (5-year)

State-level

MH CET law participating colleges

State-level

TS LAWCET law participating colleges

State-level

AP LAWCET law participating colleges

State-level

KLEE participating colleges
Job options after completion of BA LLB course:
Lawyer, Advocate, Solicitor

Legal advisor

Law reporter

Public Prosecutor

Academician

District and Sessions Judge

Work in a law firm