How to prepare for AIBE 2020?
How to prepare for AIBE 2020? - Despite being an open-book exam, AIBE poses too many challenges that many candidates find difficult to overcome. That is precisely why, as the next edition of the exam approaches, the murmur as how to prepare for AIBE 2020 starts to get louder. Among the many questions the AIBE aspirant has in their mind's how to approach one's preparation, what topics to focus on, and other effective ways to improve performance. Interestingly, AIBE exam is not designed to test the candidate's ability of retention, rather it is a test of his or her ability to reason and decipher legal problems using legal knowledge and aptitude. Go through the rest of the article to learn the tips on how to prepare for AIBE 2020.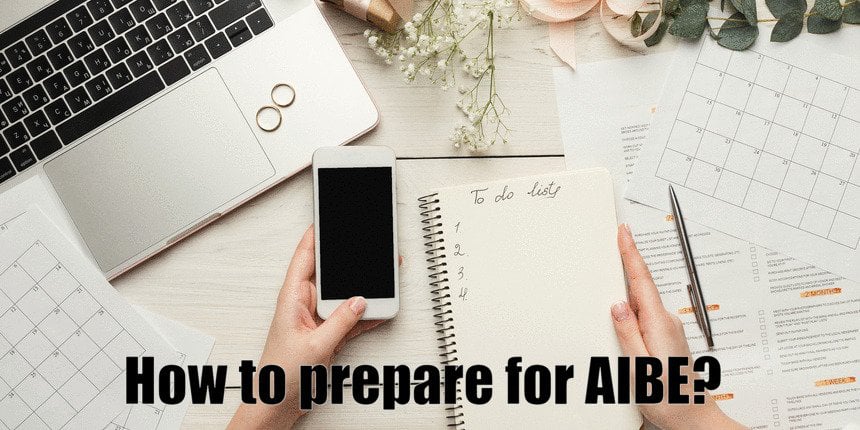 The Bar Council of India (BCI) will conduct the AIBE 2020 exam. Candidates who qualify in the exam will be awarded Certificate of Practice (COP), which will allow them to practice law in a court in India.
Tips to prepare for AIBE 2020
How to prepare for AIBE 2020 - Make a time table
Having a proper time table will bring clarity, discipline and method to the madness called AIBE XV exam preparation. When making the AIBE preparation time table, the candidate must pay special attention to topics that carry more weightage and so allot more time. Likewise, difficult topics would need more than easy ones. A mistake that some candidates make during preparation is if they get stuck with a topic, they refuse to move ahead. It is a very counterproductive way to approach preparation. Rather move on to other topics; once the other topics are completed and there is still time left, then the candidate can revisit left-over topics.
How to prepare for AIBE 2020 - Follow the syllabus
Questions in the AIBE exam will be asked from the official syllabus of AIBE XV 2020. The syllabus will contain the topics from which questions will be asked. The candidate should prepare for all the sections, as there is no guarantee that questions will be asked from the same topics over and over again.
How to prepare for All India Bar Exam 2020 - Refer the exam pattern
It is always a safe bet to consult the official AIBE XV 2020 exam pattern before starting one's preparation. It is because the exam pattern will throw light into key features of the exam like mode of exam, types of questions asked, marking scheme, etc. Details related to AIBE 2020 exam pattern will be released as part of the exam notification along with other details like the schedule of the exam.
Exam pattern of AIBE 2020
| | |
| --- | --- |
| Particulars | Description |
| Mode of exam | Offline |
| Examination type | Open book |
| Duration | 3 hours 30 minutes |
| Type of questions | MCQ |
| Total number of questions | 100 |
| Marking scheme | 1 mark for each correct answer. There is no negative marking. |
How to prepare for AIBE 2020 - Solve sample papers
There are many tools to aid one's preparation, but few as effective as AIBE sample papers. The reason being they contain similar types of questions to those asked in the entrance exam and also cover more or less the entire syllabus. Consequently, the candidate can assess their progress and exam readiness by solving AIBE XV 2020 sample papers. There is no perfect time to start solving sample papers, but one can start using them from the start itself.
How to prepare for AIBE 2020 - Do timely revision
One-time study of a topic won't cut the ice. Instead the candidate will have to revisit the same topic time and again until it is completely mastered. To make revision more effective and less time consuming, make it a habit to keep notes of important points.
How to prepare for AIBE 2020 - Find some extra time of important topics
There are some topics in AIBE syllabus that are more equal than others in that they carry more weightage (more number of questions are asked from these topics). The candidate must bear this fact in his or her mind when preparing for the AIBE 2020 exam.
Topic-wise questions
| | |
| --- | --- |
| Subject / Topic | Number of questions |
| Code of Civil Procedure | 10 |
| Constitutional Law | 10 |
| Criminal Procedure Code | 10 |
| Evidence Act | 8 |
| Family Law | 8 |
| Indian Penal Code | 8 |
| Law of Contract, Specific Relief, Property Laws, Negotiable Instrument Act | 8 |
| Total Questions | 60 |
How to prepare for AIBE 2020 - Take mock tests
Closer to the exam, one must also start taking AIBE 2020 mock tests. Mock tests are a simulation of the actual exam, and so the basic exam elements are all there. The candidate will get the same 3 hours and 30 minutes to complete the test. Taking mock tests will help the candidate build exam temperament, apart from honing time-management and problem-solving skills.
Questions related to AIBE
Showing 434 out of 434 Questions