CLAT 2021 Topper Interview - Sometimes when you walk out of the exam hall, you pretty much know what kind of score or even rank you are going to get. And it was exactly the case with Utkarsh Panda, a young lad from the city of Bhubaneswar, who knew he was going to get around 105 marks or a rank in the range of 30-80. And lo and behold, when CLAT 2021 results were declared, Utkarsh bagged the AIR 53 with a score of 105.75. But the results proved to be kind of bittersweet for the young achiever, because somewhere there was a sense of disappointment as he felt he could have done better. But the good thing is he has decided to look at the positive side of things and taken the results in stride.
Latest: CLAT Previous Year Question/Sample papers. Free Download
Don't Miss: CLAT 2023 Preparation Tips by Expert. Check Now
Colleges Accepting Applications: To check the list of Institutions accepting BA/B.Com LLB Applications Click Here
5 yr. Int. LLB at UPES. #21 in NIRF, Amongst Top 10 Private Law Colleges in India, Grade 'A' by NAAC. Apply Now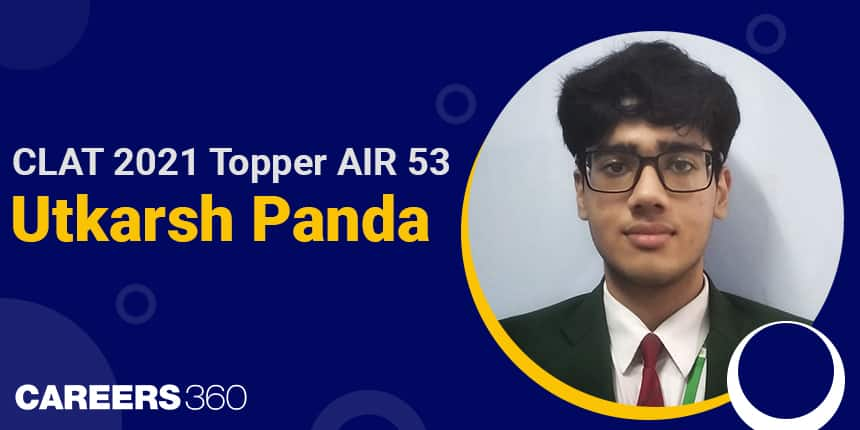 CLAT 2021 Topper Utkarsh Panda, AIR 53, says, "The only thing predictable about CLAT is its unpredictability"
Careers360 caught up with the CLAT 2021 topper to discuss a range of topics, including how he kickstarted his CLAT exam preparation. The discussion then veered to what kind of books he used as reference material, whether he believed in a rigid timetable, last month and week's preparation tips, the importance of mock tests and the right frequency, and much more.
Read the CLAT 2021 topper interview with Utkarsh Panda, as it is laced with pearls of wisdom and insightful tips on how one can ace the CLAT exam.
The Consortium of NLUs had conducted the pen-and-paper based CLAT 2021 exam at 147 test centres across the country.
Interview of CLAT 2021 Topper Utkarsh Panda, AIR 53
Careers360: Congratulations on your performance in CLAT 2021. What was your initial reaction upon knowing your rank?
Utkarsh: Thank you so much! The Consortium had promised to declare the results on the 28th of July, so I had been anxiously refreshing the results page since 3 am, and was understandably exhausted when they finally released ranks at around 11:57pm! The initial reaction was a concoction of relief and slight disappointment- relief for having secured a rank good enough for getting a seat in NLSIU, but a tangible sense of disappointment because I knew I could have done slightly better. But in retrospect, I'm grateful for the rank I got and I have no regrets.
Careers360: Tell us something about yourself - the board you studied under, the name of the school, the place you belong to, and a bit about your family.
Utkarsh: I come from a family deeply rooted in a romance with finance- my father is a banker, and my mother was also one before voluntarily retiring last year so that we could spend more time together. My grandfather is a devout person, and that helps to maintain a balance of spirituality in the household. My elder sister is a student at NLUO and cleared CLAT in 2018, so
I had a brief idea of the structure and format of the exam before I chose to delve into it myself.
I have been a resident of the city of Bhubaneswar for almost the entirety of my childhood, and all my schooling has been at a CBSE affiliated institution called Mother's Public School.
Careers360: What are your overall and sectional scores in CLAT 2021?
Utkarsh: My overall score was 105.75. I scored 23 in English, 28.75 in Logical, 10.25 in Maths and 21.25 in GK. Legal proved to be my undoing as I scored 22.5 in it.
Careers360: Were you expecting the results, or it was a surprise?
Utkarsh: It wasn't a huge surprise to be honest, because after you leave the exam hall you more or less get an idea about how you have fared and discussions with your peers gives you a range where you can expect yourself to be. I had a feeling a score of 105 in a paper like that would get me a rank in the range of 30-80, so I had prepared myself for the same beforehand.
Careers360: How and when did you start preparing for CLAT 2021 exam?
Utkarsh: I started preparing for CLAT in the first few months of starting grade 11th. I joined Rajneesh Sir's batch of 12 called the DoZen, where Sir and I chalked out some basic plans for my prep which I then executed, tweaking them along the way as my strengths and weaknesses morphed. I started giving mocks from the first month itself and followed my teachers' perennial advice- never forget to analyze mocks properly.
Careers360: Did you follow any specific routine and study hours?
Utkarsh: My study hours could never be constant because of the shadow of boards and school commitments looming large upon me. However, I made it a point to devote some time to CLAT prep every day, irrespective of how little that time might be. Some days I could give just 15 minutes, while on my best days that increased to almost 6 hours- but there was hardly a day where I didn't pay attention to CLAT at all.
Careers360: What are the subject-wise books you used for CLAT exam preparation? Any specific reason for selecting these books?
Utkarsh: I don't think the material for the preparation of Legal, Maths and GK has changed even after the pattern change. For Legal, one still ought to go through the previous CLAT/AILET papers and train oneself to understand the kind of reasoning the examiner is looking for.
For Maths, revisiting 7th-10th class mathematics textbooks, however traumatic it may be, is essential, following which a tryst with RS Agarwal's Quantitative Aptitudes should make the maths section a cakewalk.
Although I'd have suggested someone to only go through periodicals to ace in the GK section in CLAT last year, after looking at the 2021 paper and the volume of static GK asked in it, I would suggest aspirants to diversify their prep and even go through a few compendiums to enrich traditional general knowledge, because the only thing predictable about CLAT is its unpredictability.
I believe English and Logical are almost indistinguishable in the current CLAT format.
A fallout of the fact that the CLAT pattern change is so recent is that enough CLAT specific material is not available in the market. Even if material can be found, in most cases its accuracy is dubious. In such a scenario, one must widen one's horizon and analyze what CLAT as an exam asks for- it needs skills in the verbal reasoning forum, and it is important to note that CLAT did not discover this format, it was merely adopted from other entrance tests like the GMAT and LSAT. One can find material including RCs from these exams from various sources like their official guides and websites like gmatclub.com.
Careers360: Tell us last month's exam preparation tips?
Utkarsh: I know of people who have prepared for just two months before CLAT and done phenomenally well, so if you are insecure about the duration of your prep at any time, don't be. Maintain a list of the top GK topics of the year and revise them as many times as you can before the exam. Above all, do not be distracted by other people trying techniques alien to you and stay in your comfort zone (only if it provides you satisfactory results). If you feel you lack depth in a topic, a month is enough time to master it, so do not be swayed by anxiety.
Careers360: Did you solve sample papers and take mock tests? What is the correct frequency for these exercises?
Utkarsh: Yes, CLAT is an exam which requires a waterproof strategy for attacking the paper, and devising such a strategy requires practice. I started giving mock tests right from my first month of prep, and tried to stick to a one-mock-per-week schedule. When boards got cancelled, I started giving 2-3 mocks per week, but soon realized that too many mocks instilled a sense of burnout in me, so I went back to giving one. Giving mocks constantly and analyzing them with your full concentration is key. When you encounter a question that you got wrong, it is important that instead of checking the solution straight away, you exercise your own brain and try to find the fallacy in the logic you employed while solving the question initially, and amend your line of reasoning yourself and then for verification check the solution provided by the examiner.
Careers360: Many students make a mess of their preparation in the law few days, as exam pressure reaches the pinnacle. How to handle this tricky phase?
Utkarsh: It is important to remember that anxiety in the last few days is a ubiquitous phenomenon. To be honest, if someone is not slightly anxious at the least, they do not care for the exam enough (of course, exceptions exist). So, do not give in to the anxiety, remember that you know your prep best and your mock scores are mostly not an accurate indication of what you might achieve on the final day. And don't fret!
Careers360: How can one improve accuracy and speed?
Utkarsh: Accuracy during a mock is contingent upon your confidence and knowledge mostly, and that has to be built with practice. But that is not all. Your temperament during a mock, including your confidence, the environment around you, even whether you have had a good lunch or not- all of them are factors which play with your capacity to comprehend passages, and hence a well-rounded lifestyle is important. For speed, improving reading capabilities and practicing speed reading newspaper editorials would help. However, speed should never be sacrificed for accuracy, which was something I learnt very late during my prep, so please try to pay attention to that!
Careers360: Is there any particular order for attempting the CLAT question paper? How should one go about attempting the test?
Utkarsh: I wouldn't say that a fixed formula for that exists. It depends on the person and their comfort, strength and weaknesses. My order was English-one Maths caselet-GK-one Maths caselet-Legal-one Maths caselet-Logical Reasoning. I found that continuously reading passages for a long time fatigued me, so I punctuated the reading-centric sections with breaks where I attempted maths questions. But really, it depends on the individual and what strategy they feel would be optimal for them.
Careers360: Did the prolonged delay and multiple postponements affect your exam preparation? How did you manage to stay on track?
Utkarsh: I was prepared for the worst from the beginning. When the second wave struck, I had mentally prepared myself that the exam might be postponed to September (as happened for our preceding batch) so it was a pleasant surprise when the Consortium decided to conduct the exam in July.
Careers360: Did you face any difficulty during the exam considering there were strict COVID-19 guidelines in place?
Utkarsh: This might be nitpicking, but wearing a mask while giving the test was an issue that I thought would be problematic, but in the end it really wasn't. Most COVID guidelines were followed at my centre, so I didn't have a problem with the same.
Careers360: Which law discipline do you want to study in your undergraduate?
Utkarsh: I wish to pursue a B.A. L.L.B. in my undergraduate to get a holistic view of the world through the lens of the liberal arts and the law.
Careers360: Also, do you have any NLU preferences?
Utkarsh: I always wanted to be a student at NLSIU Bangalore, and as luck would have it, I got in and I'm a student here now!
Careers360: Being a topper, many students would now look up to you. Do you have any message for these future law aspirants?
Utkarsh: I've thought long and hard about this question, and my advice would be based on the mistakes I made during my CLAT prep. It is always advisable to focus on one's own strategies and prepare accordingly, but please don't be afraid to learn more. If you come across a fact that you feel might not be important from the perspective of CLAT, do not ignore it. Maybe make a mental note of it, just in case. At the end of the day, once you exit your examination hall, you should have no regrets. You should trust your gut and learn to filter out some things that might not be relevant, but if there's an off chance something might be framed as a passage and put in the question paper, it would be a good idea to go through it, if you have the time.
And yes, never forget that life is not all about CLAT and other exams, take a break, enjoy the best years of your life but keep preparing, and remember to have fun!
Also Read:
CLAT 2021 Topper Interview - Karthik J Lal, AIR 3
CLAT 2021 Topper Shwetha Ramachandran, AIR 4