CLAT 2021 Topper Shwetha Ramachandran, AIR 4, says, "Speed increases with practice and accuracy with analysis.
CLAT 2021 Topper Interview: The Common Law Admission Test or CLAT is easily one of the most difficult and prestigious law entrance exams in the country. There is a reason for that: some of the best law colleges are member institutes of the CLAT consortium, including NLSIU Bangalore, which is the #1 ranked law college in the country as per NIRF rankings. So, when you top the CLAT 2021 exam, it has a nice ring to it. And if you succeed in CLAT in your second attempt, the success tastes that much sweeter.
Latest Updates for CLAT
20 Aug 2021:

CLAT 2021 seat allotment released for fifth-round - Download Here

13 Aug 2021:

CLAT 2021 seat allotment list released for Round III - Click here:
Top colleges other than NLUs accepting CLAT scores - Click here
Stay up-to date with CLAT News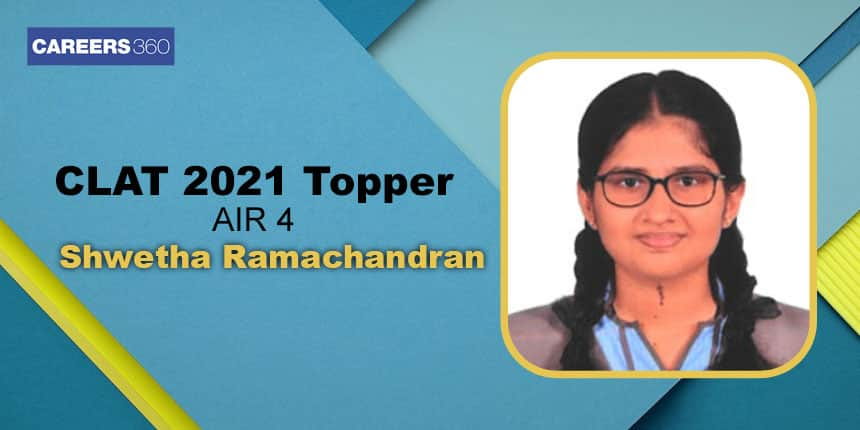 It is exactly what happened with Shwetha Ramachandran, who hails from the coastal city of Kannur, Kerala. She had appeared in the CLAT 2020 exam, but her preparation was all over the place and she came up shorts. But instead of giving up, soon after the declaration of CLAT 2020 results, she organized herself and this time around hit the ground running with laser-like precision and focus.
The results of her efforts are now there for everyone to see. In the recently declared CLAT 2021 results, she exceeded even her own expectations and secured a stunning AIR 4 Rank. The icing on the cake: she can now get admission to her dream law school - NLSIU Bangalore.
Careers360 got hold of the young achiever for a quick CLAT 2021 Topper Interview. The interview covered topics related to CLAT 2021 exam preparation, books she used as reference material, the right way to attempt the CLAT test paper, and much more.
Shwetha also has a beautiful success mantra for up-and-coming law aspirants. Keep reading the CLAT 2021 Topper Interview to discover what it is!
Interview of CLAT 2021 Topper Shwetha Ramachandran, AIR 4
Careers360: Congratulations on your performance in CLAT 2021. What was your initial reaction upon knowing your rank?
Shwetha: Thank you very much. I was really nervous about the results. But once I saw my results, I was on cloud nine. I was extremely happy.
Careers360: Tell us something about yourself - the board you studied under, the name of the school, the place you belong to, and a bit about your family.
Shwetha: My name is Shwetha Ramachandran. I am from Kannur, Kerala. My father, Ramachandran is an Engineering Contractor. My mother, Sasikala is a housewife. My sister, Shilpa is studying in 12th. I completed my 12th from Sreepuram English Medium High School and Junior College, Kannur. I did PCM in my 12th (ISC Board).
Careers360: What are your overall and sectional scores in CLAT 2021?
Shwetha: My overall score is 115.5
Careers360: Were you expecting the results, or it was a surprise?
Shwetha: I wasn't expecting this result at all. I wanted to get a rank below 400 so that I get into any of the top 5 colleges. But getting a single-digit rank was a huge surprise.
Careers360: How and when did you start preparing for CLAT 2021 exam?
Shwetha: I prepared for CLAT 2020 also. But it wasn't properly planned. I was doing random materials. But my proper structured preparation started after CLAT 2020 Results came out. So I started my preparation by devoting a lot of time to newspapers. In the beginning, I took nearly 2.5 hours to complete the newspaper. But then towards the end, I could do it within 1.5 hours. I did a lot of mocks, analyzed them, and prepared extensive notes for GK.
Careers360: Did you follow any specific routine and study hours?
Shwetha: Not always. But a normal day would start with the newspaper, then some RCs, analyze pending mocks (if any), and work on the mistakes in my previous mocks.
I tried to do mocks during the actual exam time ie 2-4 pm so that I get into that habit.
Careers360: What are the subject-wise books you used for CLAT exam preparation? Any specific reason for selecting these books?
Shwetha: For English, I practiced RCs from various sources. I took sectional and topic tests from various websites. For vocab, I did Word Power Made Easy and I had a vocabulary notebook where I noted down the new words I came across.
For GK, I identified important topics from the newspaper, did some research, and prepared notes. I used UPSC websites like Drishti IAS because they give you notes with the historical background, maps, flow charts, etc which makes studying them more interesting.
For Legal, I went through the basic concepts once and practiced a lot of old pattern Fact-Principle questions. I think that helped me a lot because they taught me how to approach these questions.
Logical Reasoning has two parts. For Analytical Reasoning, in the last three-four months, I did one chapter per week and covered the important chapters.
Critical Reasoning was one of my weak points so I practiced a lot of GMAT and LSAT questions. I did 20 questions per day and analyzed them thoroughly. I believe proper learning happens when you analyze these questions properly.
QT was one of my strongest sections. I analyzed my mistakes in mocks and focused on those specific topics. In the last four months, I did one chapter per week and covered the important topics. I did the Level 1 questions from the QT book for CAT by Arun Sharma.
Careers360: Tell us your last month's exam preparation tips?
In the last month, I made an extensive revision plan. I revised my vocabulary notebook, my GK notes, I tried to go through some compendiums and focused on the revision of old mocks. I had a mock analysis book where I noted down my mistakes. I went through them.
I did some new mocks too and focused on their analysis.
Careers360: Did you solve sample papers and take mock tests? What is the correct frequency for these exercises?
Shwetha: Yes, I did. I solved the CLAT 2020 paper thrice and sample papers once. About mocks, I did approximately one every week in the first few months. Then I increased the frequency. There was a time when I did one mock every alternate day. But towards the end again I reduced the frequency to once every 3 or 4 days.
Careers360: Many students make a mess of their preparation in the law few days, as exam pressure reaches the pinnacle. How to handle this tricky phase?
Shwetha: It is obvious that you will be stressed. Talk to your mentors, parents, and friends. They will motivate you. Also, I used to remind myself that if I panic and end up not studying it is going to worsen my state. So I tried my best to focus on my studies.
Careers360: How can one improve accuracy and speed?
Shwetha: Speed increases with practice and accuracy with analysis.
Read your newspaper, books, periodicals, or anything you want. And analyze each and every question you practice. Convince yourself why you went wrong and why that specific option is the answer.
Careers360: Is there any particular order for attempting the CLAT question paper? How should one go about attempting the test?
Shwetha: So this depends on the test taker. I took time to warm up during the test. So I started with GK and then did QT. I try to complete these two sections in the first 20 minutes and I devote the remaining 100 minutes to the reading sections. But if the QT section is tough, I do GK, then the reading sections, and finally QT.
So, understand how you are as a test taker, talk to your mentors and devise your strategy. But again, you should be flexible enough to rebuild the entire strategy if there are surprises in the paper.
Careers360: Did the prolonged delay and multiple postponements affect your exam preparation? How did you manage to stay on track?
Shwetha: No. When the exam was scheduled to happen in June and the 12th boards' schedule was out, the dates were clashing. So I was expecting the exam to get postponed. But suddenly the boards got postponed and then canceled. That made me very nervous. So I was working very hard during the last weeks of April and the first few weeks of May. When I knew the CLAT was getting postponed, it gave me a breather. I took a break for 2 days, planned, and then restarted the preparation.

Careers360: Did you face any difficulty during the exam considering there were strict COVID-19 guidelines in place?
Shwetha: Yes I did. The first months were okay but towards January and February, I was fed up with these online classes and preparation. Again I gave myself one day break, went out with my mother and sister, had some ice cream and I was good to go from the next day.
Careers360: Which law discipline do you want to study in your undergraduate?
Shwetha: I haven't decided that yet. But I find Humanitarian law and International law interesting. I haven't done any extensive research about it yet. I think I should try things out in my law school and then decide.
Careers360: Also, do you have any NLU preferences?
Shwetha: Yes, NLSIU has been the dream college from my school days.
Careers360: What you be your final word of advice to upcoming young law students?
Shwetha: Just prepare honestly. Be true to yourself. Listen to your mentors. They know what is best for you. Just trust them.
Also Read:
CLAT 2021 Topper Interview - Karthik J Lal, AIR 3
CLAT 2021 Toppers
Questions related to CLAT
Showing 7642 out of 7642 Questions