CLAT 2021 Topper Interview: The national-level CLAT exam is the gateway to the NLUs, which are among the top law colleges in the country. So, anyone who appears in the exam most likely has one eye on getting a top rank, because that is what you need for admission to an institute like NLSIU Bangalore, which is ranked #1 as per NIRF Rankings. Shristy Chhaparia did just that; she secured the AIR 57 and has now been offered a seat at NLSIU Bangalore. Shristy was expecting a good rank, but the 2-digit rank came as a pleasant surprise. It did one thing more: it catapulted and put her right into the elite group of CLAT 2021 toppers.
Latest: CLAT Previous Year Question/Sample papers. Free Download
Don't Miss: CLAT 2023 Preparation Tips by Expert. Check Now
Colleges Accepting Applications: To check the list of Institutions accepting BA/B.Com LLB Applications Click Here
5 yr. Int. LLB at UPES. #21 in NIRF, Amongst Top 10 Private Law Colleges in India, Grade 'A' by NAAC. Apply Now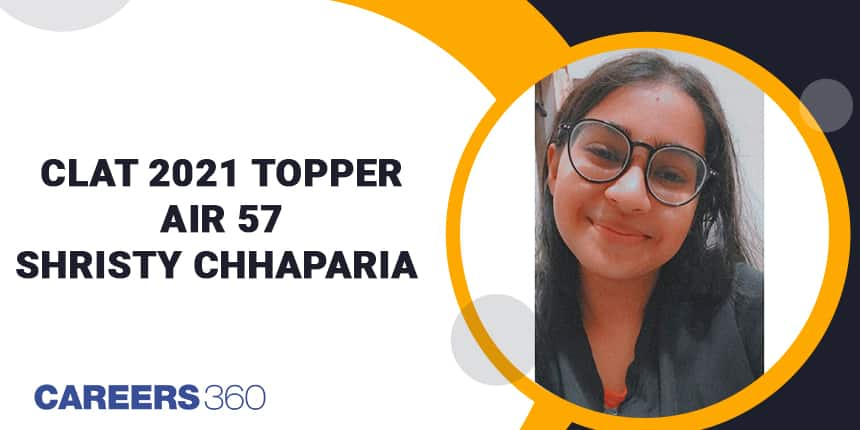 CLAT 2021 Topper Shristy Chhaparia, AIR 57, says, "Don't judge anybody ever and learn the art of ignorance"
Careers360 got in touch with the girl from Muzaffarpur, Bihar, to chart her journey and learn from her the secret recipe to succeed in an exam like CLAT, which has proved to be such a heartbreaker for so many law aspirants over the years.
Read the CLAT 2021 topper interview of Shristy Chhaparia to learn how an ordinary girl one day can become an inspiration for many in the next!
The pen-and-paper CLAT 2021 was conducted on July 23, while the results of the exam were declared on July 29.
Interview of CLAT 2021 Topper Shristy Chhaparia, AIR 57
Careers360: Congratulations on your performance in CLAT 2021. What was your initial reaction upon knowing your rank?
Shristy: I was expecting a good result but not a 2-digit rank, so the result has been a very pleasant surprise and I am really grateful for it.
Careers360: Tell us something about yourself - the board you studied under, the name of the school, the place you belong to, and a bit about your family.
Shristy: I am from Muzaffarpur, Bihar (born and bred), though I belong to Rajasthan. I have been under the CBSE board all my life and initially, I studied in Delhi Public School till 10th standard and then shifted to Sunshine P/H School. I live in a joint family with my grandparents, my uncle, aunt, parents, and cousins.
Careers360: What are your overall and sectional scores in CLAT 2021?
Shristy: Overall, I scored 105.5, while I don't remember my sectional scores.
Careers360: Were you expecting the results, or it was a surprise?
Shristy: I was expecting a good result, based on how my paper went and after calculating my score but not this rank.
Careers360: How and when did you start preparing for CLAT 2021 exam?
Shristy: I gave CLAT in 2020, though the results were not what I expected so I took up a college (RGNUL), and then I restarted my preparation from Nov 2020. I took up different test series and started with current affairs, and also analyzed my mistakes from last time.
Careers360: Did you follow any specific routine and study hours?
Shristy: I tried to follow a routine, but it is very difficult for me to stick to one routine. So it constantly changed, although I made targets for myself which I tried to achieve throughout the day.
Careers360: What are the subject-wise books you used for CLAT exam preparation? Any specific reason for selecting these books?
Shristy: The only specific book I used was RS Agarwal's quantitative aptitude for keeping in touch with the tricks of quant. Apart from them, I just gave mocks and prepared GK.
Careers360: Tell us last month's exam preparation tips?
Shristy: During my last month of preparation, I had my end-semester exams for the college I was enrolled in along with CLAT, so I just focused on the most important aspects of my preparation. So I made it my target to give four mocks a week and analyze them properly and cover as much GK as I could.
Careers360: Did you solve sample papers and take mock tests? What is the correct frequency for these exercises?
Shristy: I gave mock tests of various coaching institutes. The frequency actually depends on person to person, but for me, I just wanted to maintain my momentum, and since mocks were my only medium of revising subjects like legal, English, etc. I tried giving 4 mocks per week at 2 pm.
Careers360: Many students make a mess of their preparation in the law few days, as exam pressure reaches the pinnacle. How to handle this tricky phase?
Shristy: Yes, last few days all of us are inclined to do everything. But it is not possible. First of all, one should be a realist, and truly assess where one stands, and then from there, it should be one's own decision about what is most important for them to cover from exam's point of view. Personally, for me it was reading GK, the list of topics I had made from my gk notes, I tried reading about those topics as much as I could.
Careers360: How can one improve accuracy and speed?
Shristy: The most cliché yet an honest answer to this is practice and proper analysis. The combination of speed and accuracy both are important in this sort of exam.
Careers360: Is there any particular order for attempting the CLAT question paper? How should one go about attempting the test?
Shristy: I think that is an individual choice, and the best way of finding out the answer to the question is to try different combinations initially, and see what works best for you. Then maintain that combination and if you feel like many any change, you can do it as per your need as you go on giving mocks. Also, one should not be very rigid with their sequence, which was a mistake I did in many mocks and also my first attempt. The sequence can be altered according to the paper.
Careers360: Did the prolonged delay and multiple postponements affect your exam preparation? How did you manage to stay on track?
Shristy: Since I gave the exam in 2020 too, I was kind of expecting it w.r.t. the ongoing covid situation, and also the previous experience had taught me to just be okay with it because there is nothing one could do and the panic will only lead to messing up with our preparation and mind, no matter how good and organized it had been.
Careers360: Did you face any difficulty during the exam considering there were strict COVID-19 guidelines in place?
Shristy: No, I did not face any specific issue but I would suggest just have a practice of reading with a mask on for 2 hours because it might get suffocating at times.
Careers360: Which law discipline do you want to study in your undergraduate?
Shristy: I am not very sure right now; I just want to experience things as and when they come for now.
Careers360: Also, do you have any NLU preferences?
Shristy: I do not have a specific preference, just a good place because I don't want to label anything in my mind and go to any place with a pre-biased attitude. This is a new start, where I want a clean slate.
Careers360: Being a topper, many students would now look up to you. Do you have any messages for these future law aspirants?
Shristy: I have been a law aspirant, and I know it is tough at times. There are loads of self-doubts and mixed feelings, comparison with others, expectations, etc. but just hang in there, and try to give your best, which should not be in comparison to anyone else. And also, the two most important things that I realized were: - don't judge anybody ever, and learn the art of ignorance. Thank you!
Also Read:
CLAT 2021 Topper Interview - Karthik J Lal, AIR 3