How to Prepare for TS LAWCET 2021 - Preparation Tips & Study Plan
How to Prepare for TS LAWCET 2021 - The Telangana State Law Common Entrance Test (TS LAWCET) is a state-level examination conducted by the TSCHE for admission to 3-year and 5-year LLB courses in the state of Telangana. If you plan to appear in the TS LAWCET 2021 exam, you need to know how to prepare for TS LAWCET 2021. This includes what books you need to use as reference materials, when to start exam preparation, and what tools you need in the armoury to succeed. As part of your TS LAWCET 2021 preparation, you will also need to be consistent and persist in your goals even when the going gets tough. Remember that TS LAWCET 2021 exam preparation is as much about using the best resources available and giving in your 100 percent. Read the rest of the article to get inputs into how to prepare for TS LAWCET 2021 and ace the exam.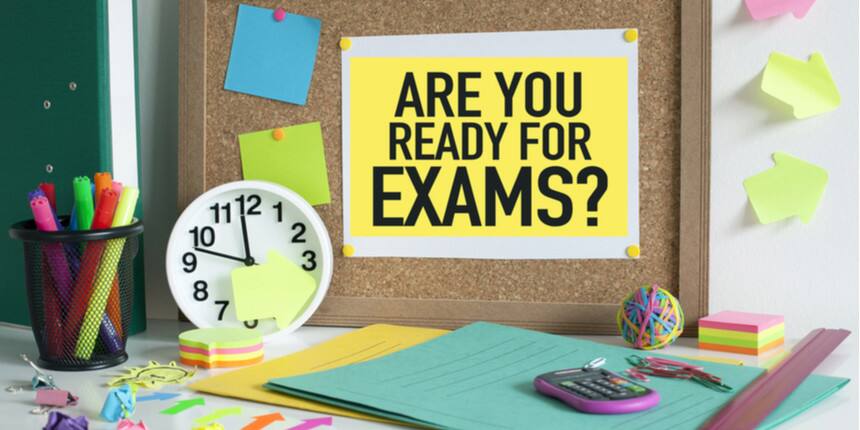 TS LAWCET Exam Preparation - Study Plan
Before you embark on TS LAWCET 2021 exam preparation, ensure that you meet the prescribed eligibility criteria. It is because if you are found ineligible at any stage of the admission process, you can be disqualified.
And once you are satisfied that you are eligible, you may proceed to fill the TS LAWCET application form 2021.
Tips to prepare for TS LAWCET 2021
Start Your Preparation Early
If you get on the TS LAWCET exam preparation bandwagon with enough time in hand, you will get more elbow room to tackle difficulties that you are likely to encounter on your journey. While it is good to have a year and so, even if you have a 6-month window for exam preparation, it is good enough. You will be able to properly complete the TS LAWCET 2021 syllabus, do the necessary revision and solve enough TS LAWCET sample papers and take TS LAWCET mock tests.
Get a Proper Understanding of the TS LAWCET Syllabus
The syllabus will provide you with a lot of insights into the nature of the questions that will be asked in the exam, subjects from which these questions will be asked and much more. One must always refer to the TS LAWCET syllabus 2021, as questions will invariably be asked from topics mentioned in it.
TS LAWCET Syllabus 2021
| | |
| --- | --- |
| Topics | Marks |
| General Knowledge and Mental Ability | 30 |
| Current Affairs | 30 |
| Aptitude for the Study of Law | 60 |
Make a Good Study Plan
It is not enough to make a simple study plan. Take some time to work out an efficient plan as it is going to be the foundation on which you are going to build your success. And speaking of an effective study plan entails that you take into account the weightage carried by the various sections and allocate preparation time accordingly; for example, the Legal aptitude section carries 50 percent weightage compared to the Current Affairs and GK sections, which carry 25 percent weightage each.
Work on Your Accuracy and Speed
Being fast is one thing, and being accurate in another. Given the test duration is 90 minutes during which you have to attempt 120 questions, you obviously have to be fast, but not at the cost of being accurate. If you are inaccurate, your strike rate would come down and can nullify the speed element that you have. One way to build speed and accuracy is by solving TS LAWCET sample papers with a timer on. This way, you will learn to solve questions while keeping a tab on the time.
Prioritise Sections as Per Weightage
As mentioned above, the Legal aptitude section carries the combined weightage of the Current Affairs and GK sections. So, the candidate needs to pay more attention to the section, while also not totally abandoning the other two sections. In fact, if the candidate is strong in any particular section, it will only help to earn some easy marks. To prepare for the current affairs section, one may read daily newspapers and current affairs magazines.
Take Notes During Study
One of the many advantages of taking notes is it will help the candidate to revise the difficult sections quicker. So, when making notes it is not important not to make it messy, but rather keep it simple and uncomplicated.
Take Mock Tests and Solve TS LAWCET Sample Papers
Unless one starts solving TS LAWCET 2021 sample papers, it is very difficult to judge the progres of one's TS LAWCET 2021 exam preparation. The sample papers will contain an abundance of questions, covering different concepts, difficulty level and requiring different skill sets to solve them. So one must solve as many sample papers to get ready; but remember not to solve the same type of questions, whether conceptually or otherwise as it will serve no purpose. Along with solving mock tests, one must also make TS LAWCET 2021 mock tests a part of their exam preparation repertoire.
Frequently Asked Question (FAQs) - How to Prepare for TS LAWCET 2021 - Preparation Tips & Study Plan
Question: Why should I solve TS LAWCET mock tests?
Answer:
The mock tests are useful in understanding the difficulty level of questions asked, the layout of the exam, and getting an exam-like environment to practice in.
Question: How many questions will be asked from the legal aptitude section?
Answer:
The TS LAWCET 2021 question paper will have 120 MCQs, out of which the legal section will contribute 60 questions.
Question: What is the best time to start preparation for TS LAWCET 2021?
Answer:
If your fundamentals are strong, then you should be able to prepare for the exam in 6 months or so.
Question: What programmes are offered on the basis of TS LAWCET 2021 scores?
Answer:
TS LAWCET 2021 scores will be considered for admission to 3-year and 5-year LLB programmes offered by law colleges in Telangana.
Question: What are ideal preparation materials for the Current affairs section?
Answer:
The candidate may read popular newspapers and current affairs magazines to prepare for the section.
Questions related to TS LAWCET
Showing 744 out of 744 Questions