LSAT India 2021 Toppers Interview with Ishani Mukherjee (Three year LLB)
Law School Admission Council (LSAC) announced the results for LSAT India 2021 for May/June administration in the third week of June. In the three-year LLB stream, a Delhi girl, Ishani Mukherjee cracked LSAT India 2021 with 99.54 percentile, securing a place in the list of toppers. An ardent reader, Ishani also secured a scholarship from Jindal Global Law School.
Stay up-to date with LSAT India News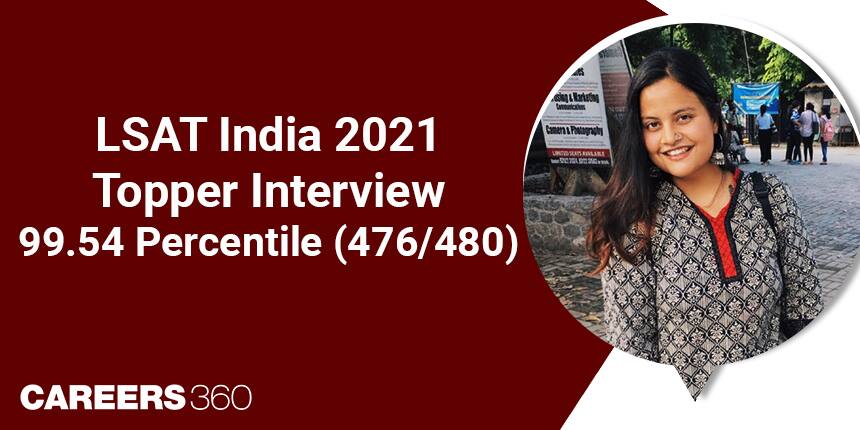 When asked about her preparation strategy, she gives her weight on building text-reading stamina and increasing attention span. In addition to reading complex texts, she also gave several mock tests to shape her LSAT India preparation as per the requirements of the test. Read the complete interview with Careers360 below to know more about her journey of becoming an LSAT India topper.
Tell us about yourself in brief.
My name is Ishani Mukherjee. I hail from New Delhi. I pursued Sociology Honors from Jesus and Mary College, University of Delhi and gave my final semester exams a month ago.
Congratulations on scoring over 99 percentile in LSAT India 2021. How did you celebrate your success?
Thank you! I was overwhelmed by the warm wishes I received from my friends and family. I celebrated by allowing myself to take a break for 2-3 days from entrance prep.
Tell us about your exam, was that an easy paper or tough?
I think that the difficulty level of any paper is quite subjective. Personally, I found the paper to be easier than the mocks that I took before taking the exam, especially the reading comprehension and analytical reasoning sections. On a general scale, I'd probably say it was of medium-difficulty level.
How do you see LSAT India when compared to other law entrance exams?
I genuinely feel that LSAT is one of the best entrance tests in India. Most entrance tests focus on a student's ability to rote-learn and retain information. I appreciate how the LSAT, on the other hand, tests the aptitude, and ability to question, reason and think critically.
What are your college and course preferences after clearing LSAT India?
Jindal Global Law School was definitely one of the colleges I was aiming for because of the state of the art facilities and its unique pedagogical approach to teaching law. I plan to pursue the 3 year LLB Programme.
Law offers a diverse range of career options, What specialisation (if any) you would like to take up in future?
I will have more clarity on what specialisation I would like to commit myself to once I begin my legal education and study the different areas of the law. As of now, I am particularly curious about Intellectual Property Rights, and Divorce laws in India.
You have secured a scholarship at Jindal Global Law School, how did you get that? What should one do to get the scholarship at Jindal?
Jindal offers a variety of scholarships. In order to be eligible for the scholarship, you need a really good percentile, which I thankfully managed with a 99.54 percentile. The financial prerequisites in terms of parental income level are also considered for the scholarships. You have to fill a scholarship application form. I'd suggest that you visit Jindal's official website and carefully read the "scholarships'' section as all the requirements and types of scholarships offered are clearly stated. Also, do attend the LSAT webinar that Jindal organises a few days before the entrance test where they respond to queries related to scholarship programmes.
How did you prepare yourself for LSAT India 2021? How did COVID-19 affect your preparation?
I first familiarised myself with the test i.e. the format, the sections etc. Then, I dedicated one week for preparation in which I solved multiple mocks and worked extra hard on my weak section i.e. Analytical Reasoning. Covid-19 and the second wave which hit India right before the LSAT did impact psychologically. However, spending time with my family and taking breaks to avoid burnout helped me pull through.
As a topper what would be your word of advice for students who want to appear in LSAT India in the coming years?
The first step is to figure out how much preparation you need to confidently be able to take the exam. For some, it can be 3 days, for others 3 months. You need to figure out where you stand and create a study plan accordingly.
Secondly, take mocks and reflect on your performance, method, and time management.
Thirdly, get into the habit of reading long texts and work on your speed.
The LSAT is a very interesting exam, but it's also a very lengthy and tiring one because you have to read really long texts. Build up your text-reading stamina and attention span accordingly. Lastly, take breaks. I made it a point to not attempt more than 2 mocks in a day. Also, give the exam with a fresh mind. Try not to solve any mocks on the day of the exam.
How did you prepare for the reading comprehension section? What reading material did you refer to for this section?
I didn't really have to put in any extra work for this section apart from solving the official LSAT and Khan Academy mocks because I've been an enthusiastic reader since childhood. In my undergraduate degree too, I cultivated the habit to read difficult sociology texts which also made this section relatively easy for me. One strategy that worked for me was to avoid questioning the first answer I marked. I realised that sometimes when we over-analyze our responses, that too can affect our accuracy. I had to learn how to trust myself.
Tell us about the logical reasoning sections (LR 1 and LR 2). What was your preparation strategy and what type of questions were asked in this section?
There are various types of questions in the two LR sections. You'll be tested on your ability to identify strong and weak arguments, identifying flaws in arguments, differentiate between conclusions and assumptions etc. Analyse the types of questions in LR where you usually go wrong and then make sure you practice those. For example, my accuracy in "similar pattern arguments" wasn't great in the mocks so I worked on that accordingly.
How did you prepare for the analytical section? What topics were covered in this section?
The analytical reasoning section basically tests your ability to apply a given set of rules and facts in solving a set of questions. For me, while my accuracy was good, I struggled in this section in terms of time management. Apart from solving mocks which helped me improve my speed, I also took some specific section wise tests on Khan Academy for this. It's crucial to read the questions very carefully in this section as there are multiple rules and even if you miss out on one, your may end up giving an incorrect answer.
What is the role of mock tests in LSAT India preparation? Did you solve the mock tests?
I solved around 15 mocks in total. Mocks not just help you with time management and getting a feel for the actual test day, but also in identifying your weak areas. I solved all the official LSAT India mocks and then the ones on Khan Academy. Khan Academy had multiple mocks and they also offered section-wise practise tests. It's important to analyse your performance and see what sections and types of questions you need to work on. The goal is not just to attempt mocks but to see where you lack, and then modify your approach in the next mock test.
Are you appearing in any other law entrance exam? If yes, then how did you balance your LSAT India preparation with other that of LSAT India?
I might be appearing for the DU LLB entrance but that anyway is much later so the timings didn't clash as such. My LSAT India exam was just ten days before my final semester exams so I couldn't dedicate much time for LSAT preparation. However, I knew that one week of preparation time would be enough for me based on my understanding.
What study material did you refer to for LSAT India preparation? Give us your subject-wise book list.
The official LSAC free mock tests, Khan Academy's mocks, and lastly I also attended all the sessions of the one-week preparatory classes that Jindal Global Law School offered. I'd strongly advise the prospective candidates to attend all these sessions as they really help you understand how to approach the topics. There are also various youtube channels that provide videos on how to approach specific sections.
Questions related to LSAT India
Showing 151 out of 151 Questions
Law School Admission Test for India (LSAT India)