How to prepare for AMU BA LLB 2020 in one month - Sample Papers, Best Books
How to prepare for AMU BA LLB 2020 in one month - If one month is all you have for AMU BA LLB exam preparation, you need to press all the right buttons to prepare effectively. This means you have to cut down on time wastage, like not getting sucked into difficult topics and spending prodigious time. Also, it is better to skip some topics rather than cut down on AMU BA LLB preparation time for topics where you can score heavily. In this article we guide you on how to prepare for AMU BA LLB in one month. We tell you what you need to do and mustn't do, when you should start solving sample papers, and how many mock tests are enough. We also have book suggestions; after all if you don't have the right study material, preparing for AMU BA LLB in one month would be an uphill battle.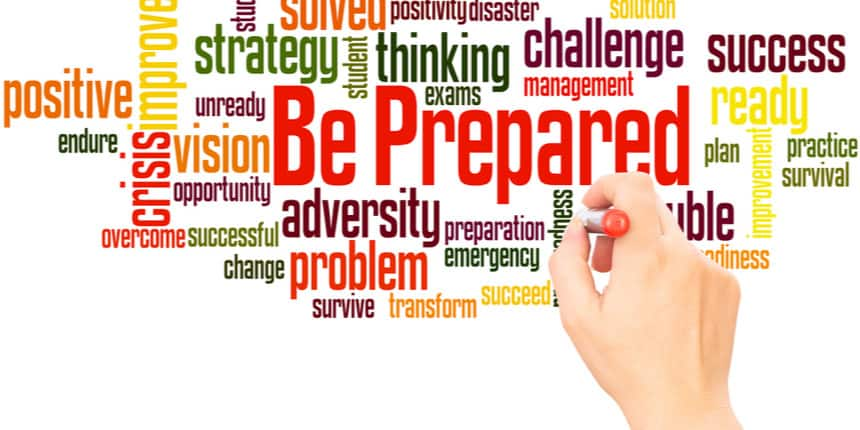 AMU BA LLB 2020 entrance exam will be conducted by Aligarh Muslim University (AMU) in pen-and-paper mode for admission to the BA LLB program, which has an intake capacity of 220 seats.
How to prepare for AMU BA LLB 2020 in one month - Tips
Go through the study plan mentioned here to prepare for AMU BA LLB in one year and ace the exam.
Follow the exam pattern and syllabus
While it is a basic thing to do, it is not exactly surprising to find students preparing for topics which are not in the AMU BA LLB syllabus. It may happen because of oversight or for some other reason. But if it happens, it can eat into your valuable exam preparation time. Remember if one month is all you have, you can't afford to waste even a minute. Likewise, the candidate also needs to be well versed with what the AMU BA LLB exam pattern 2020. In fact, it is the exam pattern around which the study plan must be built.
For example, the question paper of AMU BA LLB will include objective type questions, so the candidate must try to build speed as well as accuracy.
AMU BA LLB 2020 Syllabus
Subjects

Topics

English

Grammar (Noun, Pronoun, Verbs, Adverbs, Adjectives, Prepositions, Modals. etc), Synonyms and Antonyms, Vocabulary, Reading Comprehension.

Reasoning and aptitude

Critical reasoning, blood relations and series, analogy, Puzzle questions etc.

General Knowledge

Political science, History, and Basic General Knowledge with special reference to legal aspects.

Current Affairs

Current Affairs pertaining to past 5 to 6 months,

Legal affairs, Sports, Appointments, and Awards.
Take notes during study
There are many ways for effective exam preparation, and taking notes is one of them. Jot down all the important topics. Revise those notes in free time. Also, one big advantage notes enjoy over text books is they are light and mobile, meaning you can carry them around. So, with notes in hand you are never away from your studies.
Do timely revision
Revision is a crucial part of the preparation process, as without it your preparation cannot gather steam. Topics that are considered to be difficult will require more extensive revision, while easier topics can do with periodic revisions. That being said, the candidate must assess which topic needs revision, which can be done by solving sample papers. Any topic where the candidate struggles will need immediate attention.
Solve sample papers and take mock tests
It is one thing to study something, and entirely something else to use what you have learnt to solve a problem. Now to convert what you have learned to problem solving skill, one must start solving AMU BA sample papers. This exercise will also give you a reality check as you figure out how much you have exactly learned. One may start solving AMU BA LLB 2020 sample papers from the start.
Mock tests go hand in hand with sample papers, though the frequency at the beginning can be around 1-2 a week, and around 20 per week in the final stages of preparation.
Subject-wise exam preparation
Please note that each subject is different and would require the candidate to consider their salient features. One way to aid the candidate in achieving all-round preparation is first assembling AMU BA LLB 2020 best books. These books will be well written, contain examples and illustrations, cover the exam syllabus, and free of errors.
AMU BA LLB Best Books 2020
Subject

Book suggestion

English

Word Power Made Easy by Norman Lewis

English Grammar and Composition by Wren & Martin

Objective General English by RS Aggarwal

Current Affairs and General Knowledge

Political Science books of Class 12, Class 11

Legal aptitude and Legal reasoning by A. P Bharadwaj

GK Today

Pratiyogita Darpan

Reasoning and Aptitude

R S Agarwal's Quantitative ability

Self-study guide by Arihant

NCERT mathematics book up to Class 10th
Last minute AMU BA LLB 2020 exam preparation tips
Go though all the important points; if you have maintained a notebook of important points use it.

Don't waste time on difficult or new topics, rather invest your energy on already studied topics.

Take a few last minute mock tests

Note where you are making mistakes,and give one last minute push to fix those loopholes.

Take proper rest and eat healthy.

Drink sufficient amount of water

Get AMU BA LLB admit card and photo ID ready
Frequently Asked Question (FAQs) - How to prepare for AMU BA LLB 2020 in one month - Sample Papers, Best Books
Question: When will the AMU BA LLB exam be conducted?
Answer:
AMU BA LLB 2020 entrance exam was scheduled to be conducted on April 13, but has since been postponed due to COVID-19. New dates will be announced in the coming days.
Question: In what mode will the AMU BA LLB exam be conducted?
Answer:
As per AMU BA LLB exam pattern, the exam will be conducted in offline mode and include objective type questions.
Question: How important is solving sample papers for AMU BA LLB 2020 exam preparation?
Answer:
The candidate by solving sample papers will be able to test their problem solving skills, learn how much they have been able to understand and use various concepts for problem solving.
Question: How many mock tests should I take for AMU BA LLB exam preparation?
Answer:
Initially, when starting their preparation one can start with 1-2 mock tests a week, and gradually keep on increasing it. In the final weeks leading up to the exam, one may solve up to 20 mock tests a week.
Question: What are the benefits of using the best books of AMU BA LLB 2020?
Answer:
AMU BA LLB 2020 best books will cover the syllabus, be written keeping in mind the interest of the candidate, contain problem sets and examples, and contain few errors.
Questions related to AMU Entrance Test
Showing 285 out of 285 Questions