How to Prepare for AILET 2022 - Subject Wise Tips, Recommended Books
How to Prepare for AILET 2022 - National Law University Delhi conducts the AILET examination, with over 18,000 candidates in competition for just 110 seats. AILET preparation 2022 requires dedication and strategy for making notes, revising, and learning the important topics of subjects in AILET Exam 2022. Candidates should cover the complete syllabus of AILET 2022 and practice mock tests for effective preparation of AILET 2022. Read the complete article to know about the strategy and planning tips for the preparation of AILET 2022.
Latest Updates for AILET
4 days ago:

AILET syllabus and exam pattern changed, to check all details - Click here

4 days ago:

AILET 2022 application form released, to fill application form - Click here

15 Nov 2021:

AILET 2022 dates released, to check the exam schedule and timings - Click here
Stay up-to date with AILET News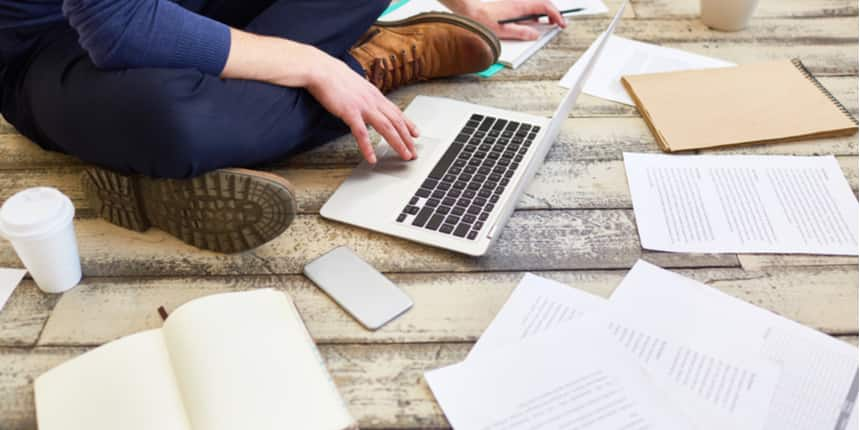 How to Prepare for AILET 2022: Know About Test
Candidates should be familiar with the structure and exam pattern of AILET to prepare for the examination. The AILET pattern tells about the subjects and important topics to study for the preparation of AILET 2022. If you want to prepare for AILET, get familiar with the details of the examination.
AILET 2022 Test Structure:
Mode: Offline

Total no. of questions: 150

Negative marking: Yes (0.25 for each wrong answer)

Duration: 90 minutes

Subjects: English, Mathematics, General knowledge, Legal aptitude, and reasoning.
Preparation Tips for AILET 2022
Start early: Start with your AILET 2022 preparation around seven-eight months earlier than the examination date. This will help you in building your concepts and having enough time for revision. You can also practice AILET mock tests, and work on your difficult areas by starting to study earlier.

Refer to the best study material: Finding the right books according to your preference plays a big role while preparing for AILET 2022. Referring to low-quality books will hamper your chances of selection in the examination. You can refer to the below-mentioned books for your preparation of AILET 2022:
Subject

Books and study material

AILET UG 2022

English

Word Power Made Easy by Norman Lewis




High School English Grammar and Composition by Wren and Martin

Mathematics

Quantitative Aptitude for Competitive Examinations by RS Agarwal




NCERT books upto 10th

General knowledge (Static)

Lucent's General Knowledge




NCERT books of History and civics

General knowledge (Current affairs)

The Hindu Newspaper




The Indian Express Newspaper




GKToday




Protiyogita Darpan

Legal aptitude

Universal's Guide to CLAT & LLB Entrance Examination

Reasoning

Verbal and Non Verbal Reasoning by RS Agarwal




Analytical Reasoning by MK Pandey

AILET PG 2022

Constitutional law

Dr. DD Basu's - The Introduction of Constitution




Constitutional Law of India by JN Pandey & Bare Act




Tort Law: The Law of Torts by Ratanlal and Dhirajlal

Jurisprudence

Dr. VD Mahajan's Jurisprudence




Decoding the Jurisprudence
3. Short notes and revision: Revision is important for the preparation of AILET 2022, for higher chances of selection. Revising the AILET important topics would help you clear your doubts and retain the information for a longer duration.
An effective strategy for revision and AILET preparation is making handwritten notes. Candidates are advised to write and make notes, to have a mind map of the vast information in the syllabus. These notes and charts can also be pasted in your room for better revision.
4. Solve AILET previous year papers:
Candidates are advised to solve previous year papers of the AILET, to know your weakness and have a chance to improve them. Practicing these tests will help in getting comfortable with the test environment and complete your exam in the given time.
How to Prepare for AILET 2022: Subject Wise Tips
Legal Aptitude
Candidates should have a basic understanding of legal concepts like constitutional law, polity, and judiciary. The preparation for this section should be done by studying current legal issues of national and international significance. In previous years, questions were also asked from contemporary issues.
General Knowledge
This section can be divided into current affairs and static knowledge. Candidates should start with reading newspapers (like The Hindu) regularly and learning from books in the recommended section.
English
This section will test candidates' understanding of the English language and ability to read complex texts. It is advised to refer to any grammar book, practice questions from comprehension passages, and other types of questions. Candidates should also read a daily newspaper to improve their vocabulary and grammar skills.
Mathematics
The questions in maths section will be asked from a variety of topics like algebra, profit and loss, time and work, average, speed and distance, etc. Only 10 questions are asked from this subject, but candidates should not ignore this section for effective preparation of AILET 2022. Preparation for the mathematics section can be done by practicing previous year papers, and mock tests within the time limit to ensure better preparation.
How to Prepare for AILET 2022 Along With Board Exams
A lot of candidates start their preparation for AILET 2022 examination from Class 12. Remember, the AILET examination will be conducted after around one month of board examinations. However, it is important to try and balance your preparation and school study for the effective preparation of AILET 2022.
According to Devansh who cleared AILET with first rank, it was a hectic job to balance AILET and school study. The 2018 AILET topper gave a lower profile to board preparation. However, from January, he gave equal time to both board exams and AILET preparation.
Frequently Asked Question (FAQs) - How to Prepare for AILET 2022 - Subject Wise Tips, Recommended Books
Question: Can I prepare for the AILET and CLAT examination together?
Answer:
Yes, you can prepare for both CLAT and AILET together. There is a lot of similarity between AILET and CLAT, so you can prepare for both simultaneously.
Question: How many questions are asked in the AILET examination?
Answer:
AILET UG paper consists of 150 objective-type questions.
Question: What are the subjects for AILET preparation 2022?
Answer:
For AILET preparation, you should study the subjects such as legal aptitude, English, current affairs, GK, and Maths.
Question: How to plan my preparation for AILET 2022?
Answer:
Planning should include knowing the patterns, syllabus and effective schedule for everyday studies.
Questions related to AILET
Showing 349 out of 349 Questions