CLAT Vs AILET - Primary Difference, Syllabus & Exam Pattern
CLAT Vs AILET - The debate between CLAT and AILET has always pervaded minds of law aspirants who seek an undergraduate level career in law field. Both of the law entrance examinations differ in terms of their conducting bodies, difficulty level, exam pattern, number of participating institutes and offered seats. As the preferences of several law aspirants go on to be influenced by several of such factors, the number of applicants taking the law entrances test also vary. CLAT 2020 is to be conducted on August 22, AILET 2020 is scheduled to be held on August 18. Therefore, law aspirants may face a dilemma at this juncture as to which entrance test between CLAT and AILET, should they be opting for and make way towards their preferred undergraduate law programme .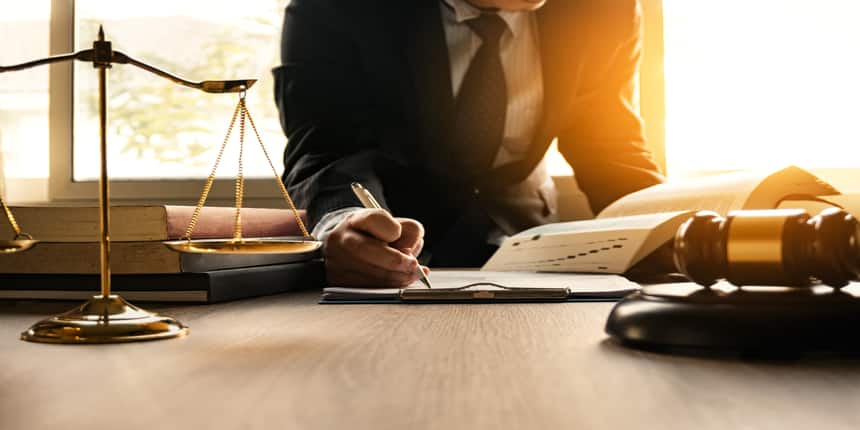 In this article on CLAT Vs AILET, Careers360 will help the law aspirants with a breakdown of the differences between the two national-level law entrance exams and their respective pros and cons.
CLAT Vs AILET - Primary Difference
CLAT, which stands for Common Law Admission Test will be conducted by the Consortium of NLUs. The programmes offered through this exam are five year integrated BA LLB, BCom LLB, Bsc LLB and LLM programmes.
On the other hand, AILET, which stands for All India Law Entrance Test, is conducted by the National Law University, Delhi, for admission into the undergraduate and postgraduate programmes. The law programmes offered through AILET are five year integrated BA LLB and LLM programmes.
Mode of exam
For the current session, the CLAT 2020 entrance exam will be conducted in online, computer-based, centre-based mode. Meanwhile, AILET 2020 will be conducted in online, remote-proctored mode, wherein the candidate can take the exam from safe confines of their homes. Previously both the exams were conducted in offline, pen-and-paper mode. The change in exam mode has been done keeping in view the COVID-19 pandemic.
CLAT Vs AILET - Participating institutes and seats offered
There is only one participating institute under AILET, that is, the National Law University, Delhi. AILET offers a handful of 110 seats for the LLB programmes whereas 70 seats for the LLM programme. On the other hand, CLAT has 22 NLUs under it offering 2,538 seats.
CLAT Vs AILET - Exam Pattern and Syllabus
The exam pattern of both differ in various terms like mode of the exam, test duration, types of questions asked. While AILET for UG courses is a 1.5 hour examination of 150 marks with 150 questions, CLAT for UG is a two hour examination of 150 marks with 150 questions. Both CLAT and AILET also have their own syllabus. The weightage assigned to each section vary. This factor may affect candidates' CLAT and AILET preparations. Candidates can refer to the AILET and CLAT weightage distribution tables given below so that they have an idea of the magnitude of difference between the two exams.
CLAT Syllabus
S.No

Subjects

Number of Questions

Marks

1

English Language

28-32

28-32

2

Current Affairs, including General Knowledge

35-39

35-39

3

Legal Reasoning

35-39

35-39

4

Logical Reasoning

28-32

28-32

5

Quantitative Techniques

13-17

13-17




Total

150

150
AILET Syllabus
S.No

Sections

No. of questions

Marks

1

English

35

35

2

General Knowledge

35

35

3

Basic Mathematics

10

10

4

Logical Reasoning

35

35

5

Legal Aptitude

35

35

Total

150

150
CLAT Vs AILET: Level of Competition
The two exams vary highly in terms of the competition. Since AILET offers only a handful of seats and that too, to only one participating institute which also happens to be one of the top NLUs of India, the competition is cut-throat. This is not to say that cracking CLAT and making a place for oneself in 22 NLUs is a cakewalk. However, when pitted against AILET, the competition in CLAT is lesser.
CLAT Vs AILET: Pros and Cons
Now that the major differences have been pointed out between AILET and CLAT, let's look into the pros and cons of each of these exams and analyze which exam is the most appropriate for law aspirants.
AILET - Pros
A remarkable feat - Considering the high level of competition in AILET, cracking the exam and getting into the second best National Law University is indeed a marker of great achievement. While a candidate who graduates out of NLU, Delhi, does not only have a quality training in law to boast of but also carries with himself/herself the tag of having done the almost impossible! An NLUD tag coupled with extensive knowledge about the field will shine bright in any student's CV.
AILET - Cons
High competition - The competition in AILET is cut-throat and an opportunity to get a seat in NLU, Delhi, is minimal if one does not give one's absolute best to the preparations. Since roughly 17,000 candidates apply for AILET every year for only 110 seats, the difficulty level of the paper is always set higher. Therefore, AILET is an intimidating affair for all law aspirants and its only with rigorous practice, top notch preparations, and clever time management strategies that they will be able to crack the paper.
Handful of exam centres - Another con of AILET is that it normally has fewer exam centres that that of CLAT. This can put many candidates in lurch as they may have to travel to far off places to take the examination in. May is a post-boards month and therefore the time when most of the entrance examinations take place. Therefore, travelling may pose to be inconvenient for candidates around this time.
Unreliable as the sole option - Since AILET is a hard nut to crack, candidates cannot afford to rely solely on this exam. Also, AILET is a gateway to only one law university which makes candidates' dependence on it a riskier affair. Therefore, law aspirants should not be overconfident about their success in the exam and depend only on it because the exam may throw an unexpected curveball and candidates may lose their one and only opportunity to kickstart their law career.
CLAT - Pros
Lesser competition - Since CLAT has more participating institutes and seats to offer, the competition is less fierce. Therefore, candidates who may not get through AILET may have a higher chance to secure a seat through CLAT. Having said that CLAT is also one of the toughest law entrances in India. But as compared to AILET, it can be a source of relief for many candidates.
Reliable backup plan - CLAT can redeem those aspirants deserted by AILET therefore acting to be a trusted backup option. Since AILET examination will also be held first, candidates will already have gained a considerable grip over the paper pattern and the types of questions generally asked in law entrances. No matter what their experience may be, they can use the lessons learnt during AILET to the fullest extent in CLAT.
Top colleges - CLAT is the sole gateway to 22 premier NLUs of India. Some of the topmost law universities which the exam offers admissions to is NLU, Bangalore, NALSAR University of Law, Hyderabad, National Law University, Jodhpur, Gujarat National Law University, Gandhinagar occupying first, third, fourth, fifth, and sixth positions respectively. So if a candidate manages to secure a high rank in CLAT, he/she may get to study in any of these top law universities.
CLAT - Cons
A few not well-known colleges - Out of the 22 participating institutes under NLU, not all occupy the top ranks in the list of top NLUs. A lower score in CLAT may lead candidates to enter those NLUs which were probably the least preferred by them. However, candidates should remember that all the NLUs are respectable law universities and that each of them are known to provide quality education. But still compared to the top NLUs, they lack some of the key advantages, like industry connect and placement.
CLAT Vs AILET - Which one to choose
Though AILET and CLAT come with their own share of pros and cons, it will be an unwise decision on the part of the candidate to choose one out of the two and leave the other. The aspirant should go for both the exams mainly for the following two reasons:
Since AILET is scheduled before CLAT, the candidate will already get to experience the exam before CLAT. This will ensure that the candidate gets more confidence and inputs for CLAT which is likelier to fetch him a seat than AILET.
Taking only the AILET is like a candidate risking it all knowingly. As the AILET provides admissions to only one NLU and is therefore one of the toughest law entrances, candidates should make sure that they take CLAT and perform well in it.
Questions related to CLAT
Showing 6928 out of 6928 Questions