CLAT 2020 Topper Interview: "Solved sample papers to get clarity on new pattern," says Anand Kumar, AIR 5
CLAT 2020 Topper Interview: This year, around 60, 000 candidates appeared in the national-level CLAT 2020 exam for admission to one of the 22 participating NLUs. Anand Kumar, a resident of Patna district, secured the AIR 5 which made it possible for him to get admission in his dream institute, NLSIU Bangalore, the top-ranked law college in the country as per NIRF Rankings 2020. But his journey from being a small town boy to now a student of the top college in the country was not a bed of roses. In fact throw in the pandemic, and Anand was almost contemplating taking a drop year. But as destiny would have it, he managed to overcome all obstacles to shine bright in the CLAT exam. The result of CLAT 2020 was announced on October 5; this year the exam was conducted in online mode on September 28.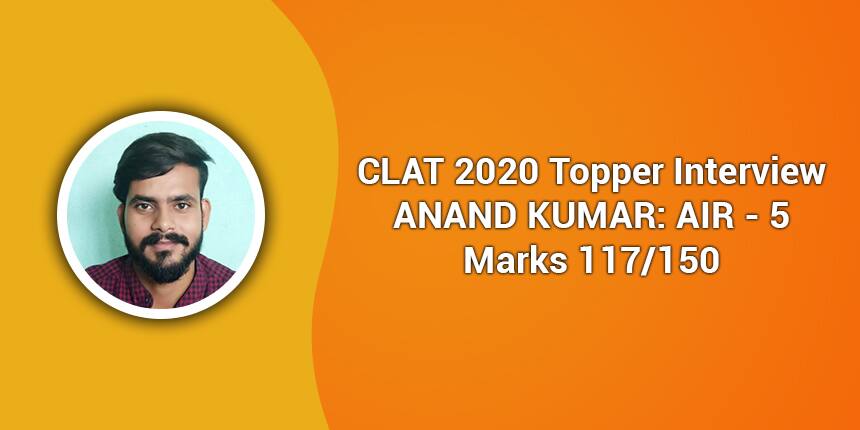 Careers360 got in touch with Anand Kumar to learn more about his preparation strategy. Here are the excerpts.
CLAT 2020 - Toppers interview
Question 1: Give us a brief introduction; your name, address, college, etc.
Anand:- I'm Anand Kumar and I live in Masaurhi, a small town in Patna district (Bihar). I completed my 10th grade from a CBSE affiliated school, St. Mary's School in my hometown and 12th from BSEB.
Question 2: Congratulations on getting AIR 5. How does it feel and how did you celebrate?
Anand:- Thank you, thank you so much.its like a dream coming true, unexpected, unbelievable. when I saw my result.... it's like woohoo I did it!!
Question 3: Which NLU have you chosen? What were the reasons for the selection?
Anand:- I chose NLSIU Bangalore because it's the best college for Law and I always wished for the best.so that's why NLSIU.
Question 4: Did you appear in any other exam apart from CLAT? How did you fare in those exams?
Anand:- Yes, I appeared in the NLAT exam. Because of some technical glitches my exam started late but I managed to score 56.
Question 5: Tell us about your CLAT preparation?
Anand:- I started my preparation in the month of July 2019. Since my English was weak, I started working on it from the initial stage of my preparation even though the pattern was not changed. I habituated myself with newspaper reading as suggested by my teacher. When the pattern was changed, I increased my English consumption by reading various news websites like the wire, the print, the scroll and the guardian. This helped me in both G.K. section as well as English section. To improve my vocabulary, I completely relied on Legalight's Vocabulary booster book and the best part was that all the questions of vocabulary asked in CLAT 2020 were directly from that book. Throughout my preparation, my mentors at Legalight motivated me a lot and that was the reason I always remained consistent throughout my preparation.
Question 6: Did the COVID pandemic affect your exam preparation in any way?. How did you manage your study during the lockdown?
Anand:- Yes of course, because of COVID and lockdown our class got suspended for an unknown period and that was the time when I thought that now I can't crack this exam. Full of disappointment. I individually contacted all my faculties at Legalight and I asked for their suggestion on taking a drop but they convinced me to go for this year itself. They started conducting online classes on Zoom and subsequently, I started attending classes online and it was like from 11 pm to 3 am or someday until 4 am. And when lockdown got extended our teachers launched an online course named masterclass which helped a lot on this new pattern.
Question 7: What was your preparation for the FIVE sections of the paper? Can you elaborate on your preparation strategy for each section?
Anand:- I developed a habit of consuming more and more English by reading English newspapers like The Hindu and Indian Express. All my mentors advised me at the beginning itself for reading and understanding the editorial pages of The Hindu and it helped me in building my comprehending skills for tackling English section. And, it helped me in current affairs too because most of the significant topics were covered therein and Ayush Sir provided 250 important topics of current affairs in pdf form with a little detail and links for further research and it helped a lot. For the legal reasoning section, I totally relied on my teacher Ayush sir and the study materials, which he used to provide us. He covered every principle and current legal topics necessary for CLAT through passages, sectional tests and mock tests. And at least, I practiced 200 + passages in the legal reasoning section which covered all the static law like constitutional law, criminal law, law of torts and contract law and current legal issues like Force Majeure Clause, CAA and all. For the quant section I practiced every possible caselets and graph provided by Legalight. For logical reasoning, I practiced each type of questions like strengthening, weakening, and so on. We practiced a lot of passages. That's all.
Question 8: What was your study routine for CLAT? Like when did you wake up, how many hours you study, breaks, ...etc.
Anand:- I wake up at 9 in the morning. After taking a bath and having my breakfast I started studying from 10:30 am to 1 pm and then a lunch break of 1 hour and then again from 2 pm to 5 pm because this was the slot of our exam so I was developing a habit of solving passages between 2 to 5 pm. And then 5 pm to 8 pm break. Again from 8 pm to 2 am study with 3 small breaks in between.
Question 9: How many sample papers did you solve throughout the CLAT preparation and when did you start solving sample papers? What are the specific benefits of solving sample papers? Also how many sample papers one must ideally solve?
Anand: I solved all the three sample papers of CLAT 2020 including the model test paper released by consortium. At Legalight, we were made to solve the sample paper on the next day of its release. Moreover, separate classes were conducted at Legalight for sample paper analysis. It benefited me a lot and I was able to draw a boundary for my preparation. Through sample paper analysis, I was able to understand the expectation of this exam and the skill required to qualify this exam. Ideally, one must solve all the sample papers because this will give more clarity of this new pattern.
Question 10: Did you take mock tests, how many did you take? Are they useful?
Anand: Yes, I took Legalight's Mock test series and until CLAT 2020, I gave 28 Mocks on New Pattern. It was helpful in multiple aspects. Legalight's mock helped me to discover loopholes in my CLAT preparation and subsequently I was able to work upon that. Through the mock tests, I was able to improve my accuracy and time management. And this new pattern indeed requires mock test practice.
Question 11: The current affairs section this year was paragraph based, what was your strategy for this section?
Anand:- This was the first exam having current affairs passage-based. In the beginning, it seemed tough but when our mentors filtered significant topics, eventually it became easier for me. It was as if you have studied the topic then you do not have to read the whole passage, you just have to read what the question is and attempt the questions accordingly.
Question 12: You got help in your preparation from IDIA scholars. How is it different from normal coaching?
Anand: It was different in multiple senses. IDIA scholars created a friendly environment for CLAT preparation and we never hesitated or felt shy in asking any questions from them. They never behaved like a formal teacher; instead, they all treated us like a junior and motivated us throughout our preparation. Since we were just 17 trainees, they gave us individual attention and 1-1 personalised learning which one can never find at a normal coaching institute.
Question 13: How did IDIA scholars help you in your CLAT journey?
Anand: IDIA scholars always motivated me throughout my CLAT preparation. Their way of teaching and study materials helped me to draw a boundary line for my preparation. I followed all their suggestions until CLAT 2020 and that was the reason I never got distracted or deviated throughout my journey.
Question 14: Tell us about the booklist that you followed for each subject; English, Current affairs, Maths, Legal Aptitude, and Logical Reasoning.
Anand:- First of all there was no book available in the market for the new pattern of CLAT. So I just followed my institute's mock, current affairs topics, pdf, compendium, and a book of vocabulary.
Also Read:
CLAT 2020 Topper Interview: "Ditched social media and focused on preparation," says Ishan Thakur, AIR 19
LSAT-India 2020 topper interview: "Key was to prepare regularly," says Shailja Beria
CLAT 2019 Topper Interview: "Never lie to yourself" says Saumya Singh AIR 1
CLAT 2020 Topper Interview: "Solved more than 50 mocks throughout," says Shailja Beria, AIR 6
Questions related to CLAT
Showing 7230 out of 7230 Questions