CLAT 2021 result was declared by the Consortium of NLUs on July 29, 2021. By securing an overall score of 108.75, Devanshi Shukla managed to secure AIR 27 amongst thousands of candidates. Hailing from Raipur, Devanshi will be the first to become a lawyer in her family of four. With little preparation last year, she had secured the 665th rank. So, she decided to give another try with little extra effort to get the best law college.
Latest: CLAT Previous Year Question/Sample papers. Free Download
Don't Miss: CLAT 2023 Preparation Tips by Expert. Check Now
Colleges Accepting Applications: To check the list of Institutions accepting BA/B.Com LLB Applications Click Here
5 yr. Int. LLB at UPES. #21 in NIRF, Amongst Top 10 Private Law Colleges in India, Grade 'A' by NAAC. Apply Now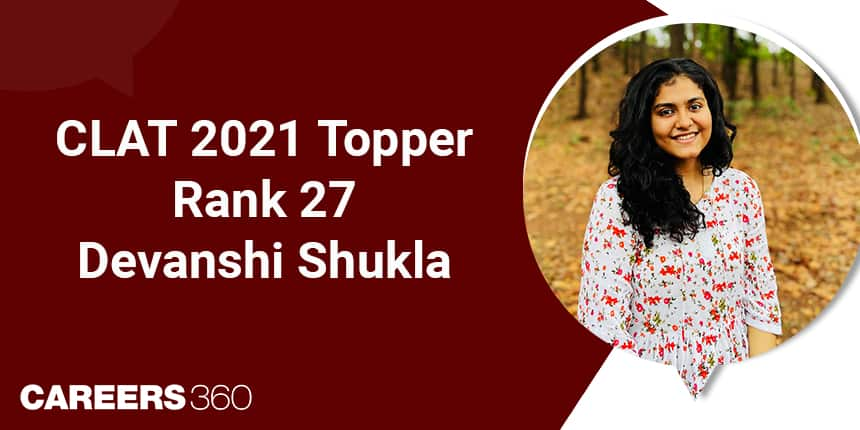 CLAT 2021 Topper Devanshi Shukla, AIR 27 says, "Practising mocks can help relieve anxiety"
She believes solving CLAT mock tests can definitely add to one's preparation and help achieve the expected CLAT results. In an exclusive interview with Careers360, CLAT 2021 Topper Devanshi Shukla shares her experience of being a topper and getting admission into one of the best law colleges. She believes, "practicing meditation can be a stress buster during preparatory days."
Careers360- Congratulations on your performance in CLAT 2021. What was your initial reaction upon knowing your rank?
Devanshi- Thank you so much. It was extremely overwhelming, so much so that I started crying. It was a dream come true.
Careers360- Tell us something about yourself - the board you studied under, the name of the school, the place you belong to, and a bit about your family.
Devanshi- So I was a student at Delhi Public School, Raipur. We are a family of four, my parents and my brother. I would be a first generation lawyer, my dad is a businessman and my brother is currently pursuing his masters in automotive engineering.
Careers360- What are your overall scores in CLAT 2021?
Devanshi- My overall score was 108.75.
Careers360- Were you expecting the results, or was it a surprise?
Devanshi- We were provided with the CLAT answer key on the day of clat itself, so I had calculated my score. But I was very nervous about which college I would get, so it definitely was a pleasant surprise.
Careers360- How and when did you start preparing for the CLAT 2021 exam?
Devanshi- Last year in CLAT 2020, I got a rank of 665 after a little preparation. So I started preparing rigorously from October 2020 to secure a good rank in CLAT 2021.
Careers360- Did you follow any specific routine and study hours?
Devanshi- No fixed study hours. I personally believe that it gets monotonous if one fixes the exact time of study hours. Rather I used to make a checklist of all the things I have to study on that day and finish all the chores before sleeping.
Careers360- What are the subject-wise books you used for CLAT exam preparation? Any specific reason for selecting these books?
Devanshi- Since the new exam pattern of CLAT is almost entirely reading comprehension based, I solved a lot of RCs and critical reasoning questions. I did this from previous GRE/ GMAT papers. These are the zenith for reading comprehension and it helps with 3 sections - English, Legal and Logical. Whereas for maths, I solved RS aggrawal.
Careers360- Tell us last month's exam preparation tips?
Devanshi- In the last month I solved around 30 CLAT mock test papers. This helped me overcome my fear of taking CLAT 2021. Apart from that I guess just keeping calm is very important.
Careers360- Did you solve sample papers and take mock tests? What is the correct frequency for these exercises?
Devanshi- Yes, I took quite a few mock tests. Since CLAT is an aptitude based paper, taking mocks helps one prepare in the most holistic way. But apart from taking mocks it is very important one analyses those mock tests properly.
Careers360- Many students make a mess of their preparation in the last few days, as exam pressure reaches the pinnacle. How to handle this tricky phase?
Devanshi- It is very important to manage one's anxiety. I did it by solving a lot of mock tests and meditating. It also helps to engage in activities not related to CLAT exam such as sports, cooking or just going for a walk.
Careers360- How can one improve accuracy and speed?
Devanshi- One can improve accuracy and speed by solving a number of questions on a timer. Apart from this, analysing every question which you solved incorrectly is equally important.
Careers360- Is there any particular order for attempting the CLAT question paper? How should one go about attempting the test?
Devanshi- I don't think there is one particular way of attempting the paper but I attempted it in the order- English, General Knowledge, Logical Reasoning, Maths, Legal.
Careers360- Did the prolonged delay and multiple postponements affect your exam preparation? How did you manage to stay on track?
Devanshi- Yes it did add to my anxiety, but what helped me was to interact with my peers and pick up a hobby which keeps you going.
Careers360- Did you face any difficulty during the exam considering there were strict COVID-19 guidelines in place?
Devanshi- No I think the process was quite smooth, although the mask makes it slightly uncomfortable but apart from that it was okay. But we weren't given extra time to fill in the OMR details which made me lose around 5 minutes.
Careers360- Which law discipline do you want to study in your undergraduate?
Devanshi- I wish to explore all aspects in law school. But I have a special interest in cyber law.
Careers360- Do you have any NLU preferences?
Devanshi- Yes I wish to take admission at NLSIU Bangalore.
Careers360- Being a topper, many students would now look up to you. Do you have any messages for these future law aspirants?
Devanshi- I would just say that use this prep to become a better version of yourself. This is because these skills which you build right now would help you further in law school and eventually in life.