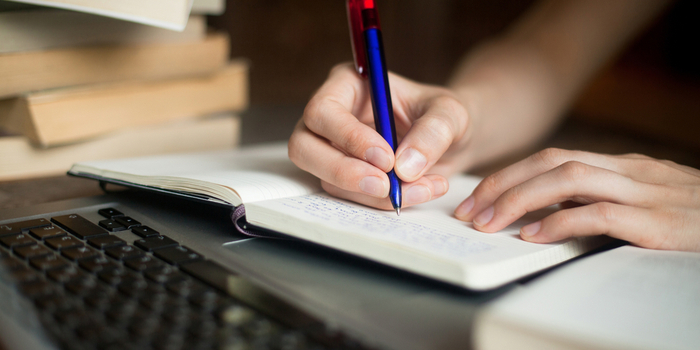 How to prepare for CLAT 2019 without coaching - Are you a CLAT 2019 aspirant? Worried for CLAT preparation as you can't afford or don't wish or can't invest much time to take coaching guidance? Careers360 brings 'How to prepare for CLAT 2019 without coaching' with an objective to help law aspirants like you in preparing for the Common Law Admission Test when you're not in mood to take coaching guidance. In this advisory article from the series of CLAT 2019 preparation tips, law aspirants can know when to begin CLAT 2019 preparation, what to prepare for CLAT 2019, which books to consult and other expert tips that can help them in cracking CLAT 2019 without coaching guidance.
Before we begin with the suggestions to prepare for CLAT without coaching, let's gather information about CLAT 2019 exam pattern.
CLAT Sample Paper
Download Free Sample Paper for CLAT
Download Now
CLAT 2019 will be an offline test comprising 200 questions of one mark each, which is to be attempted in a time duration of two hours, i.e., 120 minutes. The questions will be of objective-nature having multiple choice answer options. Candidates will be expected to choose the correct answer among the given answer options. The correct answer will fetch them one mark whereas an incorrect answer will lead them to deduction of 0.25 marks from the total test score.
The 200 objective-type questions will cover as many as five sections namely English, General Knowledge, Legal Aptitude, Logical Reasoning and Mathematics.
How to crack CLAT 2019 without coaching: Myth Vs Reality
Getting shortlisted for the undergraduate law programme in one of the 20 National Law Universities (NLUs) is the goal when law aspirants prepare for CLAT. To complete this goal, the law aspirant needs to start CLAT preparations as early as possible. The ideal time to begin the preparation for CLAT is almost when you pass Class 11, since you have already made up your mind to pursue a career in law. Further, it's a preconceived notion among the law aspirants and their parents, that when you are preparing for the coveted national-level law entrance exams like CLAT, you will need a coaching guidance. Adding onto this peer pressure of CLAT preparation, the law aspirants fall in the 'assumption trap' that if there wouldn't be any coaching guidance, one can't crack CLAT.
Well, getting enrolled in a coaching for CLAT 2019 preparation is just a much perpetuated hype. How? The answer to this 'how' lies in the coaching institutions, their teaching methods and of course their students.
Think of some questions before you think of choosing a coaching institution for your CLAT 2019 preparation. What exactly does a coaching institution do? How is it going to help law aspirants like you? Will the coaching institution provide you some syrup or medicines with which you will be able to memorise everything you learn? Is the chosen coaching institution is so good, then why only a few crack CLAT from the lot of thousands of other candidates who too had enrolled in the coaching like you?
Answering these above questions, will help you in understanding the reality that coaching is not at all important to prepare for CLAT 2019 and crack the law exam.
Do you know, what is the only difference between the two kinds of CLAT aspirants- those who crack CLAT and those who can't? The only difference is approach to CLAT preparation. The dedication towards reaching the goal matters. What matters is only a law aspirant's hard work and not any of the coaching institutions' medications. The coaching institution can only guide you the way; the rest, all the hard work, practice, strategy and understanding has to come by your side. There is no alternative to hard work and if you wish to crack CLAT 2019, you have to be self determined even as coaching guidance will not be required during your CLAT preparation.
So, now the most important question that law aspirants may be having is 'How to prepare for CLAT 2019 without coaching'.
Careers360 brings you tips to prepare for CLAT 2019 without coaching and crack the Common Law Admission Test.
How to prepare for CLAT 2019 without coaching – Preparation Tips
There are a few tips that have been compiled by the examination experts and toppers who would crack CLAT without any coaching guidance. Hope this helps law aspirants like you in preparing for CLAT 2019.
Early Preparation
The exam experts and toppers have reiterated the fact that those who start preparation for CLAT early, are more likely to crack the law admission test. Preparing early helps the law aspirants in completing their basics early and moving onto practicing the test papers and taking mock tests. Starting CLAT 2019 preparation early will also help law aspirants in covering most of the topics while they can have an in-depth knowledge of the subjects.
Preparation Plan and Strategy
CLAT 2019 preparation needs a proper strategy. A good preparation strategy for CLAT 2019 will help law aspirants in focussing onto the important factors that can lead to their goals of cracking CLAT 2019. Needless to say, that every law aspirant will have his/her own preparation strategy for CLAT, which will obviously differ from others. A law aspirant need not to merely adopt others' CLAT preparation strategy however should always follow the one suited for him/her. Sample this - There is a 'X' law aspirant who feels comfortable in preparing for CLAT at night, another 'Y' law aspirant should not copy 'X' and begin studying at night when he can easily spend time in the day-hours to cover a lot of topics.
Adding onto this, the law aspirants after strategizing their CLAT 2019 preparation plan need to stick to it and should avoid change the strategy, now and then as it'll hamper their efficiency.
Exam Pattern and Syllabus Clarity
There should be a clarity of what to study for CLAT 2019 preparation. Understanding the CLAT 2019 syllabus and exam pattern is important. When a law aspirant knows the syllabus, he/she can know how much to study for the national-level law exam. Further, while you know the exam pattern and syllabus, you know which topics need to be focussed more and which need not any intervention.
Doubt Clearance
This is one of the most important factors to crack an examination like CLAT. A small doubt may lead you to choose an incorrect answer option, thus leading to deduction of 0.25 marks from the total score. It's suggested that the CLAT aspirants should always get their doubts cleared at the very instance of it.
Regular Revision
Revising is always important. When you revise, you brush-up the already read facts, which further helps in memorising it. With regular revision, law aspirants can keep up with the latest information even as keeping intact the previously read topics. The human brain has a unique property of keeping the regularly revised things intact for a longer period of time.
Previous Years' Papers Analysis
The law aspirants should also analyse the previous years' question papers. While analysing the previous years question papers, they will get to know the type of questions they may attempt in the actual test. Adding onto this, when aspirants prepare for the law entrance examination, analysing last years' question papers will also help in getting an overview of the questions and their difficulty level, that may come in the paper.
Online Mock Tests
The CLAT 2019 aspirants need to take online mock tests which will help them in analysing their preparation level. The mock tests are the best way to check the subjects, topics and questions in which the law aspirants lag behind. Even the experts and toppers recommend for taking the mock tests as soon as the law aspirants have completed their basic preparation.
Time Management
This is one of the other important traits that should be honed when you are preparing for examinations like CLAT. There will be as many as 200 questions to be attempted in 120 minutes, which means for each question, you'll have around 1.5 minutes. The art of managing the 65-second time to read, thing and attempt one question needs to be learnt while you are getting prepared for CLAT 2019.
This can only be learnt when you revise regularly, practice questions on a daily basis, take regular mock tests and analyse your CLAT 2019 preparation.
Weaknesses and Strengths
A candidate is the first person to know his own capabilities and weaknesses. As a CLAT aspirant, you'll know the subjects which you have a good command and also the subjects that need your special focus. The next processes is even simple. You only need to strengthen your capability, clear your doubt and improve in the areas in which you're weak.
Root-out Demotivation
At last but not the least, a candidate should be self-motivated. It should reflect in your attitude. It's you who is putting so much efforts, burning midnight oil, working hard and improving on a daily basis, therefore it's you who should have the confidence to reach your goal. You should have faith in your hard-work and continue with the attitude.
If you have any further queries on 'How to prepare for CLAT without coaching', feel free to ask your questions here. Our exam experts will answer them and help you in cracking the CLAT 2019 without coaching.
Questions related to CLAT