AILET 2018 Topper Interview: Time management and mock tests helped a lot, says Aditya Krishna, AIR 47
AILET 2018 Topper Interview - Aditya Krishna, the Bihar boy who bagged AIR 47 with a score of 71.5 in AILET 2018, was pleasantly surprised when he saw his AILET result since he had found the paper to be quite difficult. Aditya had taken a drop year to prepare for the law entrance exam and, apart from studying, had utilized the time by pursuing his hobbies and learning Urdu. Hailing from a Humanities background, he considered Maths and Logical Reasoning to be his weak areas and English and GK to be his strengths. A strong believer in the merits of regular practice, Aditya shares here his journey from being an ordinary law aspirant to becoming an AILET 2018 topper.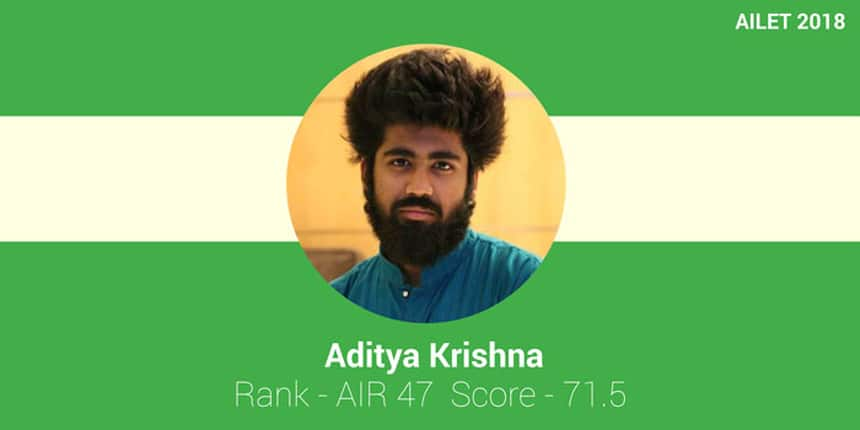 Read the excerpts of Careers360's interview with AILET 2018 topper Aditya Krishna.
Careers360: Congratulations on qualifying AILET 2018 with flying colours! Were you expecting this?
Aditya: Thank you! It came as a surprise to me as the paper did not go well due to its difficulty level and lengthiness. This exam was such that it was difficult to even read and attempt all 150 questions in one and a half hours. I could solve around 104 out of 150 questions and I was disappointed. Thus, when I came out of the examination hall, the first thought was that I would not be able to crack AILET 2018 and it would be better to start preparing for CLAT. But now, when I saw the result, AIR 1 scored 98.25 marks and AIR 2 scored 84 out of 150 marks. So securing 71.5 marks and the AIR 47 is a good feeling. Because in the end, the paper was very difficult and the increased difficulty ensured I achieved a relatively good score.
Careers360: Tell us something about yourself and your family. How did your family support you?
Aditya: I come from a middle-class family settled in Darbhanga district of Bihar. My father is a business man and my mother is a home-maker. I was here in Bhopal for the last one year preparing for AILET and CLAT. My parents supported me in everything and the result of that is what I have achieved today.
Careers360: What motivated you to pursue law?
Aditya: There are a lot of factors. Firstly, I was not good in Maths so Engineering was not an option for me and secondly, I was very interested in Humanities. When I was in Class 12, I wanted to join DU but the gap between my scores and the cutoff for DU proved to be a bit too far and I ended up missing the cutoff by a mere five marks. I had prepared for CLAT without taking it seriously. So my parents suggested that I drop a year. That turned out to be very logical and I ended up getting what I wanted.
Careers360: Apart from AILET 2018, which other Law entrance exams did you appear for? How was your performance in those exams?
Aditya: I appeared for SLAT (Symbiosis Law Admission Test) and I got 130 out of 150 as the paper was surprisingly easy. As I treated it like a standard paper and not one in which I wanted to merely pass, I got well above the cutoff. In CLAT, I managed to score 135.25 in the initial marks put up. I suppose there will be an increase of two marks as there have been errors in a few questions. But given the way the CLAT paper was conducted, in terms of the amount of discrepancies that were there, I don't think I can celebrate my marks as the experience of the exam was not good.
Careers360: When did you start preparing for the law entrance exams and what was your section-wise strategy?
Aditya: I started preparing for the law entrance exams a year ago by taking a drop. As far as the sections are concerned, being a Humanities student, my biggest nemesis was Maths, followed by the Logical section as it requires a lot of mathematical thinking. These two papers were challenging. General Knowledge was not so interesting but I managed to prepare well for it. English was good and Legal reasoning was also interesting. For Maths I worked hard. I tried to solve as many questions as I could. I went through all the chapters and also the previous years' question papers and then solved questions from there.
Coming to my strong subjects, it is English. I adopted the policy of divide and rule while studying. I divided the subjects into sub-sub sections and prepared in the manner that I found easy. The Legal Reasoning questions are generally same every year. So I got an idea of the questions that came.
Careers360: Did you take up any coaching? How important is coaching for qualifying a law entrance?
Aditya: Yes, I took coaching from LegalEdge Bhopal. I would say it is important to have a good coaching though instead of coaching with inexperienced people.
Coaching institutes help in you in every way as they know the pattern every year and they can tell you the strategies of attempting the paper, managing time and other tips. They give you an opportunity to see where you stand. You have teachers who can tell you many useful points about the paper which you will find difficult to discover on your own.
Careers360: How many mock tests did you take before the law exam? How helpful are these tests?
Aditya: My coaching had mock tests right from the beginning. I started with mock tests from the very first month of my coaching. There were 25 CLAT mocks and 10 for AILET. So we used to practice tests throughout the year. Mock tests are very important as they help you in time management. They let you know how to attempt the paper and how not to, and also let you know where you stand right before the exam. You are told to analyze the mock after attempting the same. And analyzing is important otherwise the efforts go to vain.
Careers360: Tell us something about your hobbies. During the preparation phase, did you get time for your hobbies?
Aditya: I have many hobbies. I am into linguistics, politics, poetry, history, literature and debate. Yes, I made sure I spared time for my hobbies as they helps in keeping one calm. In my drop year I even learned Urdu.
Careers360: What are your suggestions for AILET aspirants who will appear for the test next year?
Aditya: For AILET aspirants, the amount of hours you put in to study is very important. When compared to CLAT, AILET requires more strategies to study well. Knowing your weaknesses and strengths is very important. 
Also Read
Questions related to AILET
Showing 290 out of 290 Questions