AILET, All India Law Entrance Test 2014 is being conducted by National Law University, Delhi. NLU, Delhi is the only National Law University among all the NLUs who conducts entrance test and does not participate in CLAT 2014. AILET is the next most sought after law entrance examination after CLAT 2014 for which the law aspirants will be getting ready.


Latest: Predict your admission chance in top law college in India by AILET 2023 College Predictor. Use Now
Don't Miss: AILET expected cut-offs. Check Now | NLUs Fee Structure 2023. Download EBook
Colleges Accepting Applications: To check the list of Institutions accepting BA/B.Com LLB Applications Click Here
Applications Open for 5 year Int LLB @UPES. Ranked #3 by QS Asia University Rankings 2023. Ranked #21 in Law category by NIRF. Upto 100% Scholarships. Apply Now
Pursue 5 year int LLB @Manipal University, Bengaluru. Internship Opportunities in leading Law Firms, Industry, Governmental Departments and NGOs. Register Now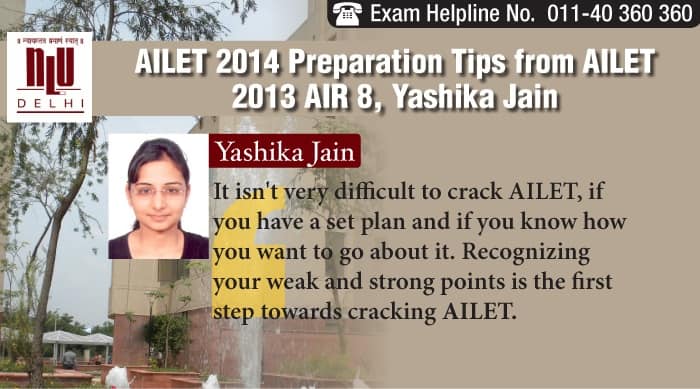 AILET Preparation Tips from AILET 2013 AIR 8, Yashika Jain
AILET 2014 is scheduled for May 4, 2014. For getting admissions in NLU, Delhi you need to be prepared for the exam.

To Register for Mock Test series of CLAT and AILET prepared by the students of NLU's themselves Click Here or Call @ 011 40360360


Careers360 brings you AILET Topper Interview of Yashika Jain, who took AILET 2013 and secured 8th All India Rank (AIR). She is currently pursuing B.A. LL.B course from National Law University, Delhi.
Having doubts and queries; call AILET 2014 Exam Helpline @ 011-40360360


"Get your personalized preparation report and improvement plan. Analyze your preparation level with AILET Prepmeter"


Read below the excerpts of the AILET 2013 Topper Interview with Careers360 –


Careers360: With most of students selecting Engineering, Medical and CA or CS as career path, what made you to take AILET and pursue a degree in Law?
Yashika Jain: Legal system has become an indispensible part of our lives. Operation of legal system, its merits and demerits fascinated me. I have always been attracted to legal issues such as gender equality and rights of minorities. I always felt like understanding how the system works and then work towards making a difference in this line.


Careers360: Which other exams did you take? How was your performance in those?
Yashika Jain: Apart from AILET, I took SLS. However I did quite well in it. I couldn't take CLAT due to certain reasons.


Careers360: Please share your different stages of preparation strategy.
Yashika Jain: I began my preparation from the beginning of 11th standard. I got the preparatory notes at par the exam pattern of AILET and studied through those materials during my 12th standard along with keeping myself up to date with the current happenings through newspapers.

I practiced logical reasoning through R K Sharma's book on logical reasoning. For Mathematics; I didn't require much effort. Only revision sufficed. In order to be good in English I tried increasing my vocabulary through various websites and books.
Before the exam I took mock tests and practiced last years' question papers.
Time management and concentration were the points that I always kept in mind while preparing as well as taking the exam.


Careers360: Which books did you prefer during your preparation?
Yashika Jain: I took help from R K Sharma's book on Logical Reasoning. I practices previous years' question papers of AILET for Mathematics. Apart from that I referred to CSR-Competition Success Review and Pratiyogita Darpan for updating current affairs and English newspapers for enhancing my vocabulary as well for day-to-day happenings and General Knowledge.


Careers360: Share your weakness and strength? How did you tackle your weakness?
Yashika Jain: During the preparation of entrance exam my weakest point was General Knowledge which actually forms an important part in these examinations. In order to overcome my weakness I made it a habit to read newspaper daily. Along with that I tried to keep myself up to date with the current happenings through certain books like CSR-Competition Success Review and Pratiyogita Darpan. I also took help of the course material that I gathered from markets. I had command over Mathematics and Logical Reasoning which proved to be my strong points at the entrance exam. Moreover I easily managed time between the sections of the question paper and it was possible through taking mock tests and practicing more and more.


Careers360: Legal Aptitude is not taught as a subject in Class 10th and 12th, then how did you prepare for the same which is an important part in the entrance test?
Yashika Jain: I started studying legal aptitude since 11th standard through various books readily available in the market. Further I concentrated on reading the principals provided in the questions of last years' and started solving them and gradually they became really easy.


Careers360: What was your time management strategy for the exam day? How did you manage it among the different sections of the paper?
Yashika Jain: Time management is the most strategic key for success in competitive exam. As I was good in Mathematics and Logical Reasoning; I attempted these two sections at the very first and didn't waste time on difficult, tricky and lengthy questions. If I found a question time consuming, I passed on to another question and after I was done with my entire exam, tried to attempt the left over questions. In the last fifteen minutes I tried answering as many GK questions as possible. GK being my weakest section, I purposely left it for the last. I gave enough time to Mathematics, Legal Aptitude and Logical Reasoning. However, in the first fifteen minutes of commencement of examination, I attempted the English section.


Careers360: Please share your valuable tips with the AILET aspirants.
Yashika Jain: It isn't a very difficult to crack AILET, if you have a set plan and know how you want to go about it. Recognizing your weak and strong points is the first step towards AILET. Strengthen your weak points by working on them and practice on your strong point.
Time Management is the most crucial part. It is extremely necessary to manage your time while preparing for the exam and while writing it. There should be smart approach towards attempting the exam. Every correct answer fetches 1 mark so each of them becomes equally important. First do whatever you know and then try to solve the other questions. Don't waste time on lengthy, tricky and difficult ones.
At last but not the least, as it is said; "The key to success will always be hard work and practice. So try and try until you succeed."
Stay tuned to law.careers360.com for more News and feature articles on AILET