How to prepare for CLAT 2020 in one week?
How to prepare for CLAT 2020 in one week - It has always been advised that students aspiring to achieve their goals must start preparing from the very beginning. It helps them in managing their time and prepare efficiently for their challenge. Since we are talking about tackling challenges, one of the toughest tasks for law aspirants is to crack Common Law Entrance Test (CLAT). But there are times when a candidate is unable to prepare at all for the CLAT due to his/her circumstances, for which Careers360 brings for you a seven day mantra, which is a compilation of the expert opinions and topper suggestions while preparing for CLAT 2020 in less than 10 days. The last week is not about preparing, it is about doing something that sets you apart from all the other aspirants. But since some candidates will begin preparing in the eleventh hour, we will help them in bagging a seat at one of the National Law Universities by providing them with a preparation strategy which they can follow even with the lack of time. There is no hard and fast trick to achieve your goals. But one can consider following the mentioned suggestions in this article.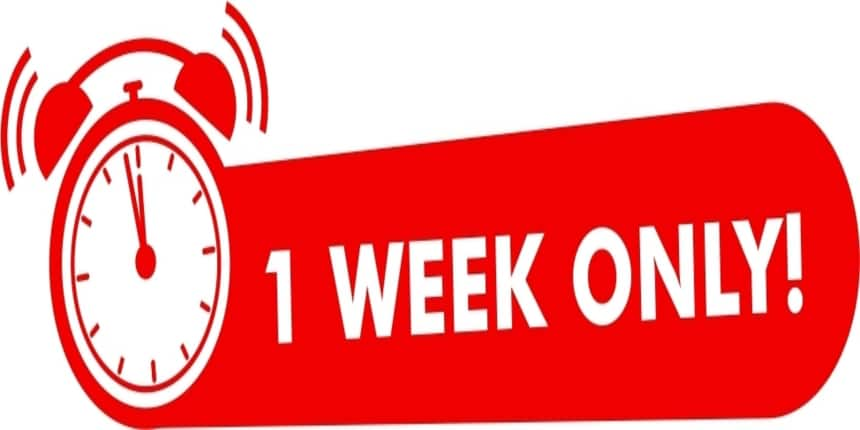 How to prepare for CLAT 2020 in one week - How important is time management?
Since the time for preparation is less than 10 days, every moment is important for the candidate. So it has been advised that the students must make a schedule for those 7 days and strategise their preparation for the exam. Make sure when you plan your schedule, do a SWOT analysis (strengths, weaknesses, opportunities and threats), and then proceed. Prioritise the topics based on their weightage, enormity and your ability to understand and retain them.
How to prepare for CLAT 2020 in one week - The Art of Revising
One of the reasons why revision is essential is because candidates get to analyse their strong and weak points. It helps them in recognising and acknowledging the loop holes in their preparation strategy to improve their final round of revision. With only a week to preparation, all the time should be spent in revising the course daily; going through all the content you have learnt and recalling it to keep it fresh in the memory. CLAT is not only a test of your knowledge and analytical skills but also a test of your ability to manage time and your response time. To be able to attempt questions in the examination with maximum accuracy, one needs to be able to recover information from the memory without consuming much time in the process. Revision cuts down this time.
How to prepare for CLAT 2020 in one week - Preparing for CLAT 2020 with the General Knowledge section
Focusing on the important sections is important, especially when the time is really less. Thus to prepare for CLAT in 7 days, go through all the general knowledge notes and newspaper cuttings. Since a major portion of the questions are from the general knowledge and current affairs section, revision will improve the chances of scoring better in the exam.
How to prepare for CLAT 2020 in one week - Why 'new' is a threat?
When we are talking about how to prepare for CLAT 2019 in one week, we are talking about seven days. This is a very short period of time to start something new and register the same in your memory. A small piece of news would do no harm, but if you want to clear your basics in a week, that is a big no no. Invest your time in going through what you have already covered. Your can also use this time to strengthen the subjects that need work.
How to prepare for CLAT 2020 in one week - Mock Test and Previous Year's Question Papers
To enhance your preparation for CLAT, candidates must go through the previous years' question papers to get clarity about the exam pattern, types of questions, etc. Solving the previous years' question papers will help the candidates to gauge their speed and accuracy. Moreover, the more you practise them, the better your understanding gets about CLAT and its course.
About mock tests, candidates must practise as many mock tests as possible for the same reason why solving previous years' question papers are important. Analyse the result of each mock test and try to work on the reasons and subjects that caused negative marking.
How to prepare for CLAT 2020 in one week - Work on your weaknesses
Analysing the mock test results will give the candidates a direction. It will help you it in figuring your strengths and weaknesses. Once the weak points are figured, candidates can start working hard upon them to avoid getting negatively marked. Also try to solve all the questions that you had left unanswered in the mock test. By doing this you will work on building a strong foundation and will be prepared for all those tricky questions in the examination.
How to prepare for CLAT 2020 in one week - The importance of regular breaks
Students tend to stress themselves out because of lack of time. As they begin preparing for CLAT 2020 in seven days, their schedule is packed with no time to waste. The pressure to cover the course is such that students exhaust themselves completely before the exam day. In order to avoid this condition, CLAT aspirants must take proper intervals during their study schedule and unwind their stress by doing stress busting activities such as yoga, playing a sport, take a power nap, etc. Having a proper sleep of 7-8 hours is very important. Get up early in the morning to study, and try to take in the energy as the day starts. It has been proven time and again that studying in the morning is more effective than studying at night.
How to prepare for CLAT 2020 in one week - Believe in yourself
Do not doubt yourself or your preparation. Self doubt leads to a poor performance in the examination. Do not listen to the preparation strategies of others and feel intimidated. Believe in your preparation and try to give your 100 % during the examination.
How to prepare for CLAT 2020 in one week - Calm and focus - Two success ingredients
To perform better and to be able to give your best, you need to stay calm. Anxiety and panic during or before the examination can cause you to forget things. On the other hand, staying calm will help you recall things quickly and will help you score better.
All the Best for CLAT 2019!
Questions related to CLAT
Showing 6929 out of 6929 Questions