How to prepare for CLAT 2021 without coaching
How to prepare for CLAT 2021 without coaching - These days it is a trend for many students to enroll into a coaching institute to prepare for an exam like CLAT. The fact that the coaching institutes so aggressively promote themselves selling the idea that success in exams like CLAT hinges on coaching, it is easy to see why very few students dare to go without coaching. Students fear that if they don't take up coaching, they will miss out on some important information needed to crack CLAT 2021. But is it true that one can't crack CLAT without coaching? The answer to this question is one can absolutely prepare for CLAT 2021 without coaching and do well. One simply needs to look at CLAT 2020, when most of the toppers were from outside coaching institutes. The situation was so bad for these institutes that many were trying to take credit for the same topper!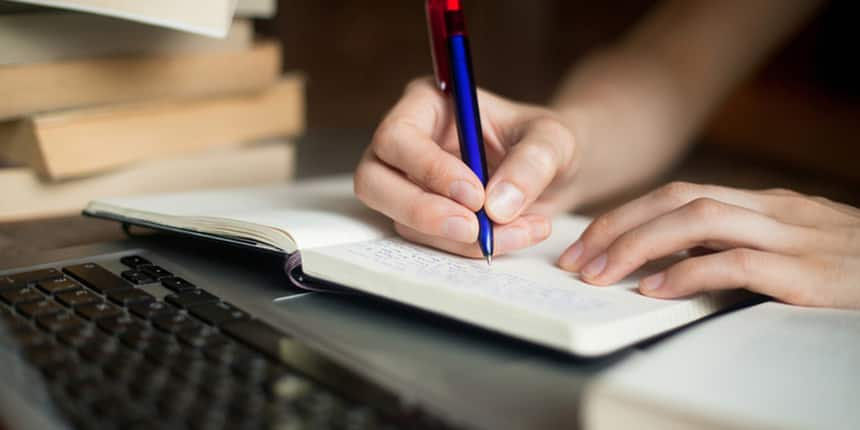 If you have decided to go solo, one thing you need to achieve success is you must know how to prepare for CLAT 2021 without coaching. This means you must know what to study, how much to study, which topics to prioritise, source materials, and such things, which we explain in detail below.
How to crack CLAT 2021 without coaching: Myth busters
One primary reason many students fail to crack CLAT is because they join the party late, meaning they start their exam preparation when there are very few days left. When there are fewer days for exam preparation, it will put severe stress on the candidate and he/she needs to be very choosy; after all with limited time in hand, completing the entire syllabus would be a Herculean task. The candidate will also not be able to solve sufficient sample papers and mock tests, which are considered integral for doing well in CLAT 2021.
So, what the candidate needs to do is start their CLAT 2021 exam preparation early, at least one year in advance. This will give the candidate enough elbow room and space to complete the entire CLAT syllabus in its entirety.
Another thing is the coaching institutes are highly overrated. To sample it the students who top from these institutes, if you do a little bit of research, would find out that they are already toppers in their academic institutions. So they are already in a very good position even before joining the coaching institutes. And once these students join a coaching institute, staff there pay them a major chunk of their attention and dedicate vast resources to ensure they do well in the exam. But in all of these, students in the middle and lower-bracket will suffer.
If you want to check how good a coaching institute is see how the last student in that institute is faring, or is he neglected?
And now that we have busted the narrative that coaching is important for success, lets us pay our attention to 'How to prepare for CLAT 2021 without coaching'.
Careers360 brings you tips to prepare for CLAT 2021 without coaching and crack the Common Law Admission Test.
How to prepare for CLAT 2021 without coaching – Preparation Tips
Start your CLAT preparation early
One common experience frequently shared by toppers is that starting your preparation for CLAT early would help you get a headstart. If you start your CLAT preparation early, you can complete their basics and move onto more complex questions, get involved in practising questions and sample papers; mock tests can also be added to the menu. Starting CLAT 2021 preparation early will also help you cover most of the topics and get an in-depth knowledge of the subjects.
Make and follow a study plan
CLAT 2020 preparation needs to be planned meticulously, as to which topics you will start with, time allotment, what kind of resources you intend to have in place and so on and so forth. A good preparation strategy for CLAT 2021 will help you deal with even the more difficult and complicated topics effortlessly. For example, some topics may look very complex and go over your head at first glance, but if you put your head together and start with the basics of the topic first, you can eventually dismantle even the most difficult of topics. Also, note that we all have different reading habits, something that also has to be accounted for. For example, some of us are night owls, but others may be comfortable reading in the day and evening hours.
And once you have decided a plan, don't keep on tweaking it every few days, as your CLAT 2021 preparation would be affected this way.
Check out the CLAT 2021 exam pattern and syllabus
You must clearly know what is in the CLAT 2021 syllabus and what the exam pattern will be. Is there negative marking, and are the questions asked subjective or objective. As per changes made to CLAT exam pattern, questions are now comprehension based. Familiarity with exam patterns and syllabus will aso make it easier to pay additional attention to topics which carry more weightage.
Clear your doubts
In the midst of your CLAT exam preparation, many doubts will creep in. Some of these may be transitory, while others may stick around creating more doubts and thereby frustration. It is important in those moments to keep a cool head and reach out to the core of the confusion. If needed go back to the fundamentals, redo the topics and try again. Also thank your lucky stars that you are confronting these issues when there is little at stake; just imagine what will happen if you get stuck on exam day. So, work on the donuts, and get a little assistance from your teacher or friend if needed.
Do regular revision
Revision, and that too timely revision, is very important to retain what you have read. When you revise, you brush-up the already known facts, which helps to sharpen the memory. With regular revision, you can keep honing your skills so that they become second nature. The human brain has a unique property of keeping the regularly revised things intact for a longer period of time.
Do an analysis of previous years' question paper
You must analyse previous years' question papers to understand what types of questions are asked, weightage carried by various topics, and to catch hold of key trends. Note that with the progression of time, some topics lose their shine while other topics start getting more attention. If you are able to get a grasp of any such trend, you may pay a little bit more attention to such topics.
Take CLAT mock tests
If you take CLAT 2021 mock tests, it will help you understand exam ambience, check your progression and fine tune your exam skills. And once you have identified your weak points, you can work on them to get better results. Mock tests are best advised to be take closer to the exam, usually a month or so before the exam.
Learn time management
Many a time the candidate knows the answer to a question, but have to leave the question unanswered because time has run out. If you don't want something similar to happen to you, better brush up your time management skills. Note that CLAT UG will have 150 questions that have to be answered in 120 minutes; CLAT PG has 120 questions and 120 minutes. Now if you are not fast enough, your problem solving skills would be pointless.
So make it a point to improve on your speed and time management skills.
One way to improve time management is by solving CLAT 2021 sample papers with a timer on.
Know your strengths and weaknesses
If you know what you are capable of, you will be able to plug the loopholes than living in denial. As a CLAT aspirant, you'll know the subjects which you have a good command over and also the subjects that need your special focus.
Work on your strengths, and try to gradually improve the weak areas. For example, if you are weak in analytics, pay more attention to it. There are many good books in the market that you can use to overcome your weaknesses.
Stay positive
Staying motivated will play a big role in how your preparation goes and you perform in the exam. If you stay upbeat, you will be able to do and achieve more, than say when you are being melancholic. So whatever the situation, learn to laugh, but don't slack.
If you follow these tips on 'How to prepare for CLAT without coaching', you are sure to do well in CLAT 2021.
Frequently Asked Question (FAQs) - How to prepare for CLAT 2021 without coaching
Question: Can I prepare for CLAT without coaching and crack the exam with flying colors?
Answer:
If you believe in yourself and put in the necessary effort, you can perform very well in the CLAT 2021 exam.
Question: What are some of the important points to note when preparing for CLAT 2021 without coaching?
Answer:
First you must go through the basics thoroughly before tackling more complex topics, solve sample papers, do timely revision and work on time management. Also, always keep the faith burning that you can do it.
Question: What is the ideal time to start preparing for CLAT 2021?
Answer:
You should ideally have a year or so to prepare for the exam, as that you can tackle each topic holistically and also have enough time to solve all relevant questions to those topics.
Question: When should I start solving sample papers and take mock tests?
Answer:
CLAT 2021 mock tests are usually taken close to the exam, maybe a few weeks before exam date. However, sample papers can be an integral part from the start. You can try solving one sample paper in a week initially, but can ramp it up gradually.
Question: When will the CLAT 2021 exam be conducted?
Answer:
The exam will be conducted sometime in May.
Questions related to CLAT
Showing 7293 out of 7293 Questions