How to Prepare for CLAT 2023 Without Coaching - A well-established coaching culture in India may convince any student to believe that it is a necessary prerequisite for getting success in any exam including CLAT 2023. This is a misconception. While coaching may be helpful for some, there are students who have in previous years cleared the Common Law Admission Test (CLAT) without coaching. So, for students who are doubtful about self-preparation, a mention can be made to the previous year's CLAT LLM topper, Samriddhi Mishra who secured AIR 1 without coaching and broke the myth. So, what should students do while preparing for CLAT 2023 without coaching? read the article below.
Latest: CLAT Previous Year Question Papers
Latest: Know your admission chances in NLUs by using CLAT 2023 College Predictor. Use Now
Don't Miss: CLAT Cut-offs. Download EBook | NLUs Fee Structure 2023. Download EBook
Colleges Accepting Applications: To check the list of Institutions accepting BA/B.Com LLB Applications Click Here
Applications Open for 5 year Int LLB @UPES. Ranked #3 by QS Asia University Rankings 2023. Ranked #21 in Law category by NIRF. Upto 100% Scholarships. Apply Now
Pursue 5 year int LLB @Manipal University, Bengaluru. Internship Opportunities in leading Law Firms, Industry, Governmental Departments and NGOs. Register Now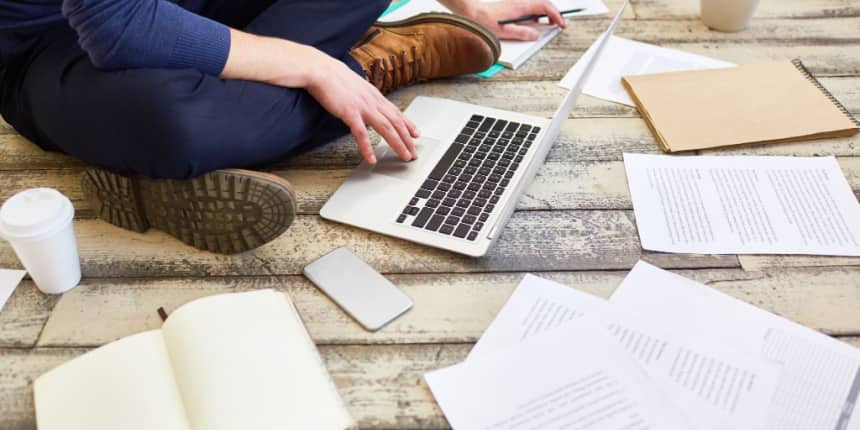 How to prepare for CLAT 2023 without coaching
Why Self Study for CLAT 2023?
Questions in CLAT 2023 will be asked from comprehension passages, so candidates have to find their answers in the given passages only. CLAT focuses heavily on testing reading skills, critical thinking and analytical skills which are developed over a period of time. For CLAT 2023 preparation, candidates need to hone their skills which they have already developed in their schools. They will need to hone these skills by practicing the sample questions.
In legal aptitude, candidates are expected to have basic knowledge of various laws and legal current affairs. They can refer to standard books and daily newspapers. The difficulty level of other sections such as English and logical reasoning will be of Class 12th level. Whereas, the quantitative section is of Class 10th level.
Moreover, the CLAT consortium will also help students prepare for CLAT 2023 exam by releasing sample papers. Candidates should download the CLAT sample papers and solve them multiple times while preparing for the examination.
How to Prepare for CLAT 2023 at home
Here are some tips for candidates preparing for CLAT 2023 without coaching.
Refer to Standard Study Materials
Candidates preparing for CLAT 2023 at home should use the standard books for CLAT preparation that are easily available in the market. They can also use the online study resources such as Youtube videos, articles and news analysis from various websites on law and UPSC exam preparation. At the same time, they should avoid collecting and referring to unnecessary books and study materials to keep their preparation in line with the requirements of the examination.
Find a Mentor
A mentor can help the candidates keep their CLAT preparation on track while preparing at home. Candidates should therefore look for the guidance of their school teachers, or any CLAT teacher. They can also check out the previous year CLAT toppers interviews and videos of CLAT teachers to ensure that they are in the mainstream and not getting diverted from the syllabus..
Improve Reading and Comprehension Skills
Almost all sections of CLAT 2023 will focus on the candidate's reading and comprehension skills. There will be around 28 paragraphs on topics given in CLAT 2023 syllabus, each of about 300-450 words. To answer the questions from such a lengthy paper, one must have good reading and comprehension skills.
In this regard, daily newspapers and magazines are extremely important as they contain articles, and editorials on various topics including law. And, sometimes the editorials are directly taken as comprehension passages in the CLAT question papers.
Also Read | CLAT 2023 exam pattern
Work On Your Speed
As mentioned above, CLAT is a lengthy paper. So, most candidates find it difficult to complete the test within two hours. Therefore, candidates will have to work on their reading and answering speed. Regular practice of sample questions in a time-bound manner at home is the best way to improve speed.
Join a Test Series
Candidates who are preparing for law entrance exam without coaching may join a CLAT 2023 test series. The test series will help the candidates make themselves familiar with the CLAT 2023 examination. In addition to this, candidates can also know about their strength and weak areas by solving the CLAT mock tests.
Focus on Conceptual Clarity
In sections such as legal aptitude, logical reasoning, and math, candidates should have a decent level of conceptual understanding of topics. Therefore, while preparing for CLAT at home, candidates should spent a major part of their time in building concepts and revising them.
Solve CLAT Official Sample Papers
The sample papers released by the consortium are boon for the candidates preparing for CLAT 2023 without coaching. Candidates are advised to practice these papers multiple times throughout the preparation.
Besides, there are some previous year question papers and sample papers of CLAT which the candidates must solve while preparing at home. The regular practice of sample papers will not only make the candidates exam ready but also cover a big part of the syllabus.
Analysis of Previous Year CLAT Questions Papers
Previous year question paper analysis of CLAT has proved a very effective method of preparation under new patterns. Along with solving previous year papers at home, candidates should analyze these papers and identify the type of questions asked in the examination and prepare accordingly. They should also try different ways of solving CLAT questions papers of previous years and learn time management.