Sri Padmavati Mahila Visvavidyalayam, Tirupati released the AP LAWCET 2021 result on October 21, 2021. With an overall score of 100 out of 120, Lella Raja has secured AIR 2 in AP LAWCET 2021. Knowing his results, Lella Raja expressed his joy with his family and close circle. According to him, one should be determined and pre-plan all the actions while preparing for any exam. Here is the complete conversation between Careers360 and Lella Raja. Read the article to know about his preparation strategy, study plan, time management, major books and other exam related tips.
Latest: Category Wise AP LAWCET 2022 Cut Off. Check Now
Colleges Accepting Applications: To check the list of Institutions accepting BA/B.Com LLB Applications Click Here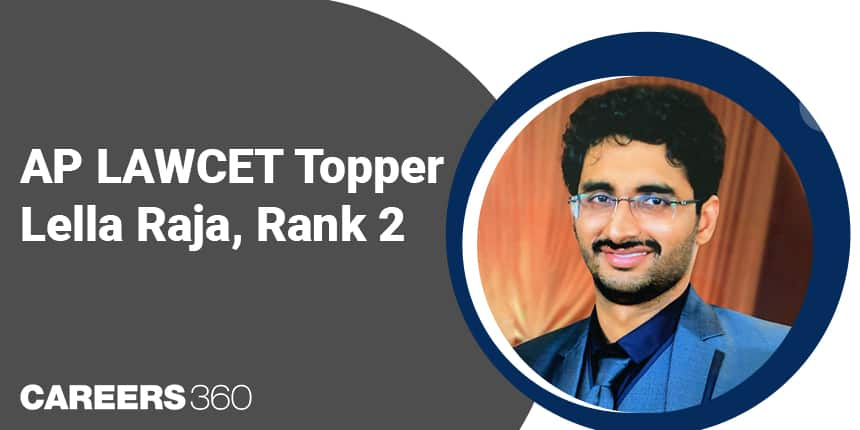 AP LAWCET Topper Interview, "Be focused and firmly plan your actions," says Lella Raja
AP LAWCET 2021 Toppers Interview - Lella Raja (AIR - 2)
Question 1: Congratulations on your success. How did you celebrate after knowing about your result?
Lella Raja: Thank you for reaching out to me. I did not celebrate much, just shared the news with all my well wishers and went out with a good friend, ate a snack and had lemonade.
Question 2: What is your AP LAWCET score and rank?
Lella Raja: I have secured 100 marks out of 120; which helped me secure the second rank.
Question 3: What are your college and course preferences through AP LAWCET?
Lella Raja: I have not yet decided about that. Just gave the AP LAWCET entrance test and did not plan anything further. But as of now, I am thinking of joining Acharya Nagarjuna University.
Question 4: Tell us about your preparation strategy for the examination. How much time do you think is enough for AP LAWCET preparation?
Lella Raja: I once prepared for the Civil Services and my parents are both lawyers, hence I did not prepare specifically for the AP LAWCET. Couple of days before the exam, I went through legal current affairs and solved a few previous year papers. Preparation time that one requires varies from person to person, ideally for someone who is starting afresh, two to three months good preparation might work.
Question 5: What was your study plan? How many hours of study is required for AP LAWCET.
Lella Raja: Again as I said above, my previous preparation for civil services helped out a lot. Hence, my plan was to go through a few current affairs and solve some of the previous year papers. Hours of study totally depends on the individual. If someone is starting from scratch, they may have to prepare for two to three hours daily for a period of two or three months.
Question 6: Which study materials did you refer to for AP LAWCET preparation?
Lella Raja: I looked on the internet for current affairs and purchased a book for old question papers. There are many good YouTube channels for legal current affairs. In general there are many good books to study Indian Constitution, for example Indian Polity by Lakshmikanth, Introduction to the Constitution of Indian by DD Basu etc.
Question 7: Did you solve sample papers and take mock tests? If yes, then what role did the mock tests/sample papers play in your preparation?
Lella Raja: Yes I did solve previous year question papers and also TS Lawcet and CLAT papers of current year. They played a major role in my preparation, they helped me understand the type of questions that were being asked in the Lawcet exam.
Question 8: Did you appear in any other law entrance exams? If yes, how was your performance in those examinations?
Lella Raja: No, I did not appear in any other law entrance exams.
Question 9: What legal specialization do you want to pursue in future? Tell us why you want to pursue a particular specialization
Lella Raja: I have not planned anything yet but I might consider any one of the following-
As I come from a technical and science background, my past knowledge might help me in these particular specializations.
Question 10: Any tips for students who are preparing for state-level law entrance exams such as AP LAWCET?
Lella Raja: One should prepare according to one's own strengths and weaknesses. Also one should have the idea on where to focus, what types of questions were being asked with what level of difficulty in a particular exam. Do solve the AP LAWCET mock tests or previous year papers and also any other contemporary exam papers.